Four Different Demos for One Fair Price
PROFESIONAL CONSTRUCTION NICHE DESIGN
Impress with the Powerful Look and Feel, Using Beautiful and Functional Widgets
We have analyzed over 50 successful websites for builders, contactors and repair services and made this construction WordPress theme; the perfect mix of design and functionality that will fit your client's needs. Choose from a variety of pre-built widgets that are easy to edit and very customizable for you as the developer, while simple to use for the website visitors.
HEADER LAYOUT
Choose Different Headers
Bolts construction WordPress theme allows you to choose between classic header or unique 3 column hero area to showcase your 3 main services at the same time. You can also change the background color to match your client's branding colors and match it to a light or dark logotype.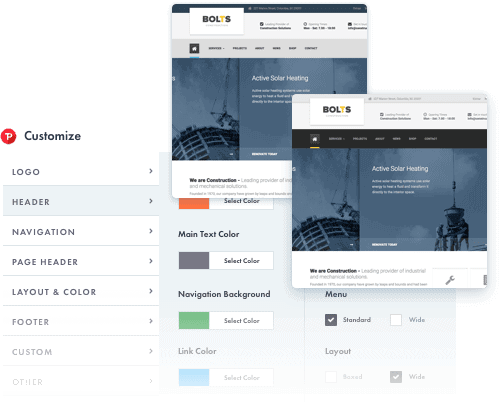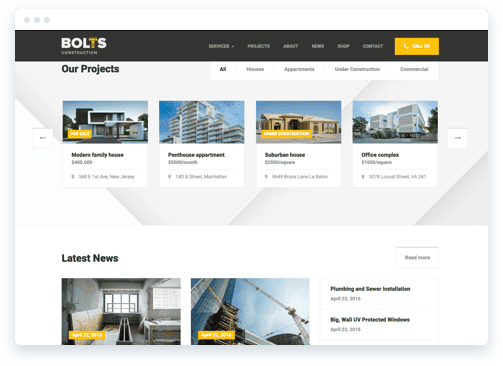 STICKY MENU
Enable Quicker Navigation
Traditionally, users must scroll back to the top of the website to use the navigation menu. This construction WordPress theme allows you to use a sticky menu, so your visitors will be able to easily navigate through the website and access contact information faster.
BIG CALL TO ACTION
Make it Easy to Contact
Business owners find it very important that their contact information is highly visible, so the website visitors can quickly get in touch. You can show the business number with a conventient button that automatically calls if the visitor is browsing the website on a phone.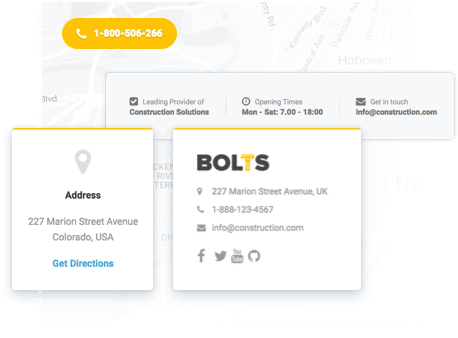 Impress Your Client by Showing them a Live Website with Their Branding
Use the Bolts WordPress construction theme demo to quickly upload your client's logo, change the primary colors, and switch the slider image. This will enable your client to interact with their potential website, and help you close the deal.
Try Bolts Conctruction WordPress Theme for FREE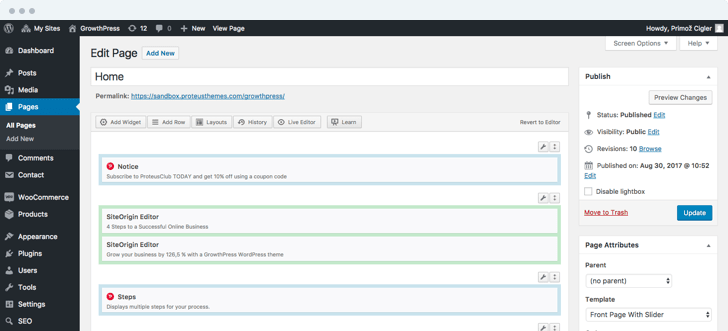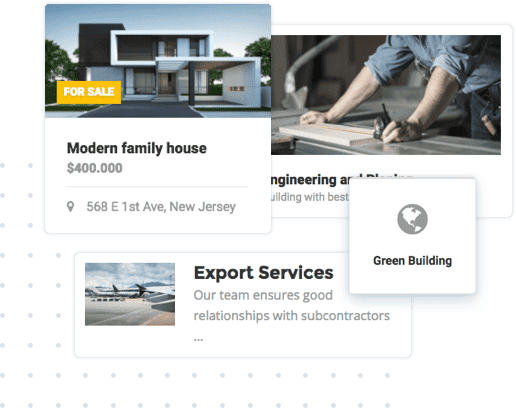 PORTFOLIO WIDGET
Showcase Your Construction Projects in One Place
The portfolio widget allows you to group your past projects into different categories and present them in a clean, easy to understand, and interactive way. You can insert images, prices, and the location and more. You can also add a special title in a blue box for any important information that you want to highlight.
PERSON PROFILE WIDGET
Introduce Your Construction Team
Knowing who takes care of the construction projects is important because it builds trust. You can add employees personal image, name, title, description and even highlighted links for certificates or social media profiles.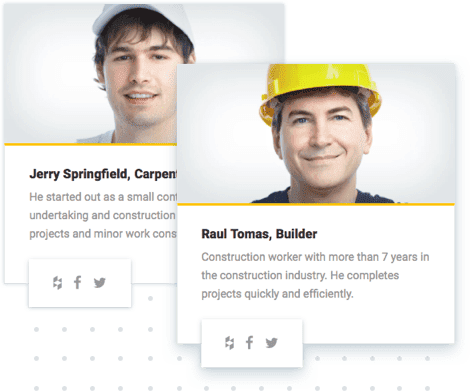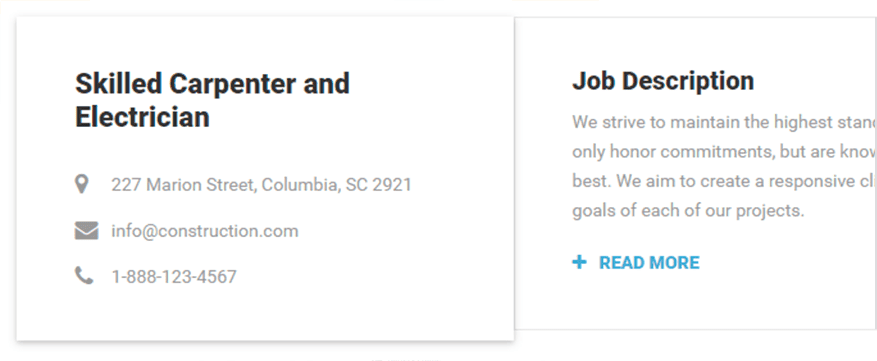 RECRUITMENT WIDGET
Hire New Employees for Bigger Construction Projects
Easily create a list of different construction job openings with a visible position title, contact details and a description. You can also add an extra 'read more' section for additional text.
Make Special Announcements
Use the full-width banner to show any important business information regarding your construction company. It is fully responsive and customizable to fit your clients website. It also has a dark background which is most suitable for any message that needs to stand out.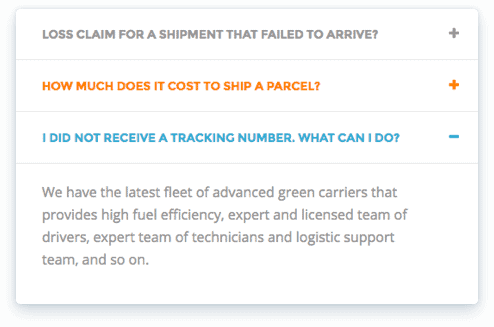 ACCORDION WIDGET
Answer Construction Questions
The accordion widget allows you to create a simple and clean F.A.Q. box which presents a unique opportunity to directly address concerns and remove obstacles in order to sell the construction deal.
Form a Personal Connection
Using this widget you will be able to beautifully show the business owners powerful message that builds trust for their customers. You can also insert a background image and his signature to make it even more personal.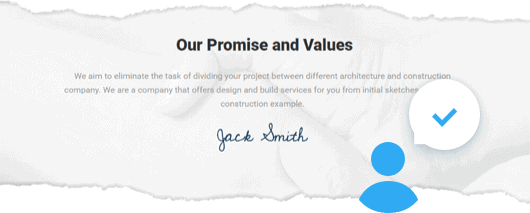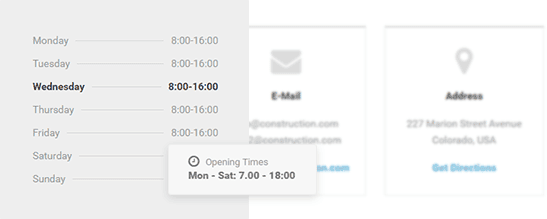 OPENING TIMES WIDGET
Inform About Working Hours
Help the website visitors know when is the right time to schedule a meeting for their next transportation project.
BROCHURES WIDGET
Help with Downloadable Files
Business owners usually offer help documents with detailed information about transportation. Simply upload any of your clients documents and enable visitors to download it.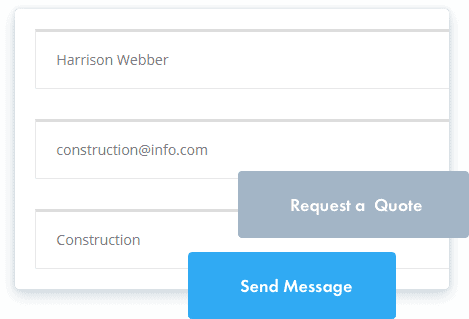 CONTACT US FORM WIDGET
Create Visible & Easy to Contact Forms
An easy and fast way to let website visitors contact the business owner directly from the website. You can also add more fields to get interesting information from the visitors (like how much cost your construction work...). If there are more construction project leaders, you can also set up a contact form for each one of them.
FOOTER CONTACT US SECTION
Add a Well-Organized Footer
Sometimes website visitors quickly glance over the websites content and land at the bottom of the page. An extra footer section makes it even easier for visitors to get in touch.

WOOCOMMERCE STORE INCLUDED IN BOLTS CONSTRUCTION WORDPRESS THEME
Sell Products in a Beautiful and Easy to Navigate Store
If your client is selling any type of physical products, you can simply integrate the WooCommerce plugin into the Bolts construction WordPress theme, and start using the store without having to spend days designing it from scratch.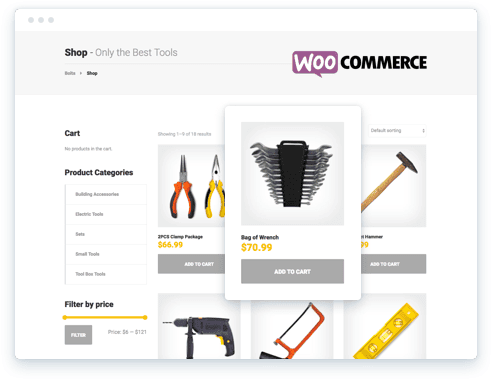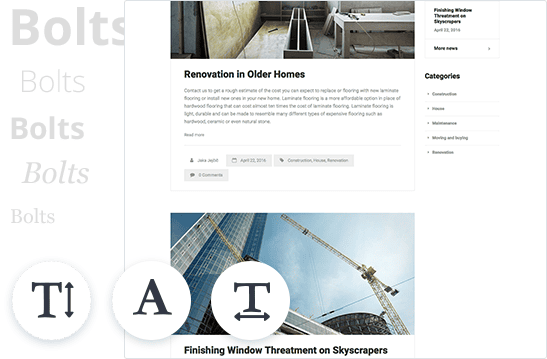 BLOG
Share Articles on a Readable and Well-Structured Blog
The blog design follows all the readability standards, making sure the content is easy to read and presented in an understandable way. It also makes navigating between articles and categories simple.
Present the Theme to Your Client in a Discrete Way
Clients who need a website, usually want a really good preview of how everything will look like. Download a free PhotoShop file with the complete theme design then change it to match your clients' brand. This way it will be easier for you to convince the client, without showing the price.
Download Free .psd

SUMMARY
Everything You Will Get with the Bolts Construction WordPress Theme
   One-Click-Demo-Import™
   Responsive design
   Cross-browser compatibility
   SEO optimization
   High-Quality code
   Fast loading speed
   Advanced security
   Drag & Drop PageBuilder by SiteOrigin
   Pre-built layouts
   3rd party widget integration
   Translation in 14 languages
   Professional support team
   30 Day Money Back Guarantee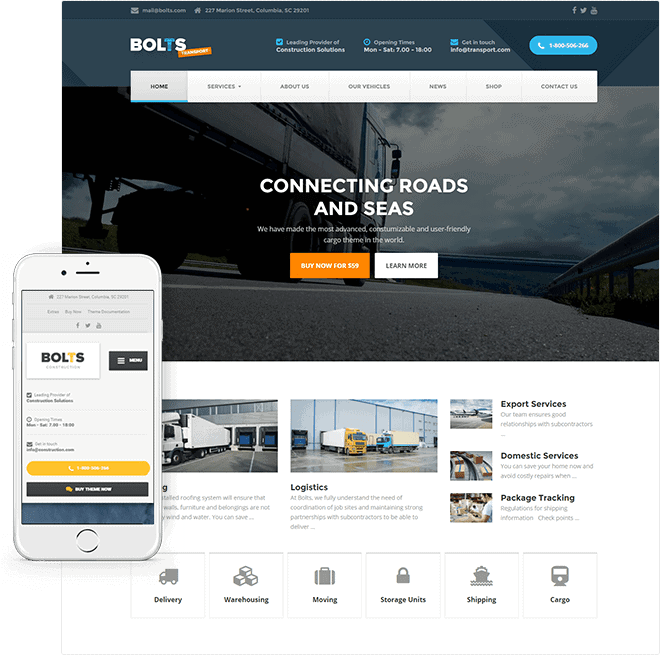 Impress Your Client by Showing them a Live Website with Their Branding
Use the Bolts theme demo to quickly upload your client's logo, change the primary colors, and switch the slider image. This will enable your client to interact with their potential website, and help you close the deal.
Try Bolts Construction for free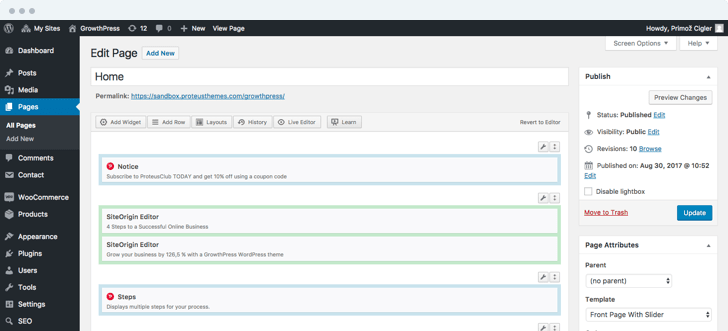 "Incredibly thought-out and well-researched niche products."
ProteusThemes produces incredibly thought-out and well-researched niche products. These products are inherently intuitive and are meant to help you achieve one single goal as compared to the bloatware. Not only do I use their products myself but I have recommended them to my friends as well. Moreover, the team behind ProteusThemes is very friendly and they know the craft pretty well. For these reasons and more, I recommend PT.
Ahmad Awais
It's time for you to join 40,945 Happy Web Design & Marketing Agencies
and start delivering better websites that will satisfy all of your clients' needs.


Your 100% Satisfaction Guarantee
If you or your client don't like the theme, or if the powerful one-click-demo import, website builder, or any other functionality doesn't work, just get in touch with our friendly support team and we will either help you solve anything you need or we will politely refund all your money back within 30 days after your purchase.