PROFESIONAL NICHE DESIGN
Professionally Designed for Your Medical Business
Patients get very delicate when it comes to their healthcare. Would you trust your health to someone who looks unprofessional? Our medical WordPress theme will make you look sharp on the web too. In many cases, a website is the first interaction between the doctor and the patient. Get the trust of your patients before they even met the doctor in person. It's time for you too to have a sleek online presentation.
Highlight Your Contacts
In a case of emergency, a patient has to find the emergency number instantly. Every second matters. Website visitors will also be able to book an appointment at their dentist, check the opening time and find important announcements easily.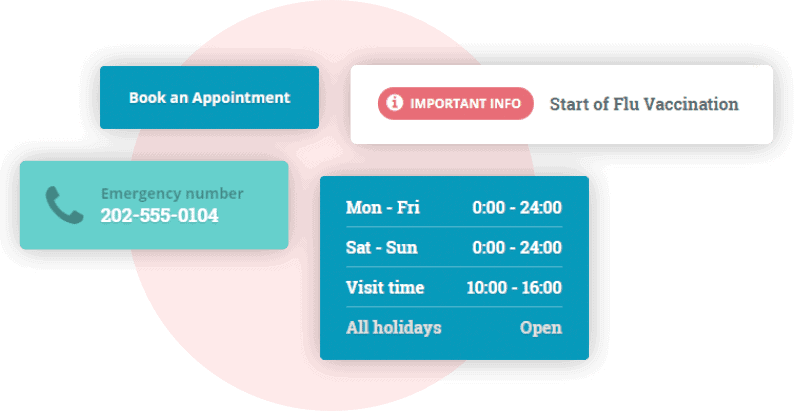 Highlight Working Time
Most online visitors will search for the opening hours on your website. Make sure they find what they came for. Does every doctor in your clinic have her own working schedule? MedicPress has you covered, our Opening Time widget is easy to use, multilingual-ready and looks professional to your visitors.
Navigate With Icons
MedicPress has a clean and modern feeling that radiates safety and harmony. Exactly what your patients want from a health clinic website. Along with standard 675 Font Awesome icon, MedicPress comes with 50 custom made medical icons included for the best representation of fields you specialize for. Altogether 725 icons to choose from.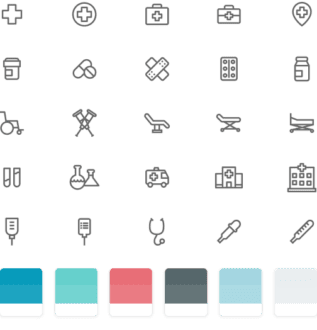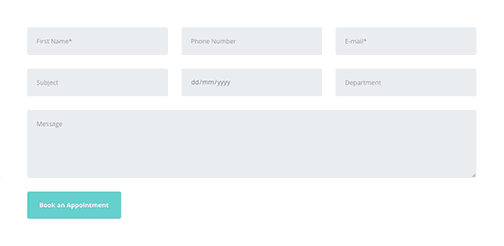 Accessible Contact Form
Give your patients an option to make an appointment online, directly from your website. Multiple doctors? No problem, you can setup an appointment form for every one of them.
MedicPress supports RTL (right-to-left)
MedicPress WordPress theme includes stylesheets that support right-to-left languages such as Arabic, Hebrew, Syriac and others.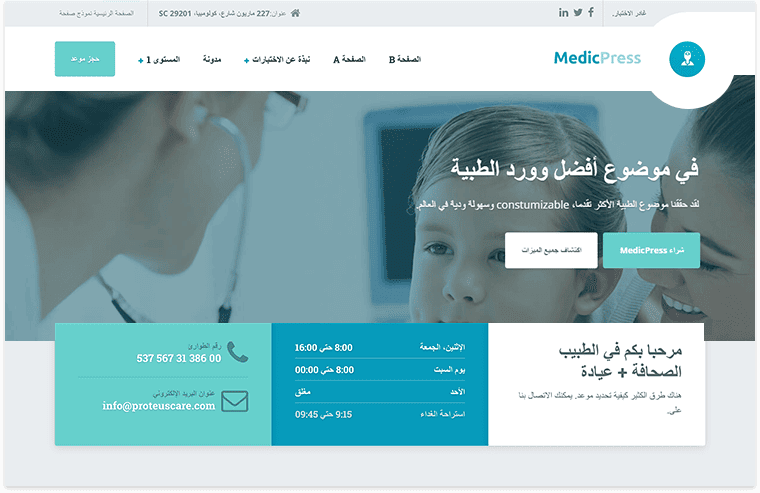 Impress Your Client by Showing them a Live Website with Their Branding
Use the MedicPress theme demo to quickly upload your client's logo, change the primary colors, and switch the slider image. This will enable your client to interact with their potential website, and help you close the deal.
Try MedicPress for free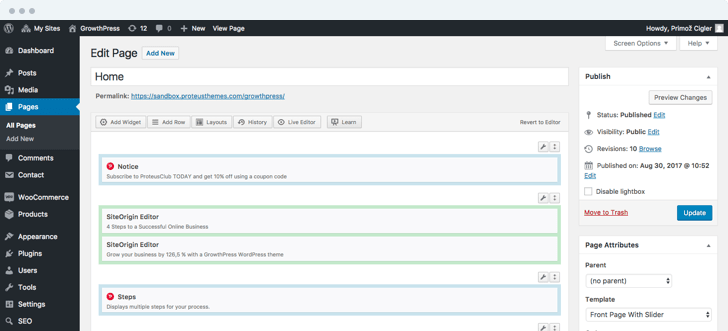 LIVE EXAMPLES
View How Other Developers Used the MedicPress Theme for Their Own Clients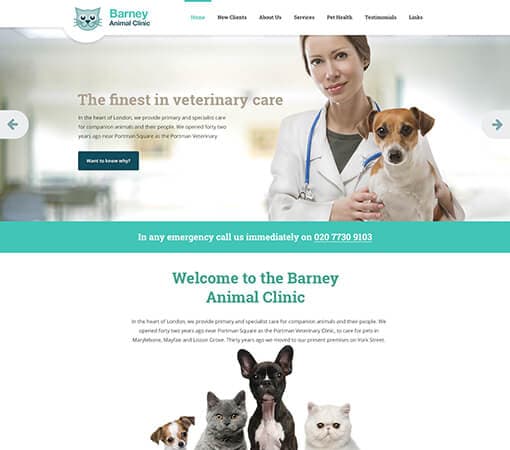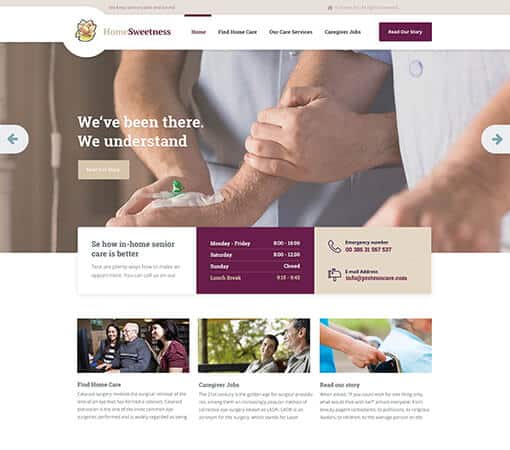 Present the Theme to Your Client in a Discrete Way
Clients who need a website, usually want a really good preview of how everything will look like. Download a free PhotoShop file with the complete theme design then change it to match your clients' brand. This way it will be easier for you to convince the client, without showing the price.
Download Free .psd

SUMMARY
Everything You Will Get with the MedicPress Theme
   One-Click-Demo-Import™
   Responsive design
   Cross-browser compatibility
   SEO optimization
   High-Quality code
   Fast loading speed
   Advanced security
   Drag & Drop PageBuilder by SiteOrigin
   Pre-built layouts
   3rd party widget integration
   Translation in 14 languages
   Professional support team
   30 Day Money Back Guarantee
   RTL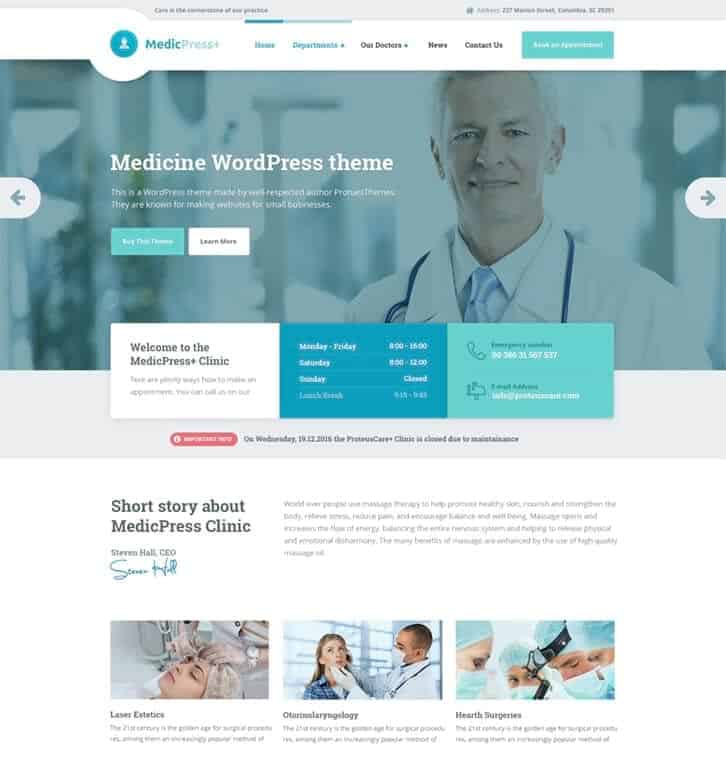 What Freelancers and Agencies
Say About MedicPress Theme
"A++++ on this theme"
This is the best WordPress design I have ever used. I'm not talking just design, I mean, the way the end-user (me) can edit it, its so well put together that I hope you guys have other themes I can use. I'll keep purchasing from you guys. A++++ on this theme. Very well done!!!
"Incredibly thought-out and well-researched niche products."
ProteusThemes produces incredibly thought-out and well-researched niche products. These products are inherently intuitive and are meant to help you achieve one single goal as compared to the bloatware. Not only do I use their products myself but I have recommended them to my friends as well. Moreover, the team behind ProteusThemes is very friendly and they know the craft pretty well. For these reasons and more, I recommend PT.
It's time for you to join 41,179 Satisfied WordPress Freelancers & Marketing Agencies
and start delivering amazing websites that will satisfy all of your clients' needs.

Get MedicPress for only $79
If you have a pre-purchase question,
send us an e-mail and we'll get back to you in less than 24 hours.

Your 100% Satisfaction Guarantee
If you or your client don't like the theme, or if the powerful one-click-demo import, website builder, or any other functionality doesn't work, just get in touch with our friendly support team and we will either help you solve anything you need or we will politely refund all your money back within 30 days after your purchase.