PROFESIONAL NICHE DESIGN
Publish Beautiful Articles That are Easy to Read
To save your time from figuring out how to make articles readable, we've designed them for you. They follow all the readability factors: the right typeface, font size, spacing, structure and layout.
SINGLE FORMAT
Post with an Image
The most popular format, which includes a full width cover image, and a middle aligment structure. It has no extra distractions on the left and right side, making it easy for the readers to focus just on the written text.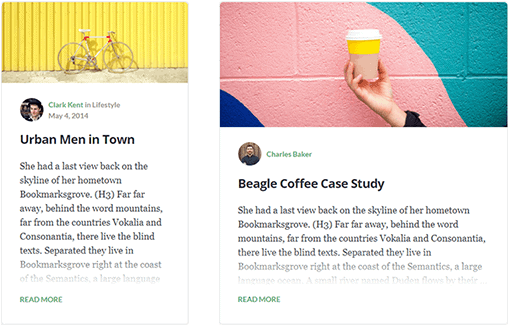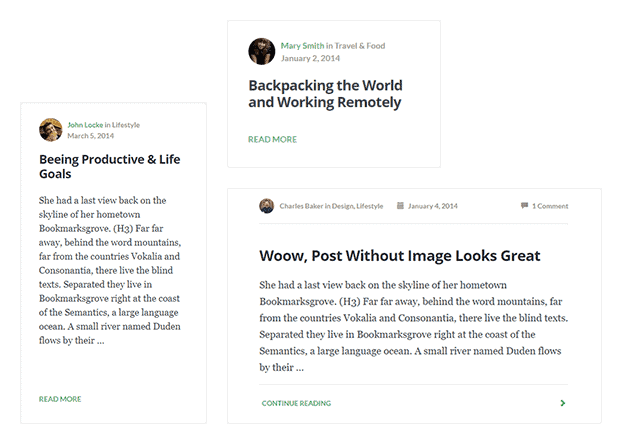 NO IMAGE FORMAT
Post without an Image
If the blog content is not based on a lot of images, you can still publish an eye-catching article which is focused primarily on the written text.
LEFT SIDEBAR FORMAT
Post with Left Sidebar
You can include the bloggers about section which includes an image, description, social links, categories, tags and other sections next to the article. Such a format always offers the option to quickly switch to another category or read about the author. The articles with this format are still very easy to read.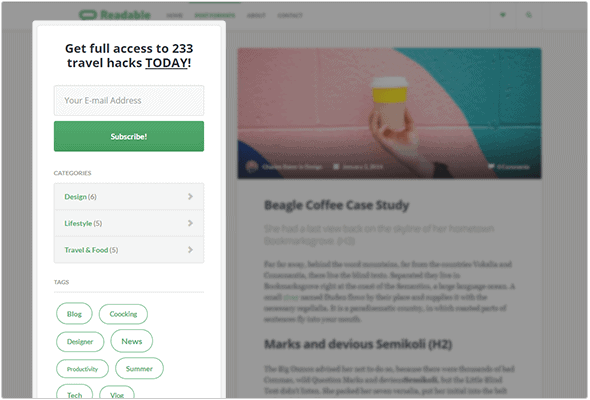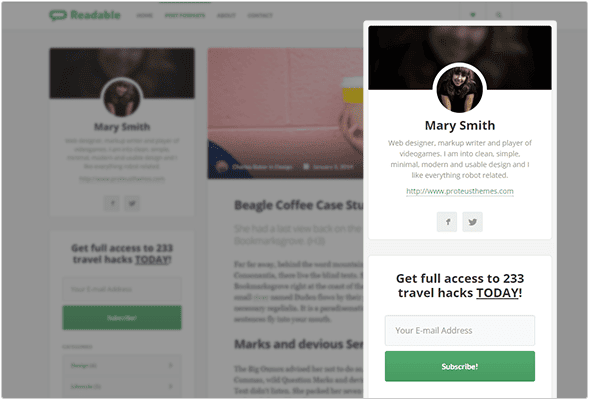 RIGHT SIDEBAR FORMAT
Post with a Right Sidebar
If your client preffers having the sidebar on the right, it's also possible. Small customization options can be a big deciding factor for many.
FONTS, LAYOUTS & STRUCTURE
Write With Style
We carefully picked the best font types, sizes, and included other factors like spacing, leading, kerning and tracking. That is why the headlines and sub-headlines are easy to scan and paragraphs easy to read. Thanks to the predefined structure and font pairing, the publisher can focus on writing great content instead of designing.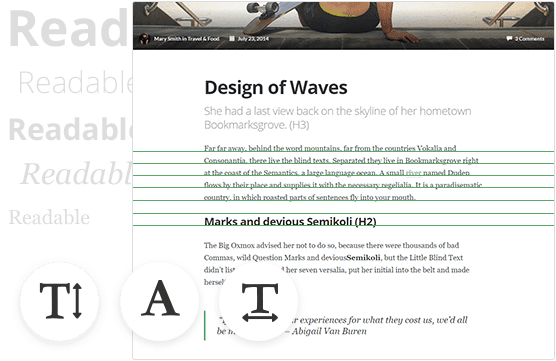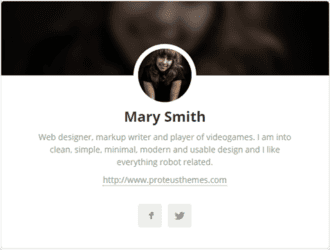 WRITTEN BY FEATURE
Display the Author
It's recommended to let the readers know who wrote the article, especially if there are more authors that are writing for the website. You can include the profile picture, name and description.
Insert Videos and Social Media Posts
You can embed your clients exercise videos on the website by simply linking to YouTube or Vimeo. If your client is present on Facebook or Twitter, you can also highlight best social media posts, which can be liked or shared right from the website.

QUEST FEATURE
Make it Even More Readable
Use two different beautiful styles to insert and highlight quotes, using a bigger italic font and the ability to feature the author. This gives the text extra readability, because it creates an empty space between paragraphs.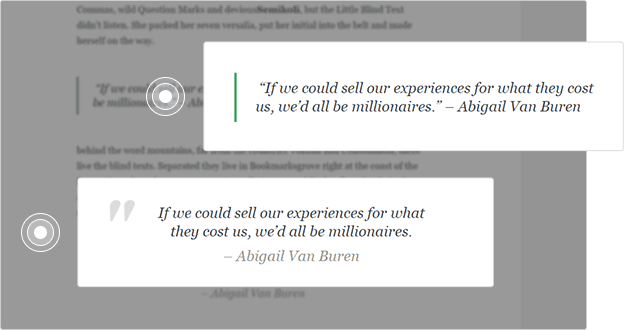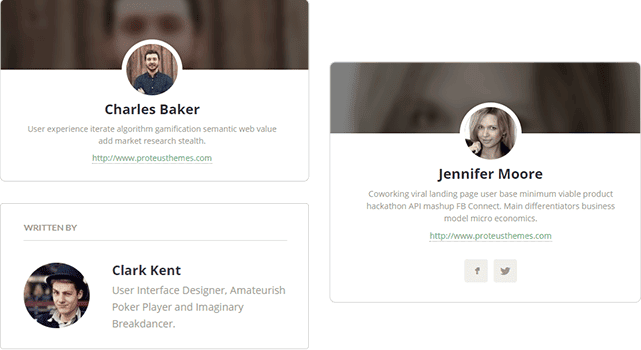 ABOUT US PAGE
Introduce the Blog Writers
A great About Us page helps keep people on the website, make them like you, and connect with you. It's a great opportunity to be memorable and establish a sense of trust. This is also crucial if you want to sell anything or be an authority in the field. You can easily create a beautiful About Us page by simply adding a nice cover, describe what the blog is all about, and add the writers profiles.
COMMENT PLUG-IN
Build a Loyal Audience
You can enable comenting by integrating Disqus plugin-in to increase engagement. The comments can be upvoted, replied to, shared, and are easy to moderate. It allows you to capture readers and keep them coming back with sign-in options.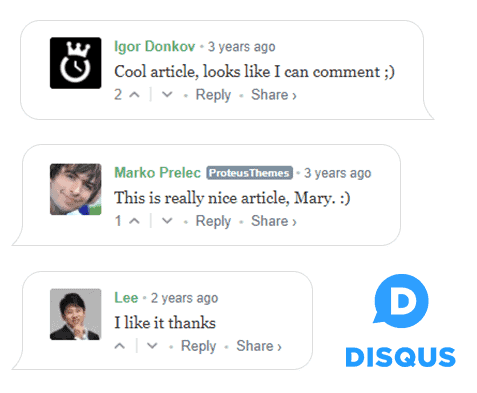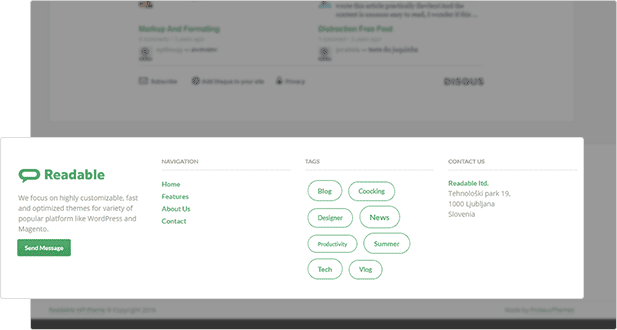 FOOTER LAYOUT
Add a Well-Structured Footer for Easier Navigation
Sometimes website visitors quickly glance over the websites content and land at the bottom of the page. To capture their attention you can make the footer engaging by inserting a summary of the blog, main navigation sites, tags and contact information.
CONTACT US FORM WIDGET
Make it Easy to Contact
An easy and fast way to let website visitors contact the blog writer directly from the website. You can also add more fields to get interesting information from the visitors (like what topics are they interested in). If there are more blog writers you can also setup a contact form for each one of them.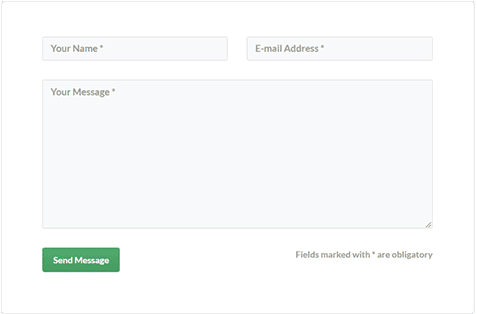 Impress Your Client by Showing them a Live Website with Their Branding
Use the Readable theme demo to quickly upload your client's logo, change the primary colors, and switch the slider image. This will enable your client to interact with their potential website, and help you close the deal.
Try Readable free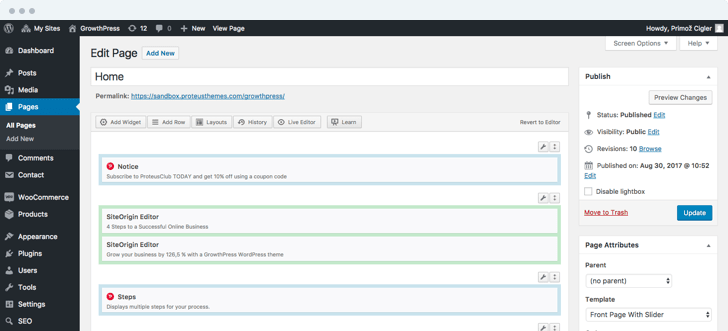 SUMMARY
Everything You Will Get with the Readable Theme
   One-Click-Demo-Import™
   Responsive design
   Cross-browser compatibility
   SEO optimization
   High-Quality code
   Fast loading speed
   Advanced security
   Drag & Drop PageBuilder by SiteOrigin
   Pre-built layouts
   3rd party widget integration
   Translation in 7 languages
   Professional support team
   30 Day Money Back Guarantee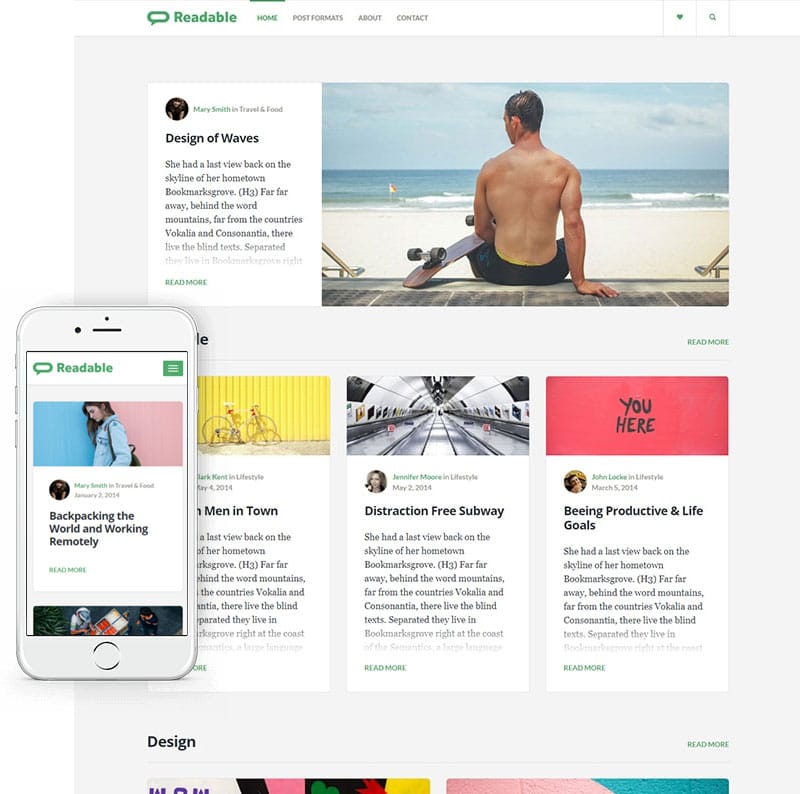 Present the Theme to Your Client in a Discrete Way
Clients who need a website, usually want a really good preview of how everything will look like. Download a free PhotoShop file with the complete theme design then change it to match your clients' brand. This way it will be easier for you to convince the client, without showing the price.
Download Free .psd

What Freelancers and Agencies
Say About Readable Theme
"A++++ on this theme"
This is the best WordPress design I have ever used. I'm not talking just design, I mean, the way the end-user (me) can edit it, its so well put together that I hope you guys have other themes I can use. I'll keep purchasing from you guys. A++++ on this theme. Very well done!!!
"Incredibly thought-out and well-researched niche products."
ProteusThemes produces incredibly thought-out and well-researched niche products. These products are inherently intuitive and are meant to help you achieve one single goal as compared to the bloatware. Not only do I use their products myself but I have recommended them to my friends as well. Moreover, the team behind ProteusThemes is very friendly and they know the craft pretty well. For these reasons and more, I recommend PT.
It's time for you to join 41,230 Happy Web Design & Marketing Agencies
and start delivering better websites that will satisfy all of your clients' needs.

Get Readable for only $79
If you have a pre-purchase question,
send us an e-mail and we'll get back to you in less than 24 hours.

Your 100% Satisfaction Guarantee
If you or your client don't like the theme, or if the powerful one-click-demo import, website builder, or any other functionality doesn't work, just get in touch with our friendly support team and we will either help you solve anything you need or we will politely refund all your money back within 30 days after your purchase.