Three Different Skins for One Fair Price
Optimized for Higher Conversion Rates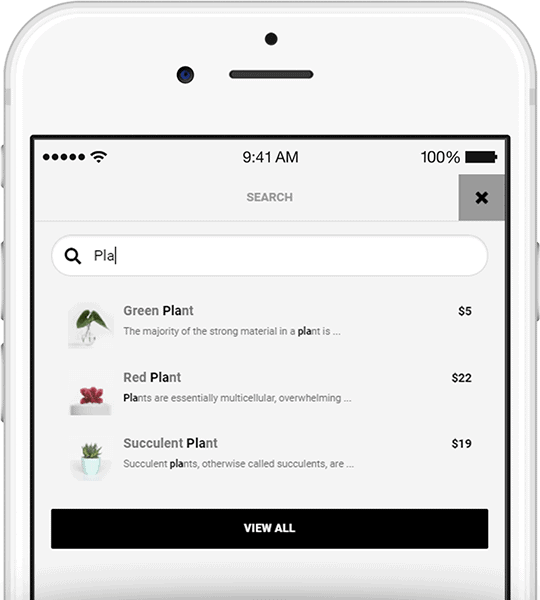 AUTO-COMPLETE SEARCH
Help Visitors Find Your Products Faster
Searching for a product in our WoonderShop WooCommerce Theme will automatically suggest the best results of products currently in the store. This feature is used by 82% of the top grossing e-commerce stores.
1-SECOND MINICART ANIMATION
Encourage Visitors to Continue Shopping
When a visitor adds a product to their cart, the cart will appear for a moment, notifying them their product was added successfully. The instant feedback is a delightful feature that will help your customers stay focused on the buying process.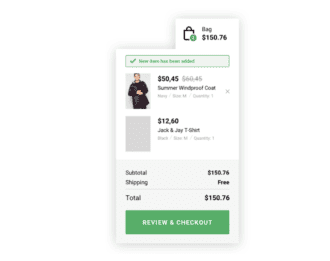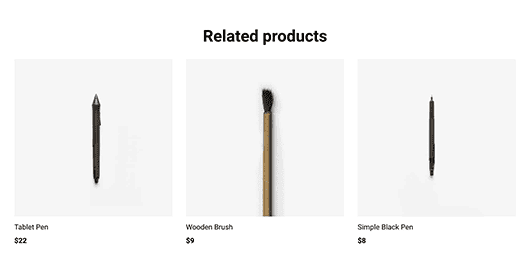 CROSS-SELLING WIDGET
Increase Your Sales with Cross-Selling Products
Add products that are related or frequently bought together and raise your average order value.
DISTRACTION-FREE SHOPPING CART
Keep Shoppers Focused
in the Checkout Process
Displaying a clean look and obvious call-to-action buttons reduces friction and helps shoppers continue down the sales funnel.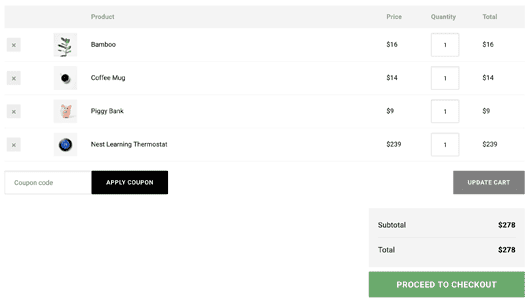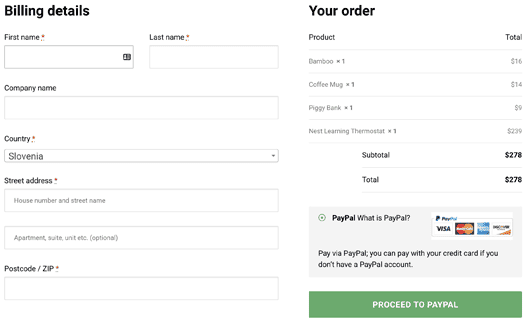 DISTRACTION-FREE CHECKOUT
Convert Where it Matters Most
The Checkout page is the most important page in your store because it's the page where you get paid. We removed all the unnecessary clutter and created a simple process which reduces cart abandonment and maximizes your sales.
Upload Trust Badges in the Checkout to Increase Conversions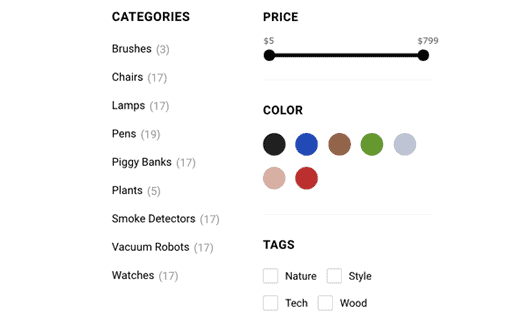 REAL-TIME FILTERING
Help Visitors Discover and Find the Perfect Product
Discoverability and findability are two important terms when it comes to higher conversions. This all-in-one real-time filtering solution will help your customers find what they're looking for and discover new products faster.
POWERFUL BANNER
Make Beautiful Banners Across Your Entire WooCommerce Store
You can use banners to highlight specific categories, products, or special deals without any design skills. Simply upload a picture and add text.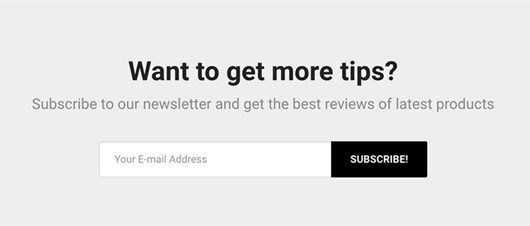 EMAIL BOX
Build Your Email List
Add an email signup form anywhere in your WoonderShop WooCommerce Theme and connect it to your favorite email provider, like MailChimp or ConvertKit.
WPML READY WOOCOMMERCE THEME
Increase Your Store Conversions with Translated Content
Not everyone speaks English. A research study completed by CSA Research showed 53.4% of buyers preferred to buy in their native tongue. Increase your conversion rates by translating your shop's content in many languages.


MOBILE-FIRST USER EXPERIENCE
WooCommerce Theme
with Flawless Mobile UX
More than half of internet users are using mobile devices to make purchases. WoonderShop's intuitive, quick, and easy navigation helps you convert more of those users into buyers.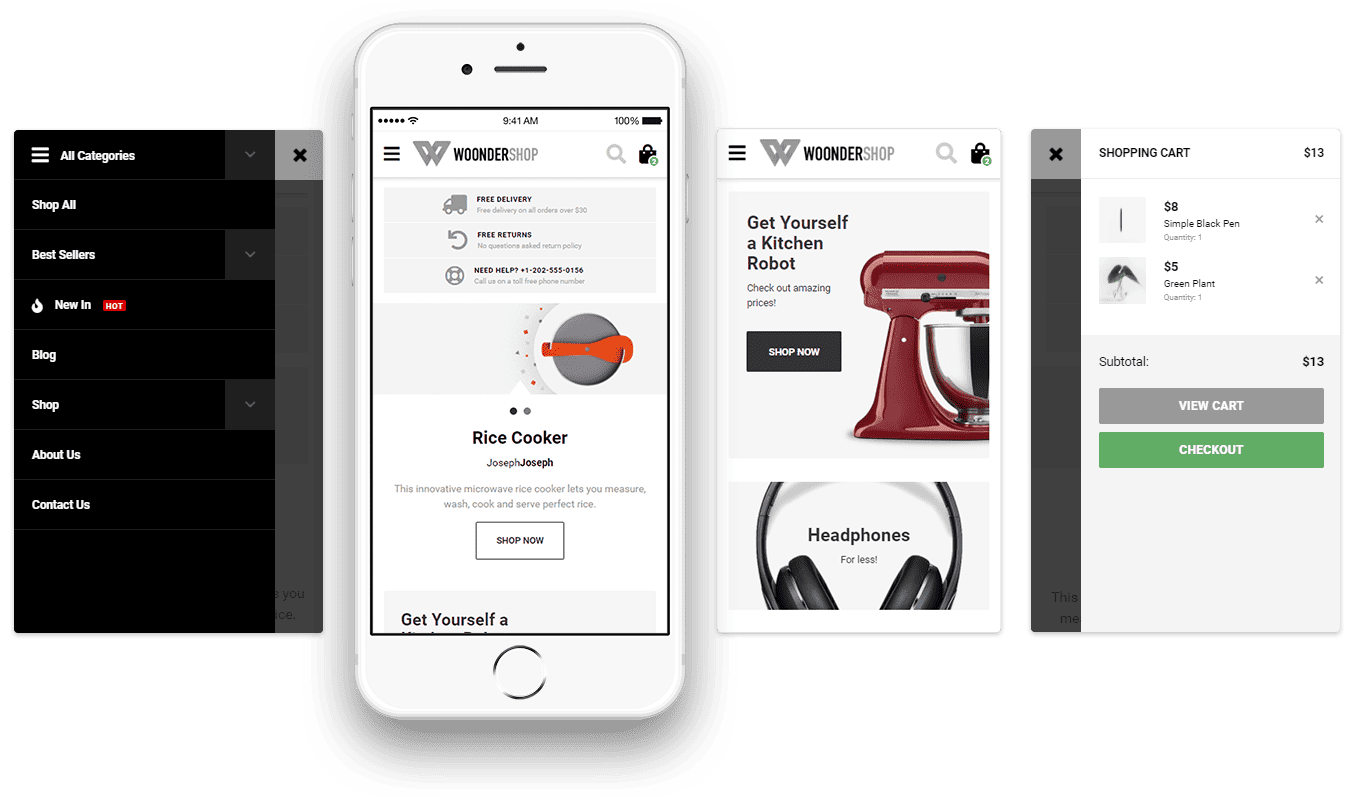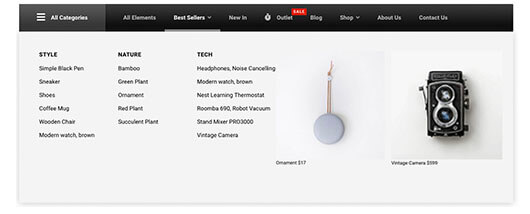 FULL-WIDTH MEGA MENU
Add Category Pictures to the Mega Menu
Create an easy to navigate menu that helps visitors find exactly what they are looking for. You can also enable the sticky feature so it stays present throughout your shop.
CATEGORY LAYOUTS
Choose the Perfect Category Layout
Highlight specific categories by making them smaller or bigger.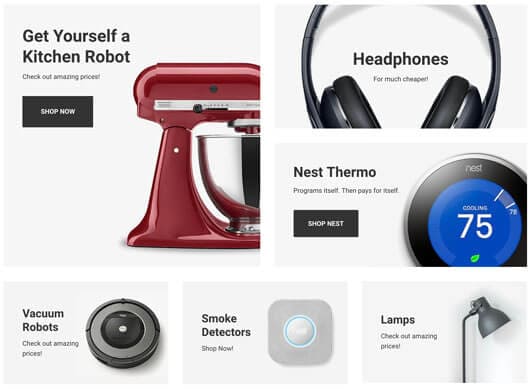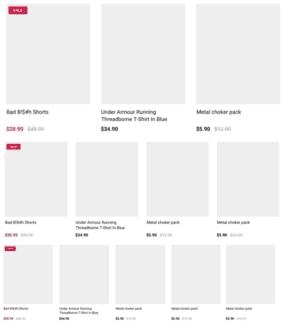 CATEGORY PRODUCT GRID
Display Different Product Grids
You can choose between a different number of items in a row, based on the amount and value of the products you have in your store.
CATEGORY BANNERS
Create Unique Category Views
Give your product categories a unique look and feel by adding different beautiful banner images. By adding alt tag text to your WooCommerce theme images, your site will improve its SEO.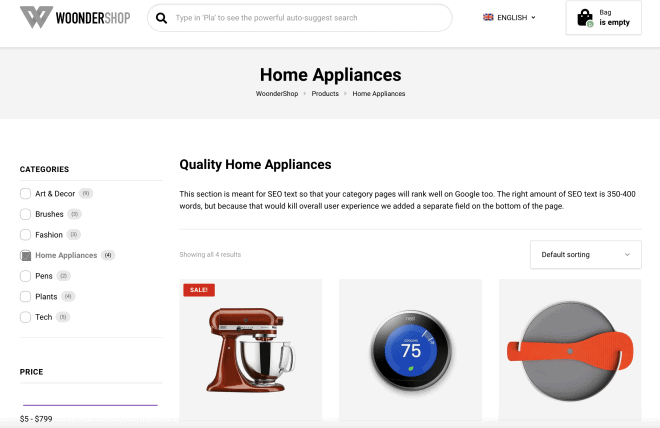 Try Before You Buy
Use the WoonderShop WooCommerce theme demo to quickly upload your business' logo, change the primary colors, and change the slider image. This will enable you to visualize what your store could look like before you decide.
Try WoonderShop for Free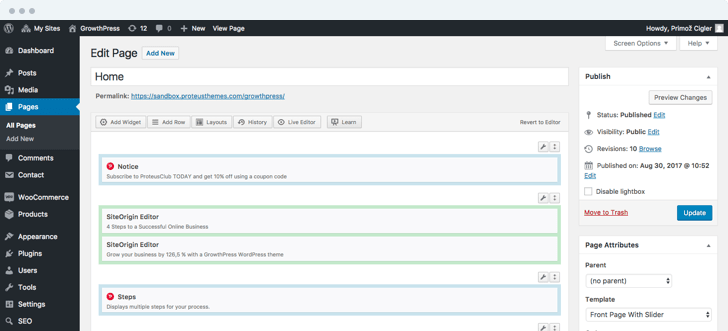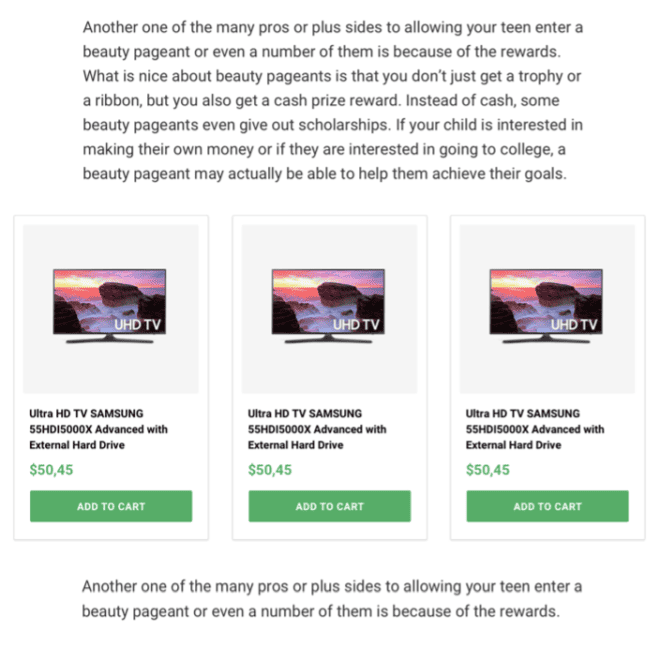 BLOG PRODUCTS
Get New Customers by Blogging and Selling Products in Articles
WoonderShop has a great advantage over Shopify and Magento stores thanks to WordPress, the most popular content management system. Besides having a greater SEO boost, you can also insert products into any article and enable visitors to add the product to cart, straight from the article.
INSTAGRAM WIDGET
Show Your Latest
Instagram Posts
When you post a new photo to Instagram it will be automatically be displayed on the website. If the visitor clicks on the image, it will open that exact post.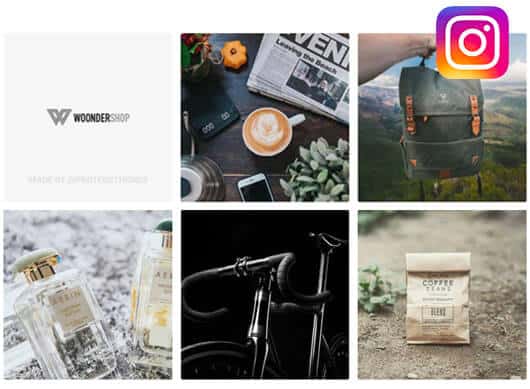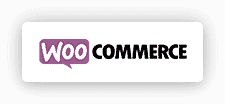 Why is setting up an online shop with a WooCommerce theme best solution for you?
Your best choice when Shopify is too expensive and Magento is too hard to use.
Easy to Use
Build your entire store using our drag & drop shop editor. No coding skills required!
Fully Customizable
Change colors, text, and layouts of any part of your store.
Built on WordPress
Build your store on the world's most popular content management system and greatly increase your SEO ranking.
Easy Store Management
Enjoy managing inventory, orders, and customers with a user-friendly dashboard.
Budget-Friendly
Forget about paying for things you don't need. ProteusThemes stays lean so you can save.
No Transaction Fees
Stop paying unnecessary % fee on every sale you make and save money instead.
No Limits
You can have unlimited products, unlimited variations, images & galleries.
More Than 400+ Plugins
Choose from a wide variety of different plugins to take your store to the next level.
WOOCOMMERCE THEME SUMMARY
Other Features You Will Get with the WoonderShop Theme
   Discount codes
   Product sorting and filtering
   Product ratings and reviews
   Product sorting and filtering
   Shipping option and rates
   Free shipping on specific orders
   Geo-location support
   Tax options based on customer
   100+ custom made icons
   Customer accounts and guest checkout
   One-click refunds
   Easy inventory management
   Easy order management
   Transactional email templates
   Add shop managers
   Access detailed reports
   Customize for your location
   Translated into 14 languages
   Import and export list of products
   High-quality and clean code
   Optimized for fast loading speed
   Optimized for SEO
   Improved security & stability
   Cross-browser compatibility
   Fully Responsive
   WPML Ready
What Customers
Say About WoonderShop WooCommerce Theme
"A++++ on this theme"
This is the best WordPress design I have ever used. I'm not talking just design, I mean, the way the end-user (me) can edit it, its so well put together that I hope you guys have other themes I can use. I'll keep purchasing from you guys. A++++ on this WooCommerce theme. Very well done!!!
"Incredibly thought-out and well-researched niche products."
ProteusThemes produces incredibly thought-out and well-researched niche products. These products are inherently intuitive and are meant to help you achieve one single goal as compared to the bloatware. Not only do I use their products myself but I have recommended them to my friends as well. Moreover, the team behind ProteusThemes is very friendly and they know the craft pretty well. For these reasons and more, I recommend PT.
It's time for you to join 41,232 ProteusThemes Customers
and grow your business.

Get WonderShop theme and its three different skins for only $67
If you have a pre-purchase question,
send us an e-mail and we'll get back to you in less than 24 hours.

100% Satisfaction Guarantee
If you don't like the WoonderShop WooCommerce theme, or if the powerful one-click-demo import, website builder, or any other functionality doesn't work, just get in touch with our friendly support team and we will either help solve anything you need or we will politely refund all your money back within 30 days after your purchase.