Design
We make sure to mix the perfect blend of design and functionality into each of our themes. Your visitors will always encounter a visually appealing but simple to use website.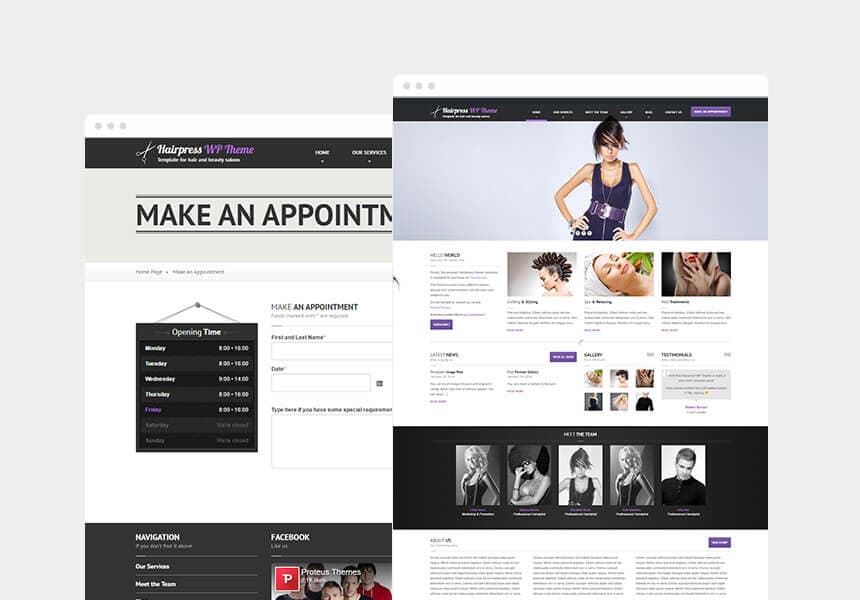 ---
Widgets
Choose from many custom widgets and make your website in minutes. From timetable widget, to person profiles and shop, Hairpress has it all.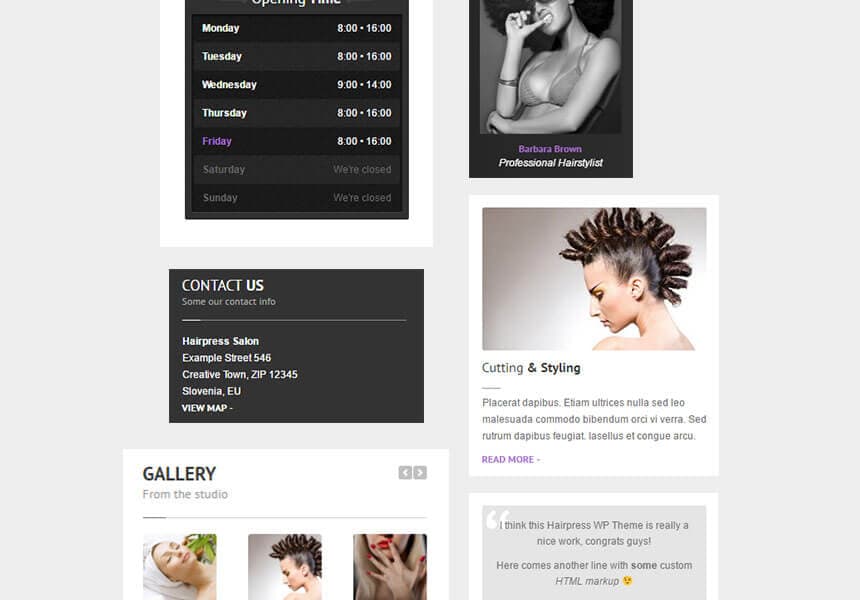 ---
Live Customizer
For rapid color, layout and widget changes. You can keep an eye on how your website is changing in realtime.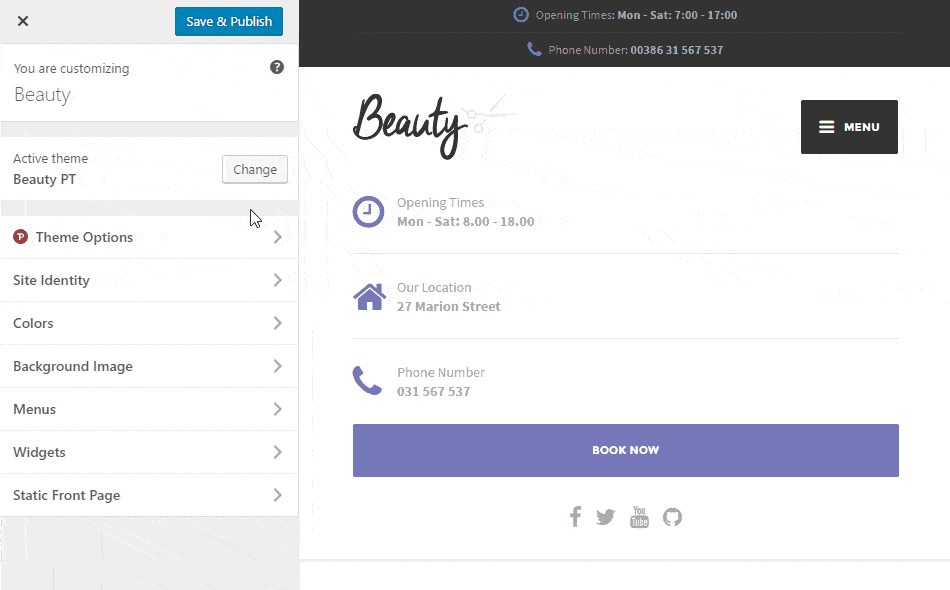 ---
Plugins
Everything you need to create a fully-functional, user-friendly website.
We also tested our theme with popular plugins such as Revolution Slider, Layer Slider 5 and WPML.

The most customizable eCommerce widget for building your online business.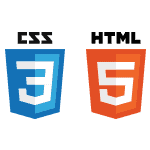 ---
Compatible but not bundled

---
High Quality Code
We value compatibility and code quality as highly as the visual appearance of the theme. Style should never replace substance. Page speed and Google algorithms go hand in hand. We pay special attention to nurture your search ranking.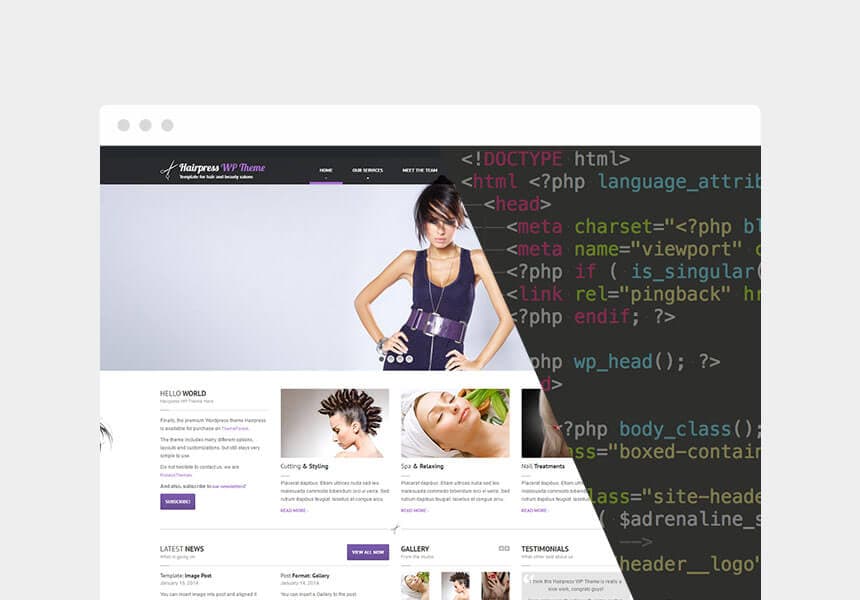 ---
Updates
We regularly make safety and feature updates. Sleep easy. There's no need to worry about the vulnerability of your website.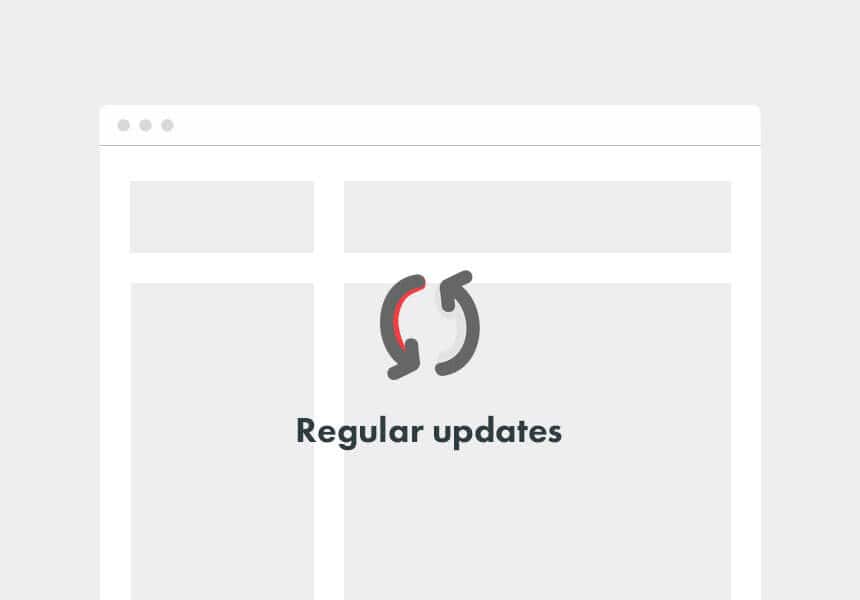 ---
Support
Our expert support team is super responsive. From simple to complex issues - no matter your level of WordPress expertise - we are always here to help.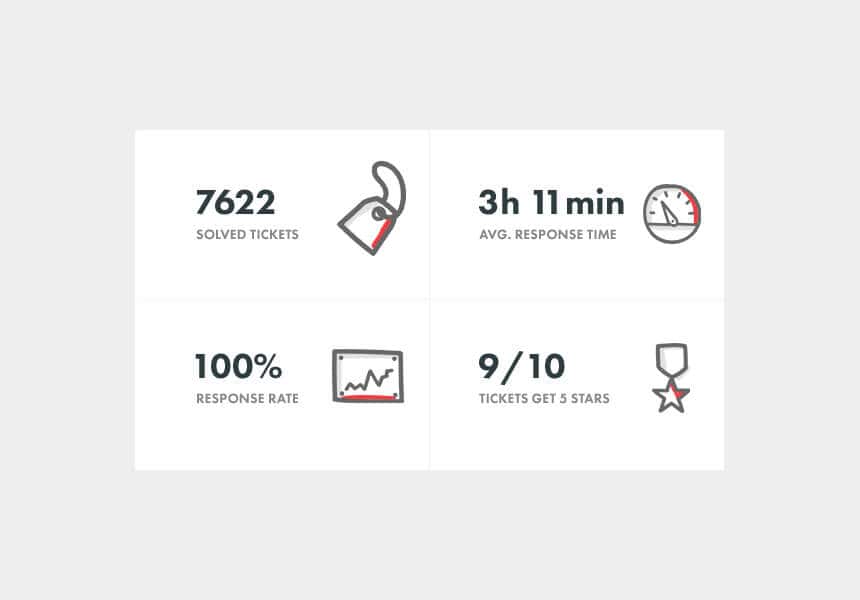 ---
More Features
Some of these features may be obvious to more seasoned theme users. But for the sake of first-time theme buyers, they are definitely worth mentioning:

Unlimited Colors
Endless customization with unlimited color options.

Various Page Layouts
Mix-and-match from a selection of pre-made layouts.

Custom Widgets
Powerful widgets that add new functionality to your site.

634+ Icons
Font icons included for simple and clear navigation of your website.

Responsive and Retina Ready
Responsive and able to display on all devices and resolutions.

Multilingual
Every element of this theme has been pre-translated into 6 languages.

SEO Optimized
Designed with SEO ready structure. Google will love your site.

Secure Code
We regularly make safety updates and all of our code exceeds WordPress standards.

Video Tutorial
To guide you through the installation and demo import process.

I used HairPress for a solo hair stylist and they were absolutely thrilled with the result. The theme was easy to use and fit the needs of my client perfectly.
Scott Kondor
HairPress
This template is terrific. I needed to obtain some support from these guys and am most impressed both with their speed of response and their clear precise instructions / workarounds..
Caseyoli54
HairPress
I love this theme! Am using it for one client, and the next client I am working with wants it as well! Very nice design, clean code (to make customizations – even with novice html knowledge I was able to find what I needed), and sensible, well-written documentation. Thank you!
RiplSocial
HairPress
Purchased this theme and in few days I got my client website done. I'm not a wp-monster, but thanks to the customer support I fixed a couple of customizations the way I wanted. Very fast, very professional and simple. Thanks a lot for the support.
Very happy with it!
Great deal!
Luca Lindemann
HairPress
The customization turn around is incredibly fast and the developer is quick to grasp my needs. Proteus Themes came up with an even better solution to my request than what I had thought of. They really do support the customer.
Tbs278
HairPress
The theme is great and only surpass by the customer support ProteusThemes has to offer. I ran into some cumbersome technical issues and customer support worked with me until we found a solution… I strongly recommend ProteusThemes.
Luis2017
HairPress
Easy setup. Minor installation problem, becouse I was not known with WordPress, but quick help from the helpdesk. No other problems, perfect quality template.
Wiardi
HairPress
Not only is this a great theme, their support is fast, easy to understand and was able to solve both of my issues.
Leisa128
HairPress
Their support is professional giving me good assistance or solutions to help my questions quickly. I am very satisfied.
Tsubaki515
HairPress
Version 4.8.5
(February 20, 2017)
fixed Facebook widget responsiveness on iPad (iOS)
Version 4.8.4
(November 7, 2016)
improved switch recommended plugin for lightbox effect (from Fancybox for WP to WP Featherlight)
Version 4.8.3
(June 30, 2016)
fixed google maps API errors. API key field added in the customizer.
Version 4.8.2
(June 15, 2016)
improved ensured compatibility with WooCommerce 2.6
Version 4.8.1
(May 16, 2016)
fixed removed deprecated sensor param from google maps api url
Version 4.8.0
(February 1, 2016)
added translation to Dutch (by Roy Duineveld)
improved TGMPA update
Version 4.7.0
(October 2, 2015)
removed theme slider
improved updated OT to v2.5.5
fixed Setting for the static/sticky navbar was hidden in customizer.
Version 4.6.0
(June 22, 2015)
added support for plugin Salon Booking
added enqueue jquery-ui-datetimepicker only if the Salon booking plugin is not activated.
added testimonial page
improved Russian translation (by Denis Semenov)
Version 4.5.4
(April 29, 2015)
fixed translation i18n issues
improved new version of Revolution Slider (v4.6.92)
Version 4.5.2
(April 21, 2015)
improved new version of Revolution Slider (v4.6.9)
fixed support for HTTPS & SSL
fixed WooCommerce breadcrumbs
Version 4.5.1
(February 16, 2015)
fixed support for WooCommerce v2.3.0
fixed updated OT to v2.5.0
Version 4.5.0
(January 7, 2015)
added option to disable the glare over the photos of team members
added link to online docs in WP admin
fixed back link/button to all services
fixed link in breadcrumbs to custom post type archives
Version 4.4.0
(September 22, 2014)
added option to open social icons in a new tab `target="_blank"`
improved support for WooCommerce v2.2.x
fixed WPML issue with the featured page button
fixed new Revolution Slider (4.6.0)
Version 4.3.2
(May 21, 2014)
improved update option tree plugin
added Serbian translation
Version 4.3.1
(April 25, 2014)
improved new revslider.zip
fixed locations not showing up problem, added underscorejs
fixed WPML switcher in the main menu
Version 4.3.0
(March 25, 2014)
added automatic pin on the center of the map if no locations
added HTML classes to target meta-data info for posts and *posts disabled* text
improved new revslider.zip
fixed ?is_woocommerce_active? wrapped in ?function_exists?
fixed target PHP notice in inc/shortcodes.php
fixed when clicked on the team member on the front page and we have a sticky navbar, the offset from the top.
Version 4.2.1
(February 21, 2014)
fixed the Google maps for contact page without sidebar
Version 4.2.0
(February 12, 2014)
added boxed version
added W3 Total Cache comments for CSS/JS placements
improved Google Maps to custom JS solution with multiple locations possible
fixed all the bugs with the WooCommerce v2.1.0
Version 4.1.1
(January 22, 2014)
fixed widget title/subtitle filter
Version 4.1.0
(January 21, 2014)
added support for WooCommerce
added support for WPML
added auto-updating support via Envato APIs
added better options for color control: footer and navbar
added custom backgrounds (native WP)
improved page load speed
fixed the bg for title area on categories, tags and search, the same as blog
Version 4.0.4
(December 19, 2013)
fixed fatal error in the front-template-page.php
Version 4.0.3
(November 27, 2013)
fixed gallery widget links
Version 4.0.2
(November 21, 2013)
fixed inc/custom-comments.php file fixed (whitespace removed)
Version 4.0.1
(November 18, 2013)
fixed inc/theme-options.php file fixed (whitespace removed)
Version 4.0.0
(November 14, 2013)
added Russian translation
added gallery widget has the additional parameter to limit max number of pictures
added sample child theme in the folder /extras/ in zip
added automatic installation of the required plugins
improved Some parts of the theme were completely rewritten for better future-compatibility with WordPress.
improved updated option tree
improved updated slider revolution plugin to 4.0.4
Version 3.1.0
(October 25, 2013)
improved updated slider revolution plugin
fixed removed the wp_autop filters
fixed responsive part of the revolution slider front templates
fixed CSS for side menu
fixed team member single page, attributes were not showing
Version 3.0.2
(October 5, 2013)
fixed gallery widget for the front page
Version 3.0.1
(October 4, 2013)
fixed menu locations bug
Version 3.0.0
(October 3, 2013)
added easier to create child themes
added easier gallery management (we will publish new YouTube video the next week)
added new custom widget for the homepage which spans as wide as the user sets
added additional field in the opening times widget
added Yelp social icon
fixed opening times widget in the sidebar issues on the tablet
Version 2.3.0
(September 4, 2013)
fixed title area customized background fixed for services and individual posts
fixed background color for the dropdown menu the same as the navbar color
Version 2.2.1
(August 16, 2013)
fixed Option Tree plugin issue with the social icons
Version 2.2
(August 2, 2013)
added new template, with theme slider and without captions
added gallery widget visible on the mobile view
improved updated Option Tree plugin to v2.0.16
fixed better control for touch devices for jQuery UI
fixed carouFredSel resizing issues
Version 2.1
(July 3, 2013)
added new template, with Slider Revolution and content of the page
added possible to change the bg of the blog page
fixed removed the unnecessary Custom CSS from the Theme Options > Layout
Version 2.0.2
(June 24, 2013)
fixed logo upload bug
Version 2.0.1
(June 18, 2013)
added social icons for Flickr and Instagram
added customize control for the navbar position: fixed or static
fixed missing translations
Version 2.0
(June 15, 2013)
added possible to change the color of the navbar and footer from the Customizer
added possible to add the custom backgrounds to the Gallery, Services and The Team
added each team member can now have any attributes (previously only Age, Education, Style, Zodiac sign) with optional linking
added 5 custom date formats for the jQuery date&time picker
improved removed the custom Twitter feed, now possible to add the Twitter Widgets
fixed if less than 6 members on the front page, they are centered now
fixed the problem with more than 12 team members on the front page
fixed Google Maps type changed from text input to radio select
Version 1.6
(May 2, 2013)
added custom CSS field
added buttons shortcode - added the attribute to open up in a new window
added multi level custom menus in Menu Widget
fixed fatal errors in the galleries
fixed grid view of more than 4 services on the front page
Version 1.5
(April 20, 2013)
added textarea for custom scrips in the footer added in Theme Options
added custom favicons using theme customizer
added custom Google Maps view (normal, satellite, terrain, hybrid)
added 3-level drop-down menus support added
added contact page template without sidebar
added custom background settings for individual pages
added date & time picker added to the appointment form
fixed social icons position on mobile phones
fixed removed the social icons when using regular Slider Revolution home page
fixed Tweet jQuery plugin, added support for Twitter API migration to v1.1
Version 1.4.1
(April 2, 2013)
fixed footer widget area - didn't expand on click
Version 1.4.0
(March 30, 2013)
added a lot of new social icons in slider and as shortcodes
added social icons now above the slider rev front page template as well
fixed many translation bugs
Version 1.3.0
(March 27, 2013)
added pagination inside the posts
added pricing table in documentations and YouTube video
fixed :focus state of the submenu items in the main menu
fixed new and better demo content
Version 1.2.0
(March 24, 2013)
added possible to remove the image of hair on large screens in Theme Options
added possible to change the delay time between slides and transition
effect on Front Page with Theme Slider
added possible to change the color of the text in Theme Customizer
fixed Opening Time widget: correct timezone, starting day of the week
fixed Above Slider widget area now available using Front Page with Revolution Slider template as well
Version 1.1.2
(March 18, 2013)
fixed [social_icon] shortcode
fixed breadcrumbs links for custom post types
Version 1.1.1
(March 12, 2013)
added video tutorials to the documentation
fixed Contact Form 7 sample code in documentation
Version 1.1.0
(March 8, 2013)
added Added the option to change the background color of title area in subpages
added Added the option to remove the Meet the Team on the front page in Theme Options
fixed Fixed the gallery widget - display max of 9 items at a time
Version 1.0.2
(March 2, 2013)
fixed Fixed the Theme Options (OptionTree) settings problem
Version 1.0.1
(February 28, 2013)
fixed Fixed the theme slider issue
Version 1.0.0
(February 26, 2013)
added first version of the HairPress WP Theme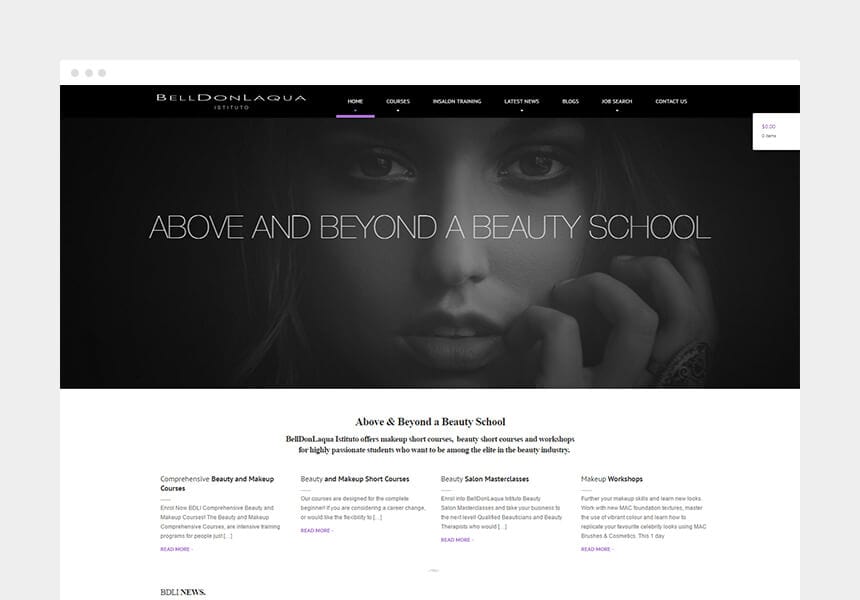 Belladonlaqua Beauty School – (training.belldonlaqua.com)
---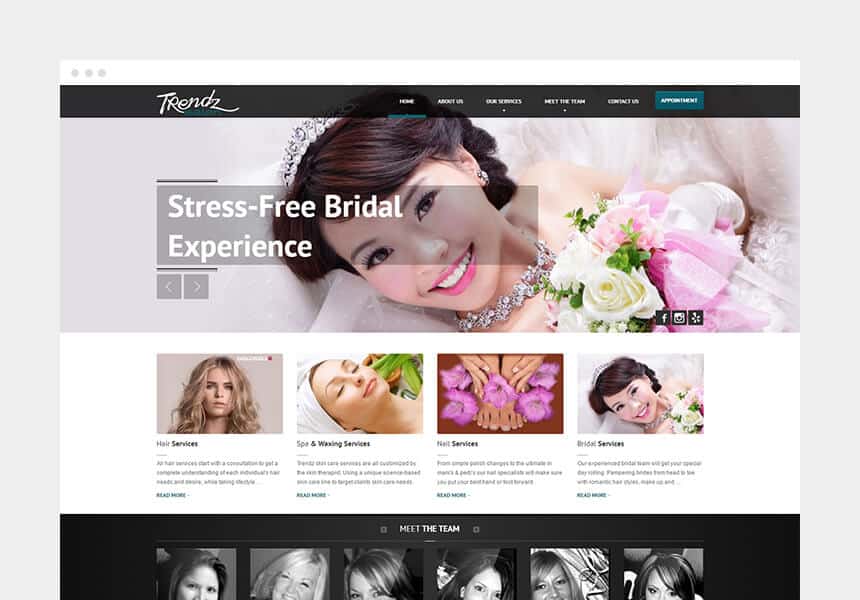 Trendz Salon – (www.trendzhair.com)
---
WaxCat – (www.waxcat.de)
---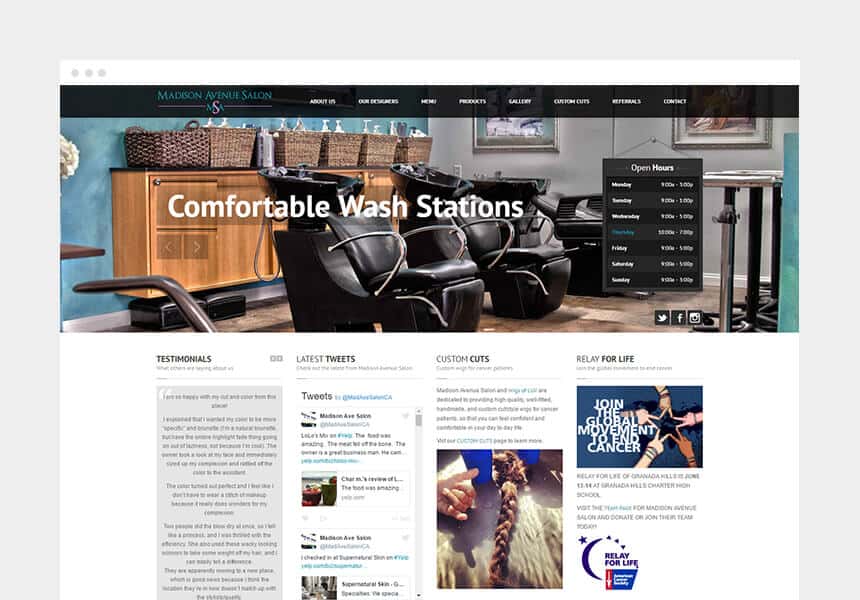 Maddison Avenue Salon – (madisonavenuesalon.com)