Link to the invoice for your purchase is in the payment confirmation email you get from the FastSpring as soon as you complete the purchase on our website.
Finding an invoice
In case you cannot find that email anymore or you need to change details on the invoice you can always retrieve your invoice (including official VAT invoices for business purchases) following these steps:
Go to https://proteusthemes.onfastspring.com/account and log in using the email you've provided when making a purchase.
Below each order you made on our website, you will find a link to your invoice. Clicking to the link will take you to the page with the invoice. If you need a PDF version of the invoice, append the /pdf at the end of the URL, like this: https://proteusthemes.onfastspring.com/account/order/PRO180425-5161-81295/invoice/pdf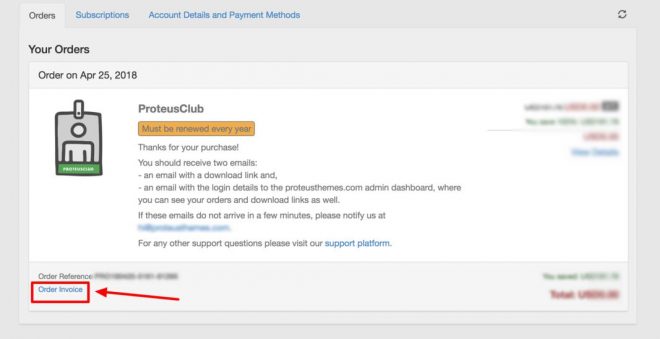 Changing details on the invoice
For changing details on the invoice issued by FastSpring, especially if you forgot to enter your company's details and VAT ID, you will have to reach out to FastSpring orders support to email [email protected]. Please include your order reference number so they can find your order right away.
FastSpring orders support will be able to edit the details on your invoice and if provided with the valid VAT ID, they will also issue a refund for the VAT tax paid.