Design
We make sure to mix the perfect blend of design and functionality into each of our themes. Your visitors will always encounter a visually appealing but simple to use website.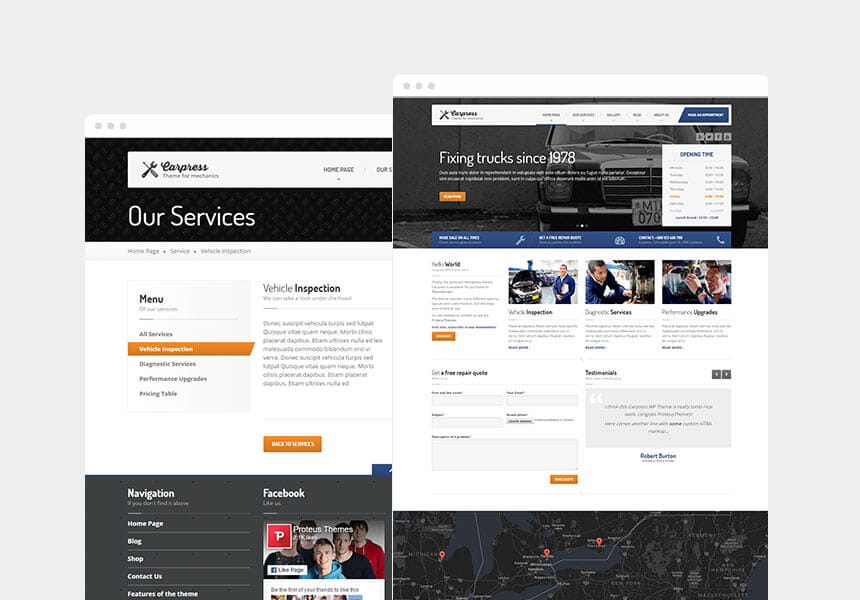 ---
Widgets
Choose from many custom widgets and make your website in minutes. From contact form, to person profiles, opening times, to pricing tables and detailed service widgets, Carpress has it all.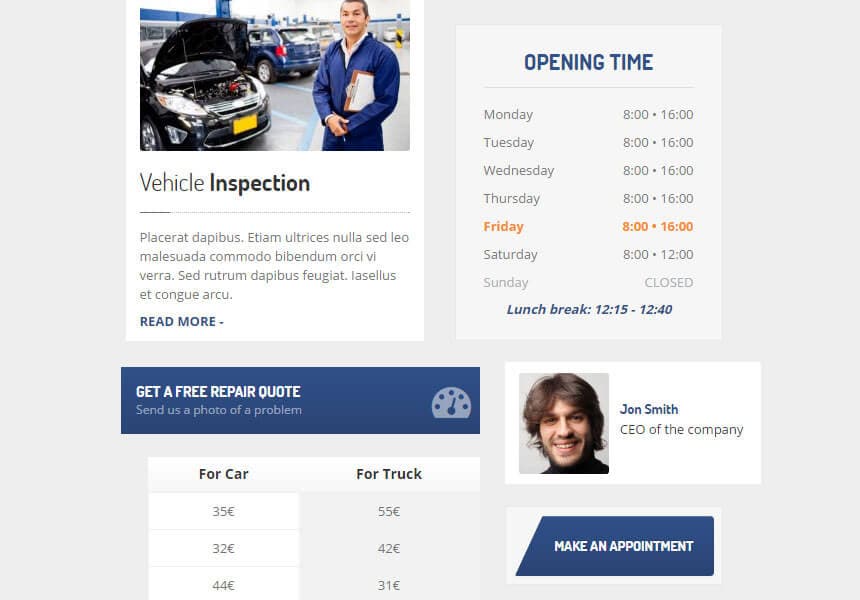 ---
Live Customizer
For rapid color, layout and widget changes. You can keep an eye on how your website is changing in realtime.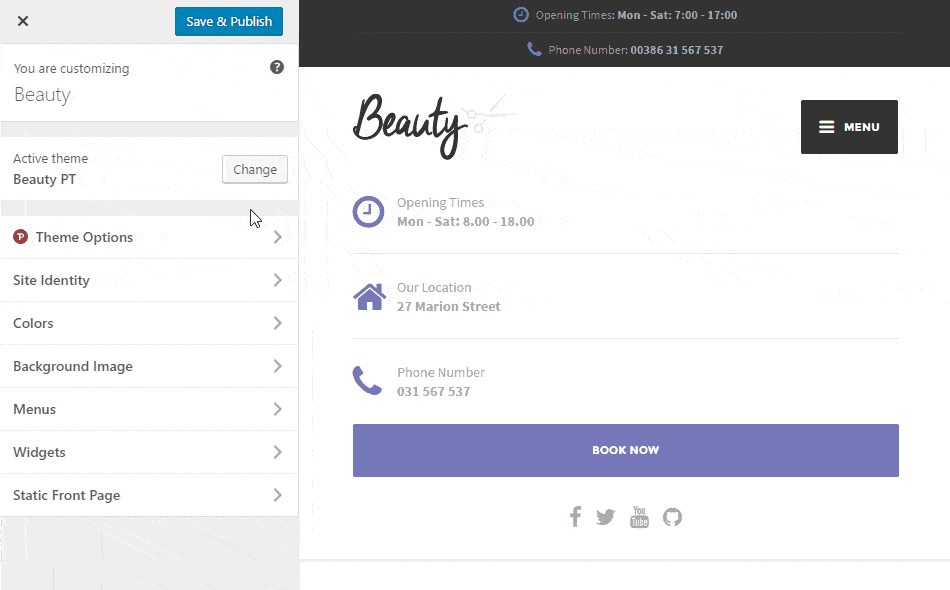 ---
One-Click Demo Import
Import our demo content onto your website at the click of a button. Sometimes it really helps to build downwards from something, rather than upwards from nothing.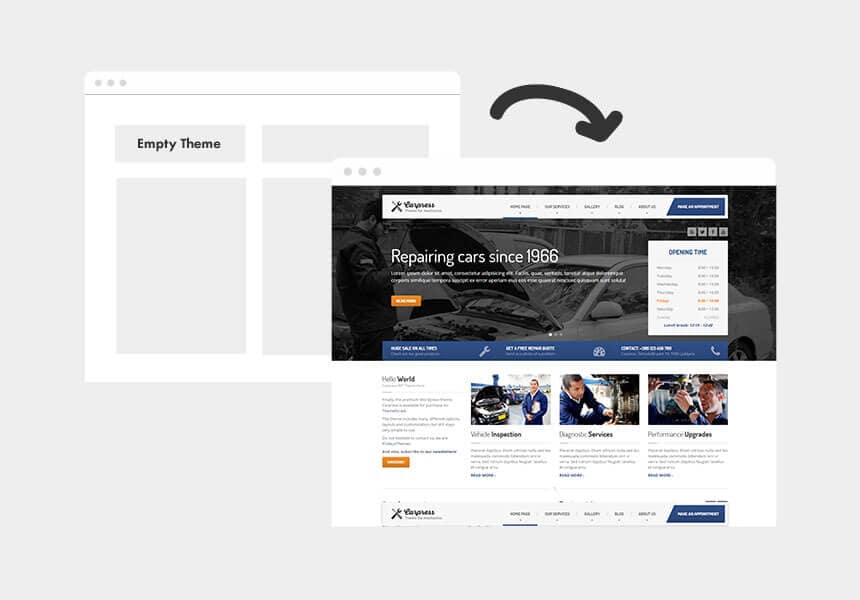 ---
Plugins
Everything you need to create a fully-functional, user-friendly website.
We also tested our theme with popular plugins such as Revolution Slider, Layer Slider 5 and WPML.

The most customizable eCommerce widget for building your online business.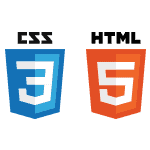 ---
Compatible but not bundled



---
High Quality Code
We value compatibility and code quality as highly as the visual appearance of the theme. Style should never replace substance. Page speed and Google algorithms go hand in hand. We pay special attention to nurture your search ranking.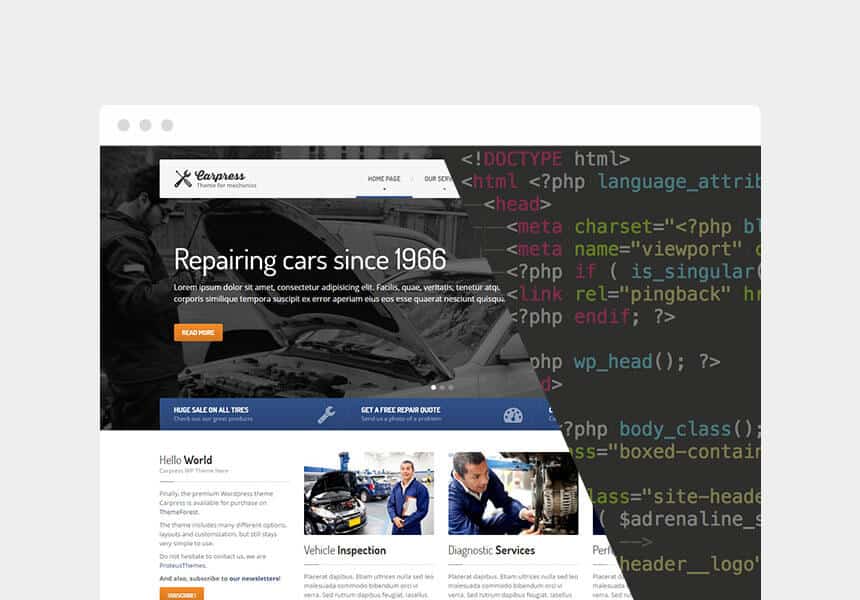 ---
Updates
We regularly make safety and feature updates. Sleep easy. There's no need to worry about the vulnerability of your website.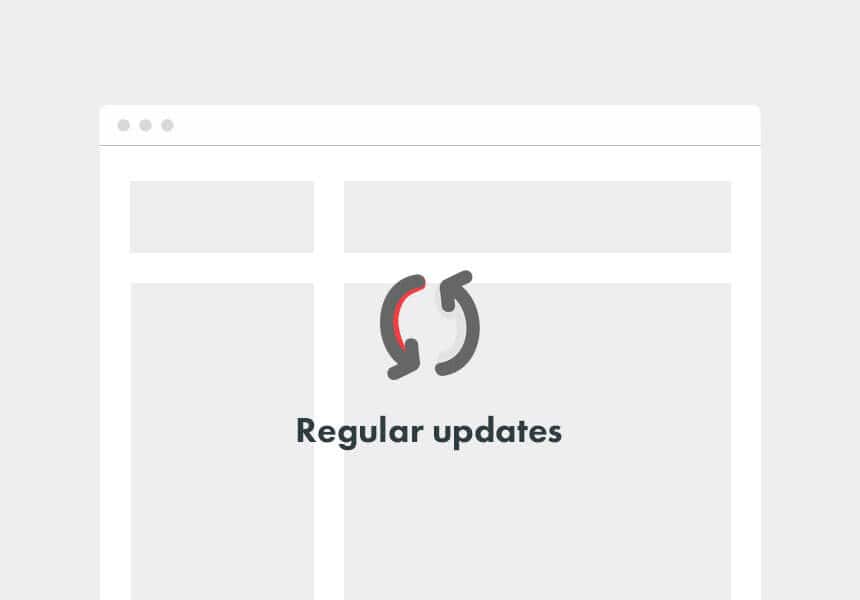 ---
More Features
Some of these features may be obvious to more seasoned theme users. But for the sake of first-time theme buyers, they are definitely worth mentioning:

Unlimited Colors
Endless customization with unlimited color options.

Various Page Layouts
Mix-and-match from a selection of pre-made layouts.

Custom Widgets
Powerful widgets that add new functionality to your site.

634+ Icons
Font icons included for simple and clear navigation of your website.

Responsive and Retina Ready
Responsive and able to display on all devices and resolutions.

Multilingual
Every element of this theme has been pre-translated into 14 languages.

SEO Optimized
Designed with SEO ready structure. Google will love your site.

RTL Ready
We support languages written in a Right-To-Left direction.

Secure Code
We regularly make safety updates and all of our code exceeds WordPress standards.

Video Tutorial
To guide you through the installation and demo import process.
Anytime I submitted a ticket, they would respond VERY fast.
This is by far some of the best customer support I have seen in a while.
Recently had a simple problem with my site title (which I thought was due from a plugin). I waited 3 weeks for a solution from the plugin guys but got no where with it (they said it was a theme problem).
I contacted the support theme here and within 2 days they had it fixed.
Awesomesauce 🙂
R3detailing
CarPress
I am an old-school DW designer, but new to WP. With the countless template sources out there, my biggest concern before purchasing this theme was, "am I going to be able to produce this theme with limited difficulty, and what happens if I need help." This carpress theme was my first ever theme purchase. The support I received, far exceeded my expectations. The support person gave me an immediate relief/satisfaction with my purchase. I felt a genuine concern for my issue, with no delay in the support, and without trying to squeeze more money out of me. He was knowledgeable and professional. As I learn WP, I hope to establish a good relationship with Proteus, they will be my go-to company as I expand my sales in WP website design. Thank you again! Sincerely, David King, King Graphic Arts
KingGraphicArts
CarPress
This is a fantastic design that my clients loved and was very functional for me to get deployed. The devs were very responsive and easy to work with for some customization I needed for my client with multiple locations.
Great design, easy to use and a client pleaser – what more could you ask for? Thanks Gregor and ProteusThemes.
WrenchTechGuy
CarPress
This was one of my first websites I did with WordPress. The set-up is easy and adaptive. On top of that, the customer service is really great. Thanks to Mark, all my questions were answered within no time and solved my issues to the point. A great theme and a great team. Thanks a lot.
NicoleOehlmann
CarPress
I just have a very very little knowledge in html and i am completely new in wordpress. I was already happy to get the installation of wordpress done…but with capress I could manage to create a completely awesome website for my brothers company. All the theme options word very intuitive…Another wonderful thing is the live costumizer…you see directly what part changes when you change it. So if you are also very new in wordpress and html you will also just need some days to create an awesome website ( i also created the content in that time; images and texts). So buy capress and do something awesome!
ChefKoch89
CarPress
As a freelance designer, I'm often faced with clients that have specific needs. I am working with a wonderful client in Basalt Colorado who is using Carpress for their auto body shop … And they could not be happier with the results.
The template is very easy to work with and customize. Any difficulties or special requests that I have had have been easily quenched by the wonderful tech support team at Proteus Themes.
I can see this template having very many uses beyond supporting a body shop … It is a great template full of customizable options. I highly recommend Carpress, and Proteus Themes.
JohnJMcMullen
CarPress
Hello everyone. I know most of you are programs but I work in auto repair and i have to say this is the best theme I have seen. We had a few customers try the website and they said it was very easy to navigate. I feel this theme gives us the same quality website that the big chains have. I recommend this to anyone looking for an auto repair theme.
AdvancedAutoma
CarPress
Great Theme, and tremendous support..! A very quick response to the one question I had..! Documentation is great. I will definitely use Proteus Themes again..!
Vtglass
CarPress
Marko provides outstanding support for this theme. The theme itself is very flexible and doesn't necessarily need to be used for a mechanics or garages website (I've used this for a business theme).
I have no hesitations in providing Proteus Themes a 5 star rating.
Servasol
CarPress
Lovely and simply to use theme. Excellent customer support by a team who really care about their customers.
One of the best authors on Themeforest.
thanks guys.
Jamlaw
CarPress
Version 1.11.8
(February 17, 2019)
fixed create_function notice on PHP 7.2, reported here: https://themeforest.net/comments/20669698
Version 1.11.7
(October 3, 2018)
fixed responsiveness for iframes
fixed add missing cookie consent checkbox for WordPress comments
Version 1.11.6
(June 14, 2017)
fixed product image gallery style in WooCommerce 3.0
Version 1.11.5
(November 7, 2016)
improved switch recommended plugin for lightbox effect (from Fancybox for WP to WP Featherlight)
Version 1.11.4
(July 5, 2016)
fixed google maps API errors. API key field added in the customizer.
fixed missing background setting for The Team page in Theme Options > Layout
Version 1.11.3
(June 15, 2016)
fixed removed deprecated sensor param from google maps api url
improved checked and assured compat. with WooCommerce 2.6
Version 1.11.2
(February 1, 2016)
improved TGMPA update
fixed add to cart message on single product page is displaying the span tags from the title
Version 1.11.1
(October 2, 2015)
fixed Setting for the static/sticky navbar was hidden in customizer.
Version 1.11.0
(June 23, 2015)
added Front page template for Revolution Slider
added translation to Catalan language (by Jordi Gimenez - http://mobilejazz.com/)
fixed the triangle background color issue when installing a theme for the 1st time
fixed order of the team members in the team widget (now using the Order attribute)
fixed added class to latest news widget
Version 1.10.0
(April 28, 2015)
added Portugese translation (credits: Jose Lampreia http://webptdesign.com)
fixed support for WooCommerce v2.3.x
fixed woocommerce breadcrumbs (HTML entities problem)
fixed responsive video embeds
fixed OT (updated to 2.5.4) and TGM (updated to 2.4.2) vulnerability
Version 1.9.0
(January 6, 2015)
added option to open social icon links in new window
added one click demo content installer
added Polish translation (by Artur Marsza?kowski)
added link to online docs in WP admin
improved custom menu can now be nested
fixed link in breadcrumbs to custom post type archives
Version 1.8.0
(October 14, 2014)
added support for WPML language switcher with flags in the main navigation
fixed slider titles markup changed from h1 to h3
Version 1.7.0
(October 13, 2014)
added carousel auto-scroll and interval settings for widgets Testimonials and Latest Galleries
Version 1.6.1
(September 22, 2014)
added images from slider included in the zip package in folder `extras/`
improved support for WooCommerce 2.2.x
fixed issues with HTTPS/SSL sites, now all assets are served from consistent protocol
fixed typo in Russian translation
Version 1.6.0
(September 5, 2014)
added translation to Russian
added translation to German
added translation to Dutch
added translation to French
added translation to Spanish
fixed testimonials line-height
fixed 2 typos in English (Cart Total, Fields with * are required)
Version 1.5.4
(August 21, 2014)
improved FontAwesome version to v4.1
improved `var imgRatio` in JS for slider calculated in PHP
fixed WPML issue with the featured page button
Version 1.5.3
(July 1, 2014)
fixed missing quote for custom pattern in titlearea
Version 1.5.2
(June 3, 2014)
fixed the custom titlearea image for the bg is now applied also to the `titlearea.php` file as the fallback
Version 1.5.1
(May 27, 2014)
fixed height of the titlearea due to navbar position change
Version 1.5.0
(May 26, 2014)
added option for static navbar with menu
fixed position of the sticky navbar when the phone number is visible on desktop
fixed in `inc/helpers.php` wrap all functions to `function_exists` if statement
Version 1.4.1
(April 10, 2014)
fixed slider transition timing setting
Version 1.4.0
(April 3, 2014)
added *tap to call* optionally visible for the desktop version as well
added child theme
added slider in the documentation - best image sizes
added option to show bigger logo in the customizer
added bottom bar text color editable
added option to hide breadcrumbs
added option in theme options to change URI of `the-team`
added option to link to other pages than services in the services widget
fixed slider issues when the image is not wide enough and there is blank space left and right of it
fixed testimonials widget can be used in any sidebar
Version 1.3.0
(March 20, 2014)
added option to directly open an image in fancybox from the home page
added optional meet the team
added custom bg image pattern for the footer
added optional semi-transparent background behind the slider text
fixed if only one testimonial or gallery, do not show nav arrows
fixed hover color on the zero level menu elements
fixed position of the 'Read More' text over the services widget
Version 1.2.0
(March 13, 2014)
added slider with the custom content for each slide
added code for the Contact Form 7 widget to the docs
added option to upload custom pattern to the jumbotron
added if no locations, set the pin to the center of the map
improved demo content
fixed removed carouFredSel, changed to Bootstrap carousel
Version 1.1.0
(March 10, 2014)
added tap/click to call
added slider
fixed dropdown menu background color
Version 1.0.1
(March 6, 2014)
fixed title area for all subpages
fixed navbar for tablets
Version 1.0.0
(March 4, 2014)
added first release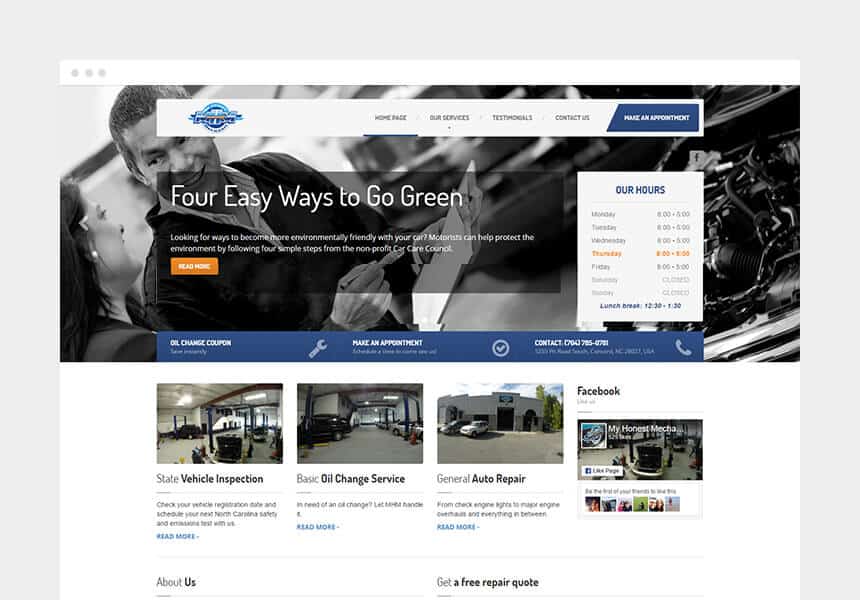 MHM Auto – (mhmauto.com)
---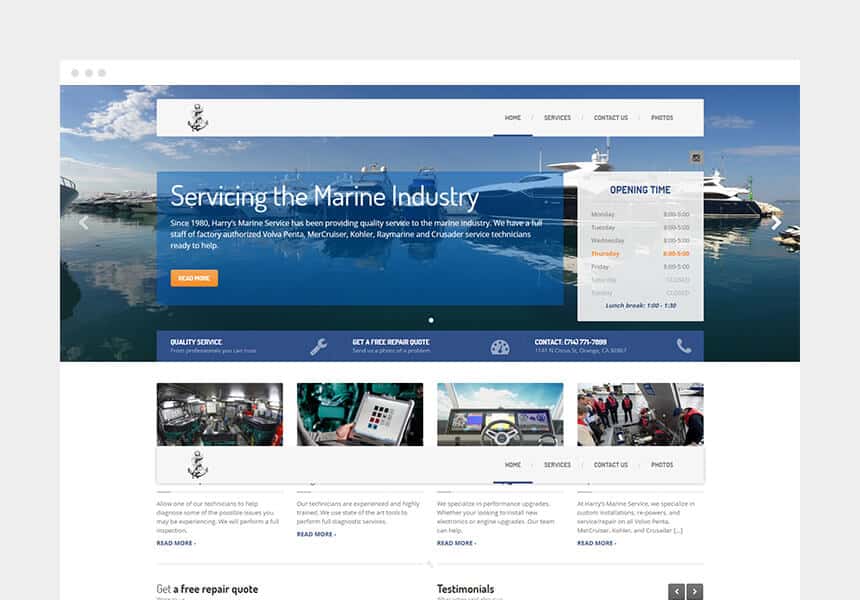 Harry's Marine – (www.harrysmarine.com)
---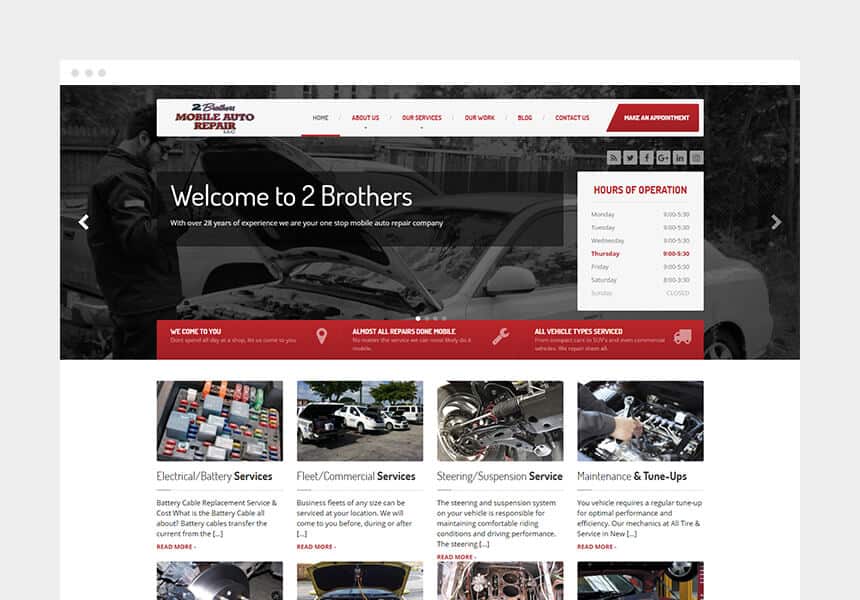 2 Brothers – (2brothersmobileautorepair.com)
---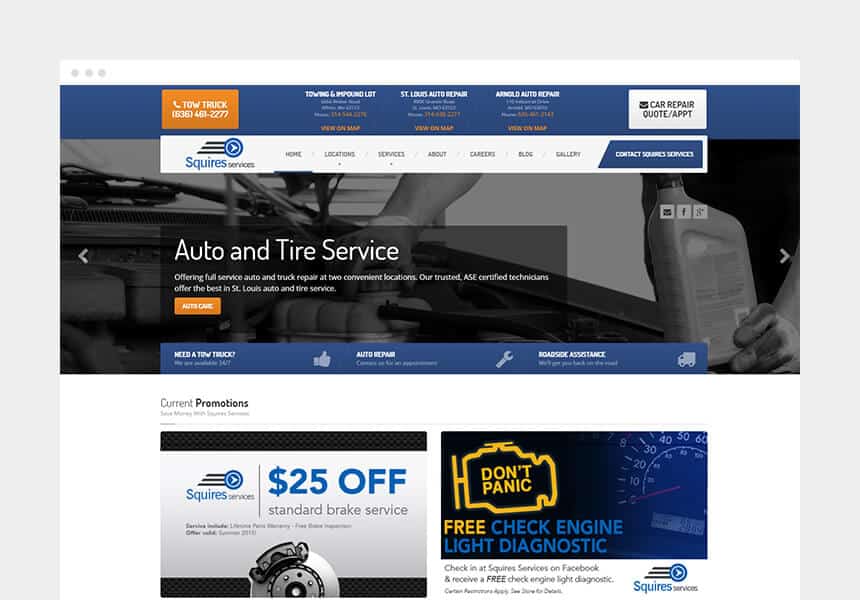 Squires Services – (www.squiresservices.com)
---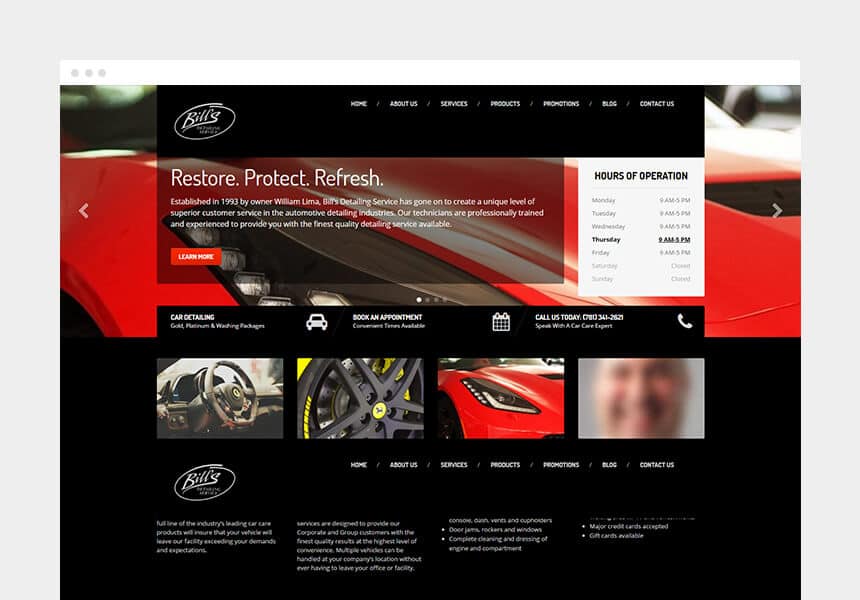 Bill's Detailing Services – (bwmsites.com/billsdetailing/#)
---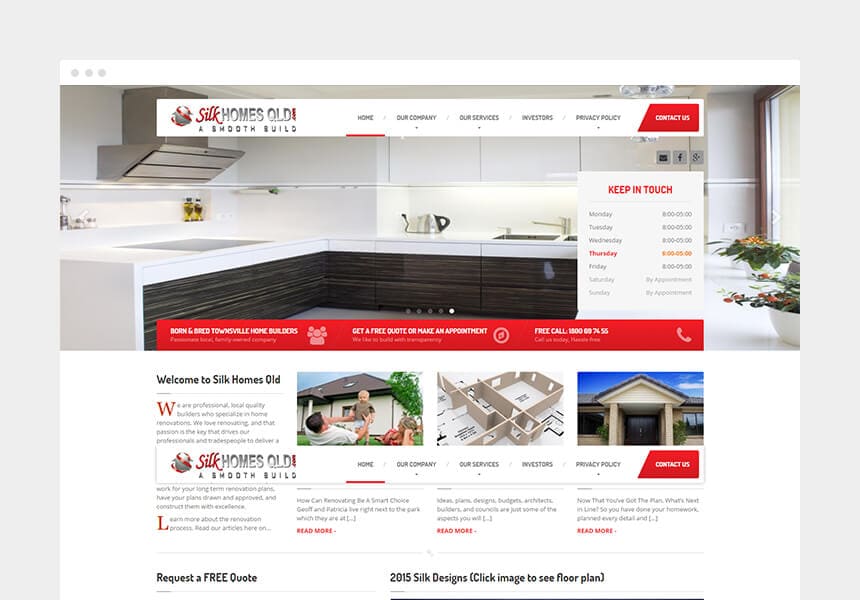 Silk Homes QLD – (www.silkhomesqld.com)