When it comes to websites for contractors, a "good" website is often good enough! That doesn't mean you should neglect your website, but it does mean there are few boxes you can check to gain a huge advantage over your local competition. For contractors, a simple website goes a long way to convincing a prospective buyer/customer to pick up the phone and call you first. A website helps demonstrates professionalism and communicate some important details about what you do and how you do it.
For contractors, a simple website goes a long way to convincing a prospective buyer/customer to pick up the phone and call you first. A website says all the things your business listing can not. But more about that in a moment. Let's first take a quick look at Google business listings and how you can use them to win new business.
There are two important things you can do to convince buyers that you're the contractor they should choose. First, make sure you are asking customers to leave a review on Google. These star ratings are bright yellow and really stand out visually. 4+ star ratings

The other REALLY important business listing feature is a link to your website.  This is where you really set yourself apart.

When we zoom out, look at local search "well drilling". From the top three businesses listed, only the first business has a website link. That link is another great signal that the first business is established and professional.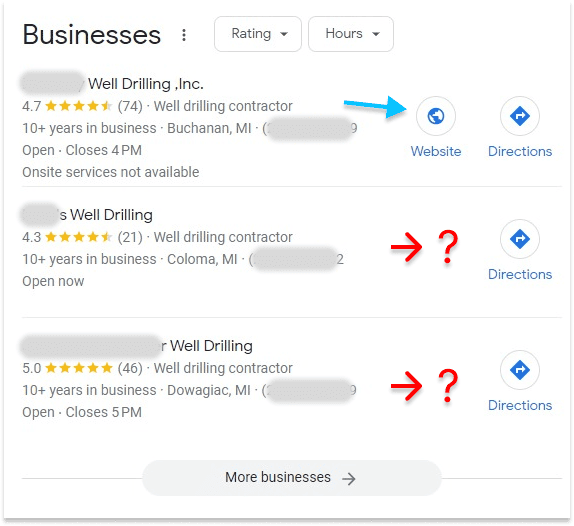 Once a visitor clicks on your website, what types of content will resonate with them most? Here are a few suggestions and real-life examples to explore further.
1. High-Quality Imagery
A picture is worth a thousand words, and in the contracting industry, it can be worth even more. High-resolution images showcasing completed projects, skilled craftsmen at work, and satisfied clients can create a powerful visual narrative. Potential customers are more likely to trust a contractor who can visually demonstrate their expertise and capabilities.
Live example – https://mcnabbconcreteforming.com/
Theme – BuildPress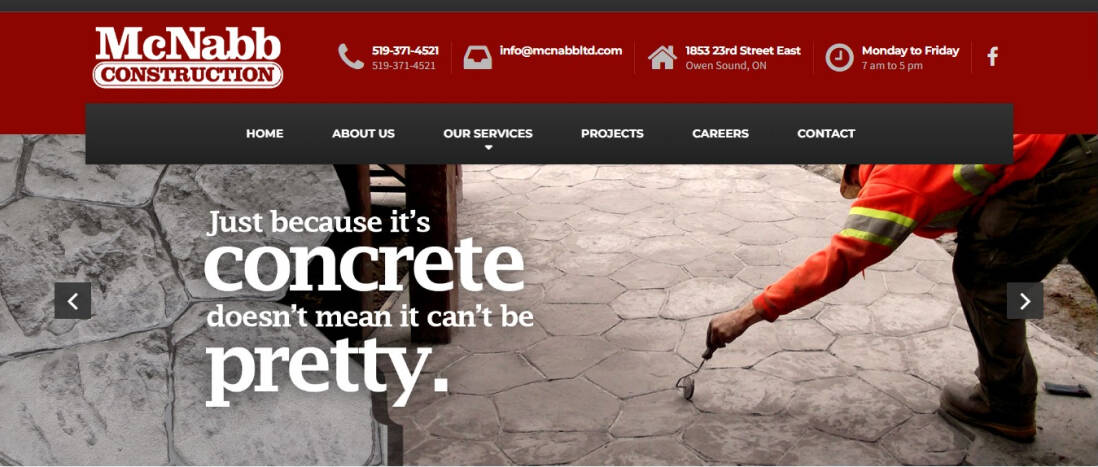 2. Clear and Simple Language
Avoid industry jargon and complex technical terms that might confuse potential clients. Instead, use clear, straightforward language to describe your services, processes, and the benefits you offer. This approach not only makes your website more accessible but also helps to build trust with visitors.
3. Showcase All of Your Services
A complete list of services helps potential clients understand exactly what the contractor can do. This way, everyone starts on the same page and there are fewer chances for confusion. Second, a clear list of services shows that the contractor is skilled in many different areas of their field. This can be really helpful for clients who want one person or team to handle all aspects of their project. Plus, it saves time for both the client and the contractor because clients can quickly see if the contractor offers what they need. In short, a straightforward list of services not only makes the contractor look more trustworthy and professional, but it also makes it easier for clients and contractors to work together smoothly, leading to better results for everyone.
Live example – https://reliancesj.com/
Theme – StructurePress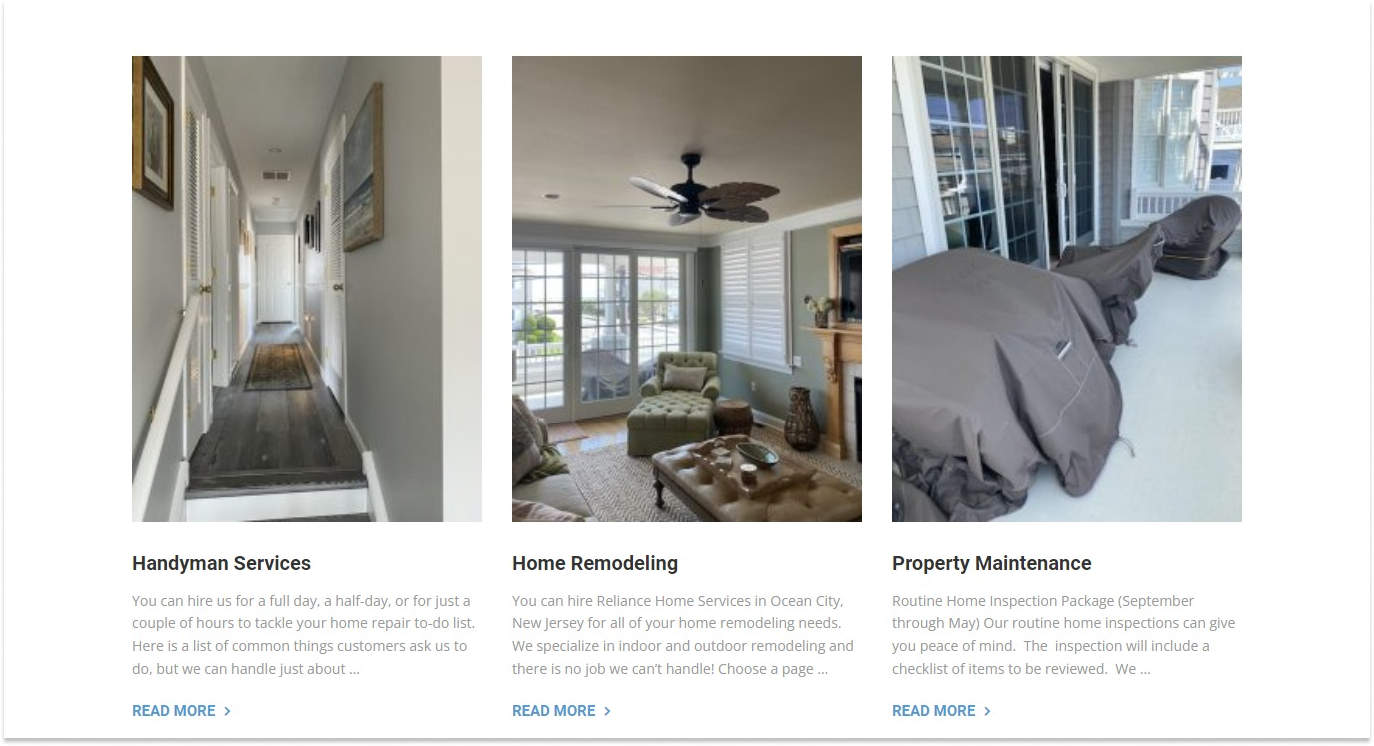 Live example – https://codesepticdesign.com
Theme – BuildPress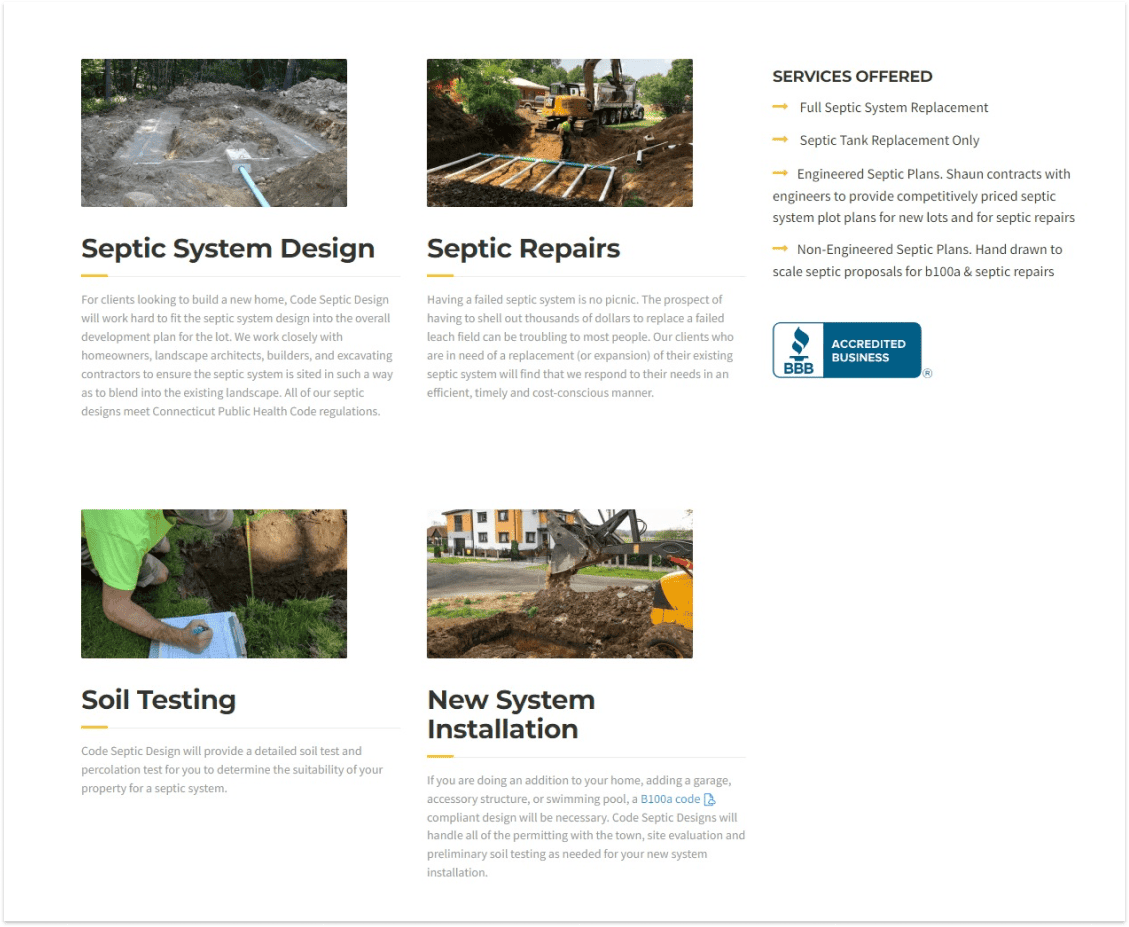 4. Frequently Asked Questions (FAQ)
Anticipate and address the questions that potential clients are likely to have. A well-organized FAQ section can help reassure visitors, provide valuable information, and save time for both parties. Be thorough and concise in your responses, covering topics like services offered, pricing, timelines, and any unique aspects of your business.
Live example – https://www.sardinianproperties.it/en/home/
Theme – Hammer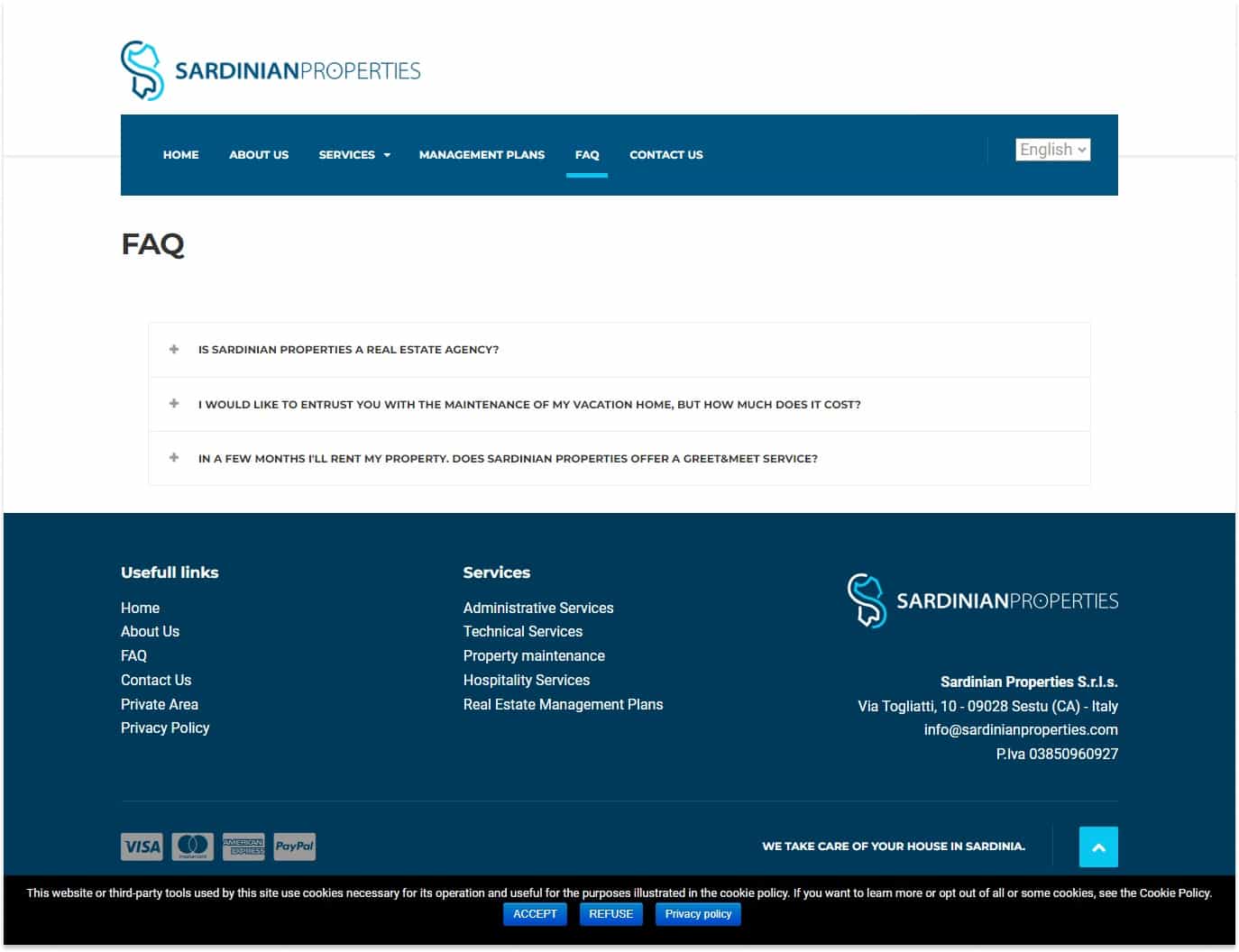 5. Customer Testimonials
Nothing builds trust like positive feedback from satisfied clients. Feature testimonials prominently on your website, showcasing real-life experiences and outcomes. Encourage clients to share their success stories, and consider including images or videos alongside their testimonials for added authenticity.
Live example – https://advancedplumbingsf.com/
Theme – Hammer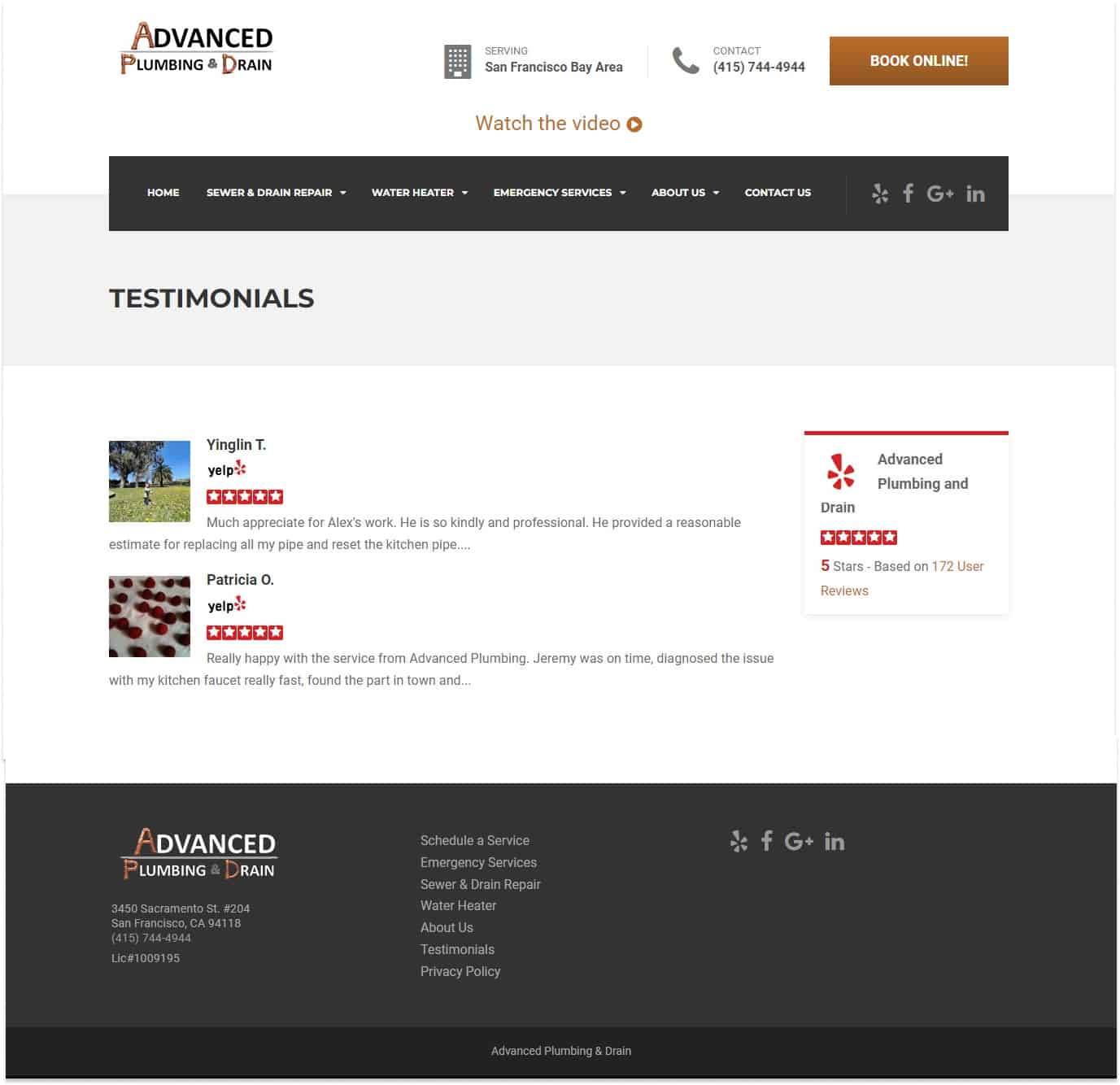 6. Showcase Past Work
Demonstrate your expertise by showcasing a portfolio of completed projects. Include images, descriptions, and any challenges you overcame. This serves as concrete evidence of your capabilities and builds confidence in potential clients.
Live example – https://knightconcrete.com
Theme – StructurePress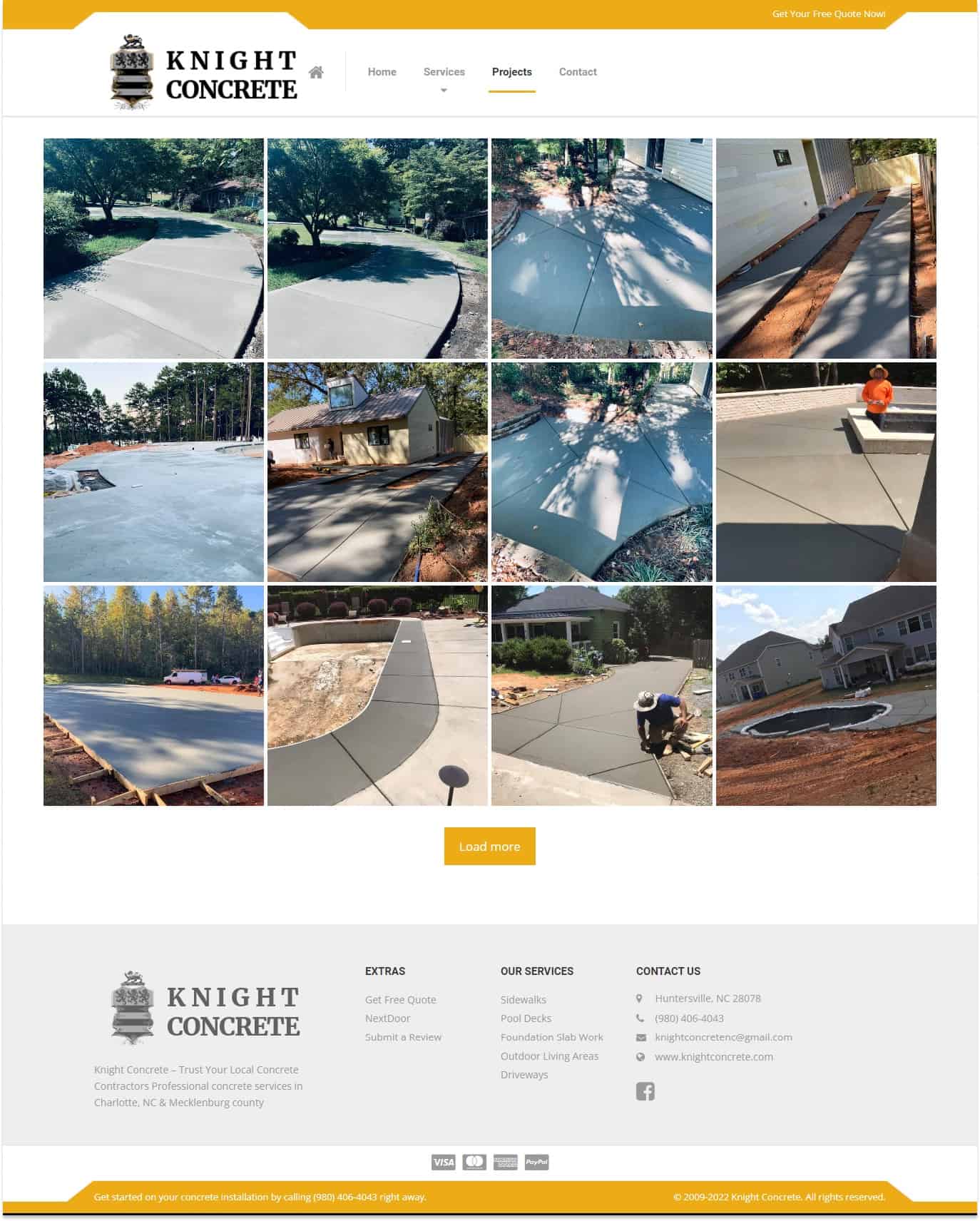 7. Easy-to-Find Contact Information
One of the most critical aspects of a contractor's website is making it simple for potential clients to get in touch. Place contact information prominently on every page, including a dedicated "Contact Us" section with a form for inquiries. Providing multiple avenues for communication, such as phone numbers and email addresses, demonstrates accessibility and responsiveness.
Live example – https://exteriorgods.com/
Theme – StructurePress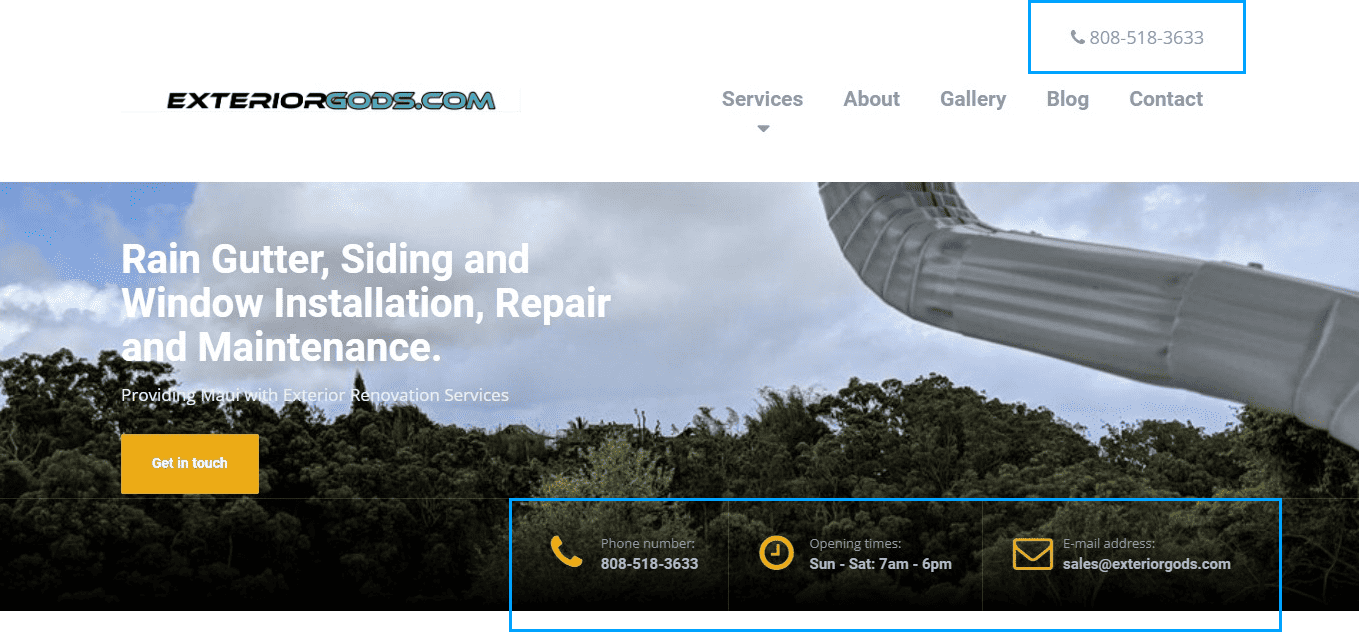 Live example – https://pinkertonplumbing.com/
Theme – Hammer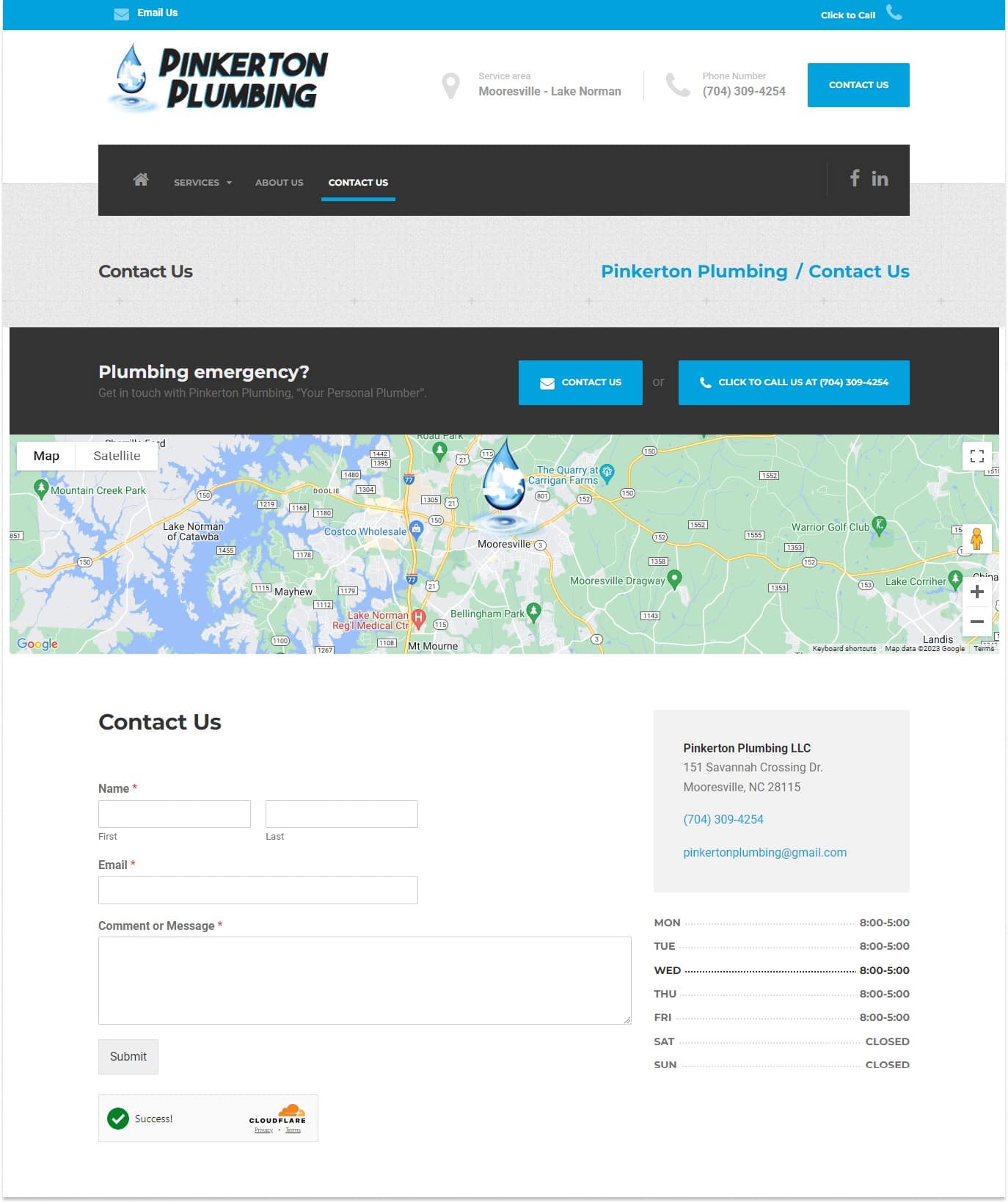 What kind of contractors need a website? In short, all of them, but here's a short list:
Well drillers
Plumbers
Masons
Interior designers
Architects
Builders and construction companies
General contractors
Electricians
Snow removal
Excavators and landscapers
Property managers
Cleaning services
In a competitive contracting market, a well-optimized website can be the key to success. By incorporating high-quality imagery, clear language, impeccable spelling and grammar, easily accessible contact information, a comprehensive FAQ section, and compelling customer testimonials, contractors can set themselves apart from the competition and attract more business. Remember, a website is more than just a digital storefront—it's a powerful tool for conveying your expertise and commitment to quality. Invest the time and effort into your online presence, and you'll reap the rewards in the form of a thriving contracting business.