You finally have your blog up and running, filled with lots of great content, and ads to generate an income. But it's not going as well as you hoped it would be.
Your articles aren't getting enough views and shares on social media, no clicks on your ads, and people aren't buying your products. Where did you go wrong? Is there a way to fix it?
Yes, there is! All those problems can be fixed with A/B Testing.
In this article, we'll explain what A/B testing really is, what kind of benefits you can get from it, and we'll also share some of the best tools for performing A/B tests on your WordPress blog with little or not money. So, grab a notepad and keep scrolling down.
What Is A/B Testing?
It may sound like a term used by researchers in a secret lab, but A/B testing, or split testing, is actually a simple process used by all marketers for increasing leads and sales.
However, it's not limited to marketers either. Most website owners and bloggers are now using A/B testing to improve their website engagement and lead generation rates.
How does it work? Simply put, an A/B test is a process you can use to find what works best for your website or blog.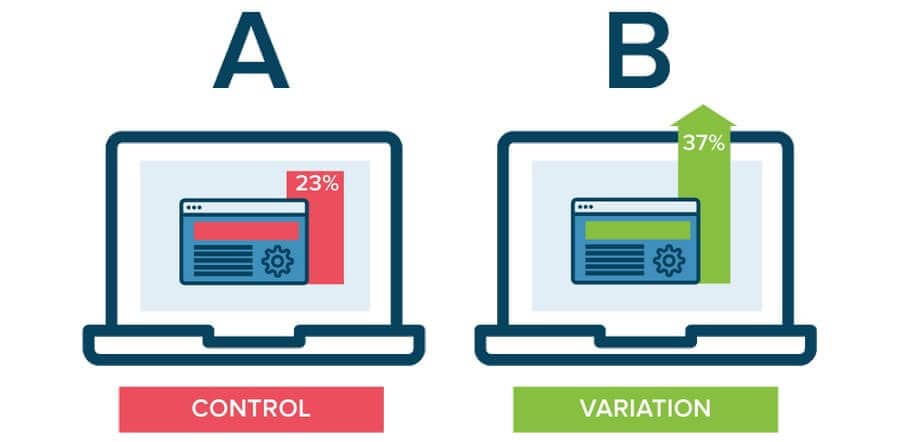 For example, imagine that you have a landing page collecting emails from your website visitors. You can run an A/B test on your landing page by creating different versions of the page, each with different layouts, colors, and copy. Let's call those two versions A and B.
Then you can split the traffic visiting the landing page and drive half of the traffic to the landing page A and the other half to landing page B.
After the testing period, you can evaluate which landing page generated the best results and then come to a conclusion on which design works better. It's as easy as that.
Why Should You Care?
You might think that you have the perfect WordPress website since you spent a lot of money buying a highly rated theme from a marketplace. Folks over at Career Point College used to think the same way, that is until they ran an A/B test.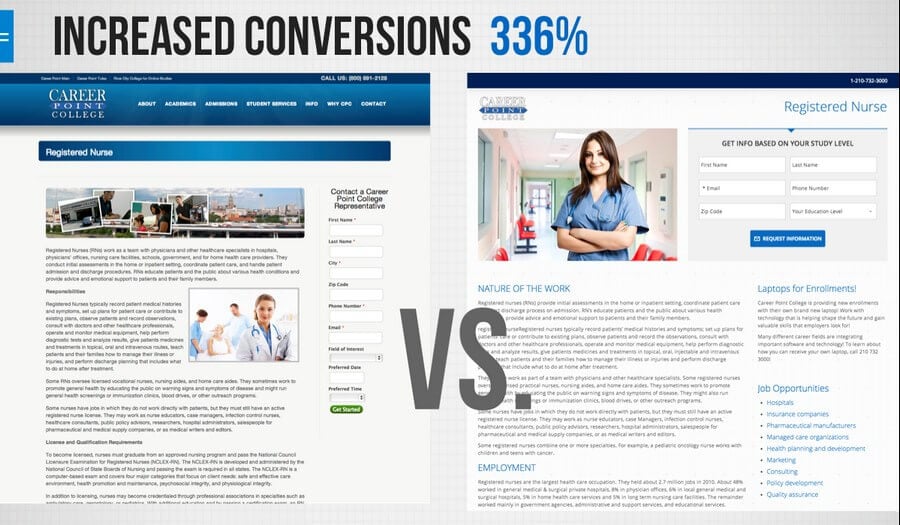 The results were huge. They managed to increase conversions by 336%, with a single A/B test that tested different layouts and design.
Having the right tools and high-quality content is no longer enough to generate effective results. You also need to test each element on your blog to find out which method can bring you the highest percentage of results.

Have a look at the email popup messages above. Which version do you think is most likely to collect the highest number of email signups?
Well, we don't know for sure. The only way to figure it out is to run an A/B test.
What To Test?
A/B testing landing pages is only the beginning. There are so many things you can put to test on your WordPress blog. But, before we figure out how to do A/B testing in WordPress, let's have a look at what kind of things you can split test to produce the best results.
Headlines: Test your article titles to get more people to read your posts, bring more traffic, and get more shares on social media.
Ad Placements: If you're using any type of display advertising on your blog, like Adsense, you can run a split test to figure out the best areas for placing your ads to get more clicks.
List Builders: Get more people to sign up for your email newsletter by optimizing and split testing your popup messages.
Color and Design: Color has a strong psychological effect on our mind. Try changing the design and colors of your "buy" and "subscribe" buttons to increase conversions.
Call to Actions: Find the best place to insert your CTAs and get more engagement.
Best A/B Testing Tools To Get You Started
There are a lot of A/B testing WordPress plugins out there that makes running your experiments on your blog much easier. Here are a few tools you can use to get a head start.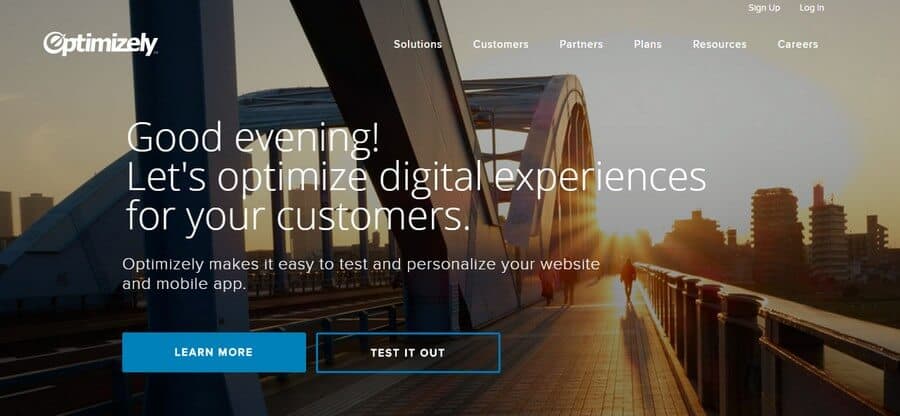 Optimizely is one of the few A/B testing tools that has a beginner-friendly system. You can use this tool without any prior knowledge to split test landing pages, use heatmaps, divide your traffic based on user devices, sources, and do much more.
You can test out Optimizely for free. It also comes with a WordPress plugins, which makes it easier for you to setup A/B tests on your blog.

This is an incredible and an easy-to-use WordPress plugin that automatically optimize your post titles to let you run split-tests to increase your website traffic.
The plugin comes with a $99 one-time fee. But, if you're low on your blog budget, you can try the Title Experiments Free plugin for running basic tests on your blog post titles.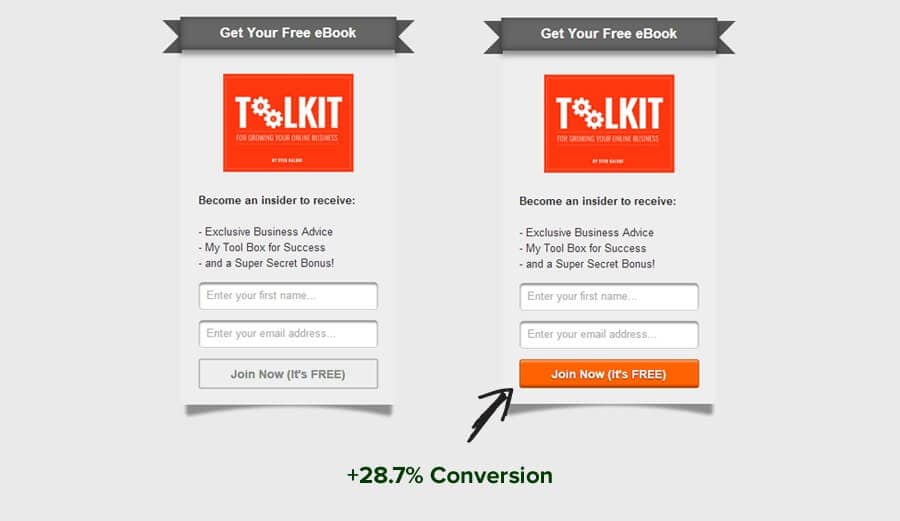 When it comes to split-testing your email popup messages, OptinMonster is the best solution you can find. The service comes with a built-in split testing feature that allows you to easily create different variants of your email popup to find which one generates the most leads.
OptinMonster includes a lot of great features and costs $9 a month.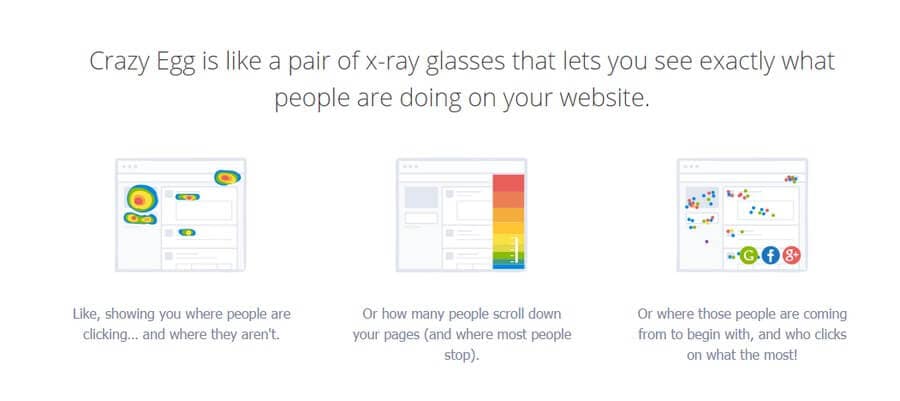 Want to know where exactly your visitors are clicking on your website? Run a quick heatmap test with Crazy Egg to find the most suitable places for inserting your ads and "buy" buttons. You can use Crazy Egg free for 30 days.
Another option for the Heatmaps feature is Plerdy, which you can also try for free.
Never Stop Experimenting
Split testing will definitely skyrocket your blog income and sales, but what's more important is that you should never stop testing the stuff on your website because you'll never know if a different headline or an ad placement could bring in an increased outcome.
So, keep A/B testing and keep researching to find new ways to run new tests. After all, this was merely an introduction compared to what awaits you in the world of split testing.