One of the best ways to drive traffic to your online store is blogging. Blogging allows you to start ranking for the keywords that are related to your products simply by including those keywords in your blog posts, post titles, and blog post URLs. Your store can then show up as a relevant result when potential customers search for those keywords which means you will get more organic traffic.
But, blogging is not only beneficial for SEO purposes. It also allows you to build trust with potential buyers since you can showcase products by sharing the behind the scenes process as well as demonstrate how your products can be used.
Once you get visitors to land on your blog, you need to make sure they convert into buyers. In this article, we'll talk about using your blog as a customer acquisition channel for your online shop and explain why WordPress is a better choice for your store's blog than Shopify.
Seven Ways to Use a Blog As A Customer Acquisition Channel
The best part about using your blog to generate sales is that it allows you to promote your products without being salesy while providing value to potential customers. There are a few ways that you can use your blog as a customer acquisition channel.
1. Educate Customers About Benefits of Your Product
Your blog is the perfect opportunity to educate potential customers about the benefits of your product and build trust. Not only can you show them behind the scenes process of what goes into making the product and the reasoning behind the product but you can also show them how their lives will be better after the purchase.
You can use the blog to show them how the product should be used as well as how other customers are using it. This can help them save countless hours spent on researching and give them the ability to learn everything they need to know about buying your product in the same place where they can buy it.
In other words, you will provide value to potential customers which helps them get familiar with your product as well as build trust in your brand and product line.
In the example below, RiverPools provides an in-depth guide about pool tiles and then links to their products within the article.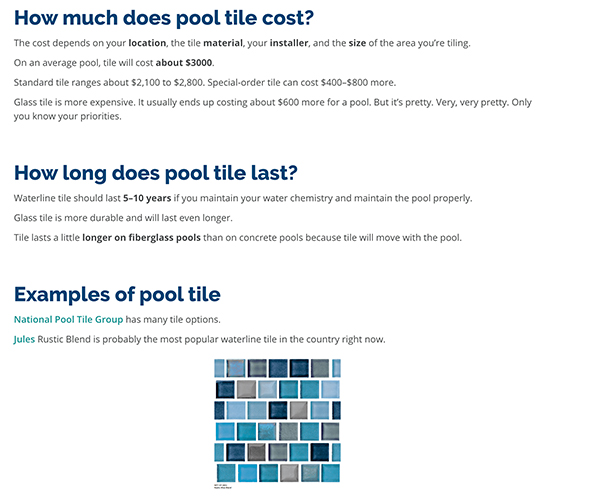 2. Showcase Best-Selling Products In The Sidebar
A good way to use your blog to drive more sales is to showcase your best-selling or most popular products in the sidebar. Customers can then easily click through to the product in question and carry on with the purchase.
WooCommerce makes it easy to display your products not only in your sidebar but also in any widgetized area on your site. This means you can add products to your footer area as well. Thanks to widgets such as Product Categories, Products by Rating, and Products, you can easily add your products to your blog sidebar.
3. Add a Call to Action
We've mentioned earlier that your blog posts should provide value for your readers. Once you have provided them with value, you need to point them in the direction of your products. The reasoning behind this is simple: your readers don't know what do you want them to do once they are done reading the post.
That's why you need to tell them what to do next which means your blog posts should always include a call to action that invites readers to check out the products mentioned in the article. This helps direct visitors to where you want them to go and increases the likelihood of them making a purchase.
4. Link Directly to Products
An added benefit of having a blog for your online store is that blog posts provide ample opportunities to link directly to products. You can add text links to your products as well as product categories. This is a great way to encourage sales without being too pushy.
A few ways to implement product links include:
Share behind the scenes process and link to the product in question
A tutorial that's related to your product
Customer testimonial that talks about a specific product
Take a look at how Bed Bath and Beyond uses blog to link directly to their products within their blog posts.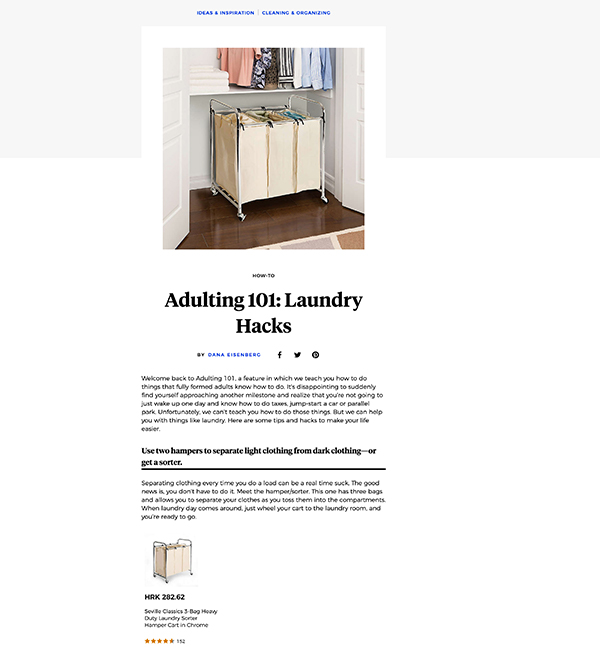 5. Add a List of Products Mentioned In the Article
Another way to promote your products in your blog posts is to include a list of products mentioned in the article. You can do this by including a list at the end of the article or you can insert product previews with images that allow customers to easily add the product to the cart right from the post.
Doing so makes it easy for customers to buy your products, especially when you pair this with other conversion optimization techniques such as one-page checkout.
6. Improve Your Social Media Marketing
The tips mentioned above are a great way to directly promote your products on your site. However, a blog also helps you promote your store and products on your social media without coming off as being too pushy.
Let's face it, there is only so many ways to share a certain product or your store's about page without seeming repetitive or salesy. A blog adds another way to talk about your products without directly mentioning them on social media. It allows you to talk about the benefits of your products, show your followers you understand their problems and challenges, and offer solutions which makes them trust you.
7. Grow Your List
Lastly, you can use your blog to promote your email list and encourage visitors to sign up in exchange for an exclusive discount code. While growing your email list won't result in immediate sales, it will allow you to convert those visitors who aren't ready to buy into subscribers. You can then nurture the relationship and lead them on a journey that turns them into buyers and loyal fans of your brand.
Serious About Blogging for Your Online Store? Here's Why WordPress Wins
When it comes to online stores, both WooCommerce and Shopify are popular platforms. They both make it easy to launch your online store and they both have the blogging functionality. However, when it comes to blogging, WordPress is definitely a superior choice.
If you're convinced that blogging would be beneficial for your online store, here are some reasons why WordPress wins hands down when it comes to blogging.
WordPress Started Out as Blogging Platform
The most important reason why WordPress wins hands down when it comes to blogging is that WordPress started out as a blogging platform. WordPress has all the necessary features you will need to create a feature-rich and engaging blog post. From sharing text content and the ability to add media such as images and video to intuitive post formatting and the ability to search and link to existing content on your site, WordPress makes blogging easy.
On top of that, your readers can easily engage with your content through comments as well as sharing your posts on social media which helps you put your content in front of a new audience and drive traffic back to your store.
You Can Install SEO Plugins
WordPress has a plethora of SEO plugins that were developed with the sole purpose of helping you improve your blog posts and pages for the search engines. While Shopify has the basic SEO functionality built-in, it's nowhere near as powerful as the WordPress one paired with an SEO plugin.
SEO plugins like Yoast SEO make it easy to add meta titles and meta descriptions as well as set a keyword for each post and page. What's more, SEO plugins also come with support for WooCommerce which means you can even optimize your products for search engines and improve their SEO rank. The best part about WordPress SEO plugins is that they can be installed for free, just like WooCommerce itself.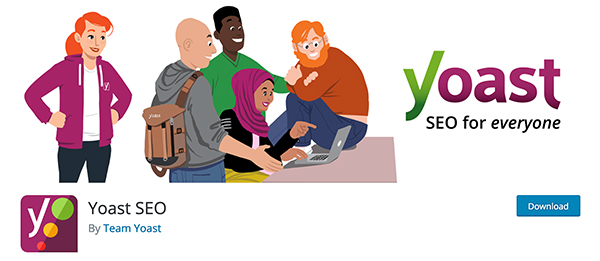 You Can Link Products in Blog Posts
Even though Shopify offers blogging features, it doesn't make it easy to integrate or promote your products within your blog posts. While you can link to your products, you cannot add product widgets to your blog sidebar to feature popular products like you can with WordPress.
What's more, certain themes as Woondershop allow you to insert product widgets directly in blog posts that show an image of a product along with the price and the "add to cart" button.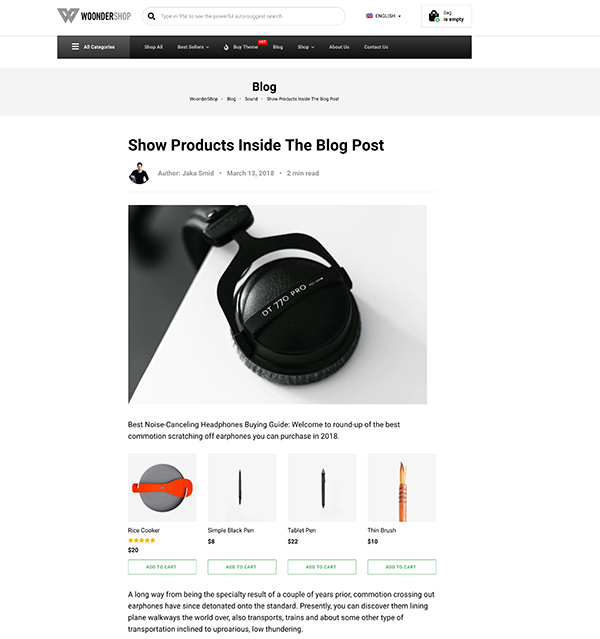 This makes it extremely easy for readers to make a purchase without having to go back to your store and find the products you mentioned.
Take a look at the screenshot below and you will be able to see this feature in action.
WordPress Has Better SPAM Protection
Given that WordPress started out as a blogging platform, it has a lot of features that help you combat spam right out of the box. Similarly to Shopify, you can fine-tune the rules for leaving a comment on your blog. However, WordPress also allows you to specify words and phrases that automatically add the comment to a moderation queue or added to a blacklist.
Compare the two screenshots below and you will easily be able to see the difference between the two platforms: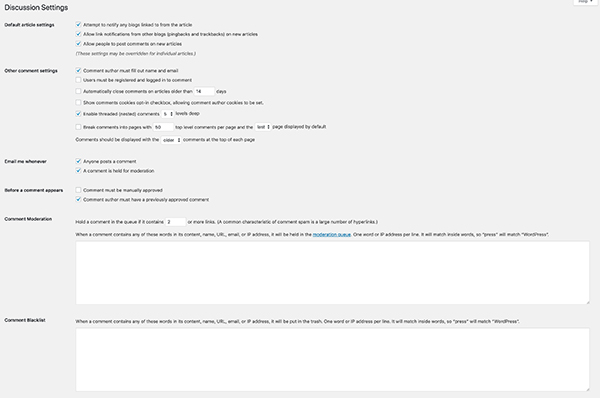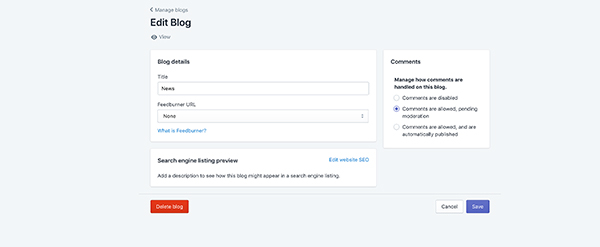 It's also worth mentioning that there are quite a few WordPress plugins that can help you automatically block spam comments whereas Shopify requires you to manually review each and every comment to ensure it's spam-free.
Final Thoughts
Blogging is a powerful way to drive traffic to your store and a great marketing strategy that allows you to convert those visitors into loyal, repeat buyers. While Shopify offers some basic blogging features, they are not as powerful as blogging features found in WordPress.
As such, if you're serious about using blogging as a part of your store marketing strategy, WordPress is a much better choice. Pair WordPress with blogging tips mentioned in this article and a WooCommerce theme optimized for conversions, and you'll be well on your way to selling more products and making more money from your online store.