Creating A Medical Website That Converts and Ranks Well
Every business needs more customers. Especially small businesses. A properly built website is an extension of your business branding and will be the best return on a medical practices' advertising budget almost every time. But what does it mean exactly to be a well-built practice site in 2022? 
This article will first cover the best practices of what every business needs to do to be seen by customers on the internet, followed by what medical providers should be doing to help their patients pick them as a service provider for themselves and their families. 
General goals for a business website
In some ways, a medical practice website will need to do what every business needs to do on the internet. You will want to show potential customers who you are, what services you provide and some social proof that your business excels at making their customers happy with those services. Of course, you want to show them a modern website design that shows you are a professional in your industry with good taste. 
You will want to show them how many great reviews you get from your happy clients. Show them lots of wonderful photos of either your work or your facilities. You have worked very hard to make your business great – you should make it very easy to show this to new potential customers!
For most businesses this also means you should indicate that you are very responsive to both inquires and requests. Have your phone number, address, and email everywhere throughout your site. Your business hours too. Make sure all these things are always up to date. Consider having a chat feature on your website to be extra responsive. Customers really like dealing with businesses that care about getting back to them. 
You also want to explain what services you provide. Detailed descriptions of both what you do and what your visitors should expect if they become your customers, go a long way to showing the amount of diligence and detail you will be providing professionally. Avoid stock photos or stolen generic descriptions of services that many providers use. People can see right past that now, especially younger clients who grew up using the internet to look up everything. 
Now, how about some of these things for medical service providers? Let's dive into that next.
Showcase your practice and staff
A unique characteristic of medical services is that most of your patients will be scared to receive the services you provide. From dentists (the scariest) to dermatologists, patients will want to be comforted when looking for a provider. Usually, services are somewhat intimate and personal and scanning a website is a great way to consider how safe you might feel visiting a particular provider. 

Staff mega menu from MedicPress by ProteusThemes
You will want your website to immediately show what your practice looks like. This usually means a waiting room since those are usually the most "comfortable" spots throughout the office. Medical equipment and patient rooms are usually a little more intimidating, so you should showcase those later. Also show the doctors to indicate they are warm, inviting and not monster-like at all.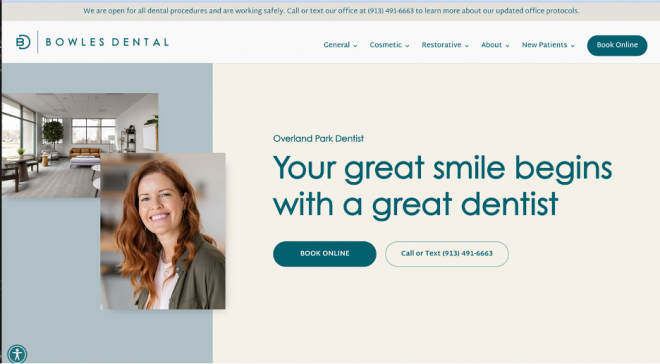 A great design for your homepage also shows you have attention to detail. In fact, your clean, comfortable waiting room is similar to having a clean, modern website that looks great on mobile devices. 
You should also have a section that shows staff bios with great photos of them. You provide a very personal service; patients love seeing who they will be visiting and getting to know them a little better!
Make it easy for patients to contact you
The lifeblood of most medical practices is the phone. All business drives and gets converted through the telephones. Make sure you phone number, address and office hours are posted everywhere so that no matter how deep into the website a visitor goes, they will not have to travel very far to call you.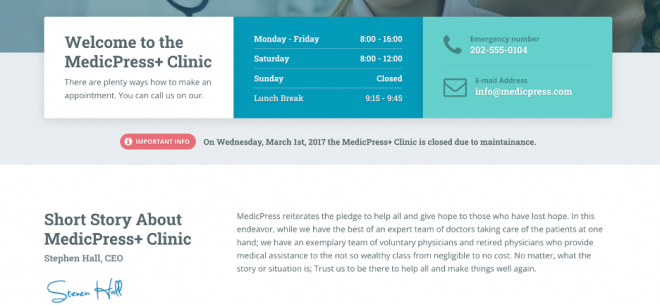 The whole point of having a website is to attract the attention of people in your service area and then get them to contact you. Make it very, very easy to do so. 
Note that for some, online booking is now a very popular way to get patients scheduled. You should include that BOOK ONLINE button everywhere right next to your phone number. 
Show your customer reviews
Having a lot of great patient reviews on a 3rd party website is going to be your easiest way of getting the attention of more patients. This will take time but as your practices builds up reviews, you will find that your website traffic will increase and that many more of these visitors convert into new patients. 
Make sure your front office or doctors respond to patient reviews both positive and negative. It is an easy way to show that you care about the customer experience and most people read reviews in detail before picking a provider. This is an important extension of your business. 
You should also showcase reviews from Yelp or Google on your website to indicate to visitors that you have reviews and that you are paying attention to them. This may have been optional for medical websites 10 years ago, but it is a must-have in 2022. 
Provide very detailed service descriptions 
You need to provide accurate descriptions of what the patients should expect in both process and outcome. How long does the service take in your office? Do you accept insurance for this? How many visits? What should I expect during the visit? How will it look or feel when I am done?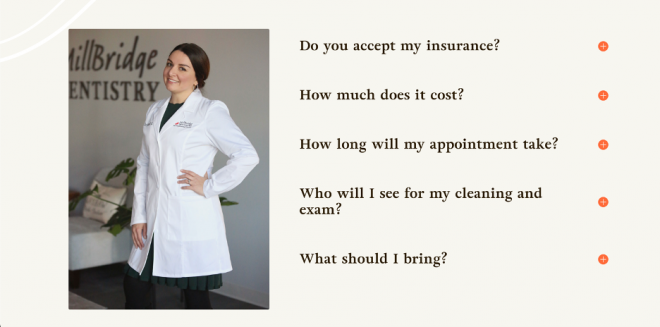 Remember to be detailed, but in laymen's terms. Lots of doctors loving writing medical textbook articles but this is not the place for that. You are not writing for other doctors, so provide descriptions just like you are talking to a patient!
Before/after patient photos might be appropriate here as well. The more content that you can provide in these spaces, the better. Remember to use only high resolution, well-lit photos. If the before photos are not very flattering, it is perfectly fine to use only the after photos to showcase your work. 
Also remember to title the service for a general audience. Most of your practice website's search traffic will be coming in through your main homepage and these services since that is how most patients search for providers. 
Remember to be consistent off your website too
You probably have business profiles on third party platforms like Yelp, Google and ZocDoc. Make sure all the business information from your website is up to date on these services as well. Do the same for your social media profiles like Facebook or Instagram. 
If your online presence is doing well, patients will find you from EVERYWHERE. You must make sure all the information is consistent to provide a great customer experience.  
Get started today
This is a general overview of what you should be considering when designing and planning your new practice website and most of what is covered here is more unique for the business needs of a medical provider. 
SEO, PPC advertising and other things you will need to know will be covered in another article., but if you follow these big guidelines I think you will have made huge advances to standing out in your service area.
Get started, you can try demoing our Medical WordPress theme here.