Here it is Beauty – a fresh, elegant and beautiful WordPress theme, designed for hair and wellness salons, spa centers and all related businesses. If you are familiar with our first theme HairPress (or maybe you even use it?), then you already know what we are talking about!

Beauty is HairPress's younger and updated sister, but going one step further. Of course, there's no point in discussing the differences between HairPress and Beauty, because, let's be honest, a theme from 2012 is more than outdated in 2016, no matter what point of view we are talking about (design or functionality).
But the least obvious and probably the most important difference between HairPress and Beauty is our experience. Yes, I know how clichéd this sounds, but when we first launched the HairPress theme (it was just a HTML template at first), we had great ideas but no experience. Today, we have more than 10 WordPress themes (four of them were best-selling items on ThemeForest!) and (probably) gained the experience we needed and were missing at first.
Combine this with the concept of HairPress and you get Beauty, a WordPress theme that will help you represent your beauty business in the most beautiful way. The focus is just where it needs to be. It's complete with small but powerful details and modern functionality. Let's take a closer look!
Beauty is…
pure and elegant.
The choice of color expresses the elegant and prestige feeling that is often associated with this type of business. Colors are fully customizable in the live customizer, so you can achieve the perfect color combination for your brand.
clean and bright.
Your beautiful photos of different hairstyles, makeup artistry and amazing nails will stand out perfectly. We used a lot of white space, which helps to maintain the focus on what's really important.

fully functional for your specific business.
The news grid expresses the modern feel of fashion and beauty blogs.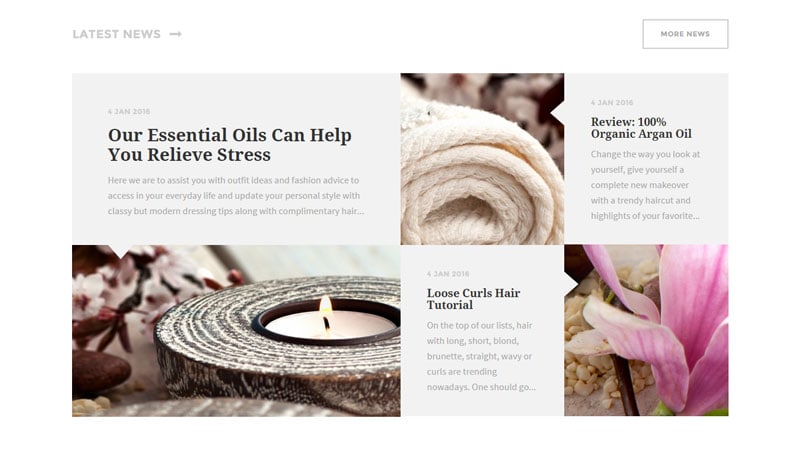 With Bookly plugin, online appointment booking has never been easier !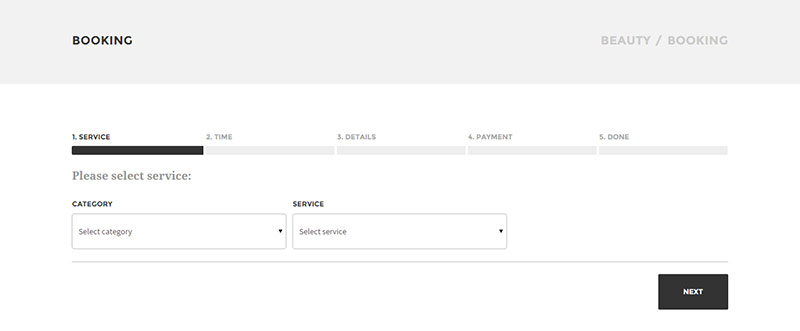 You can now easily offer a downloadable brochure for your clients, or invite them to contact you by Skype. Accordions are a nice touch for listing your services, and don't forget to include the opening time widget, so your clients will always know when you are available.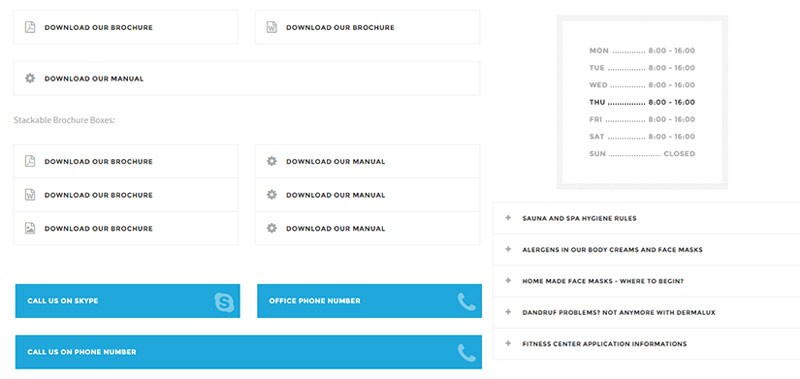 With Beauty, it's all about the beautifulness of your business.
Beauty will suit all hairdressing salons, spas and wellness centers, nail-care salons, massage salons, makeup artists and all closely related businesses. And if you have used HairPress for a long while, maybe it's time for a change? Beauty will meet and exceed your expectations!