We have quite a bit of experience building Construction themes at this point. But this is the first multi-niche theme that we have ever built. Unlike its predecessors, Bolts can be just as easily used for Construction as it can for Industry, Transport and Factory websites.
With all the combined knowledge and feedback from our previous Construction and Transport themes, we made Bolts a sure-fire hit for its industry targets. From the widgets, to the subtle animated elements and of course the buttons, we spent a huge amount of time attending to the small details which add up to a great theme.
Multi-Niche
'Multi-Niche' might bring to mind some overweight theme with ridiculous loading times and hundreds of complex options. This is not the case with Bolts. It was developed within a firm 'decisions-not-options' philosophy; it is a simple, lean and mean construction theme.
This is how Bolts can look for Industry, Transport and Factory sites: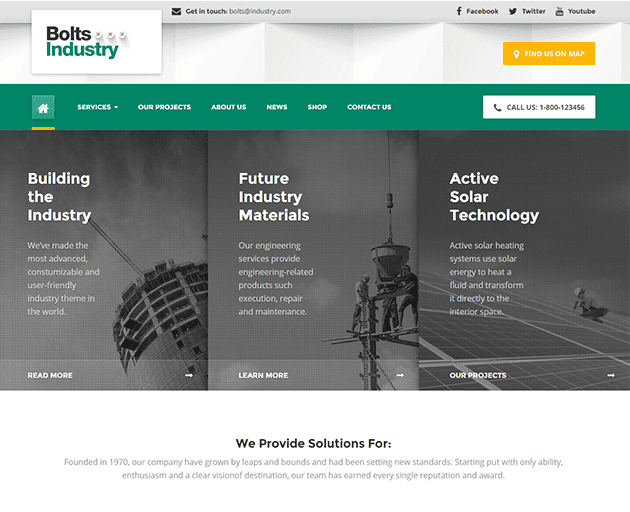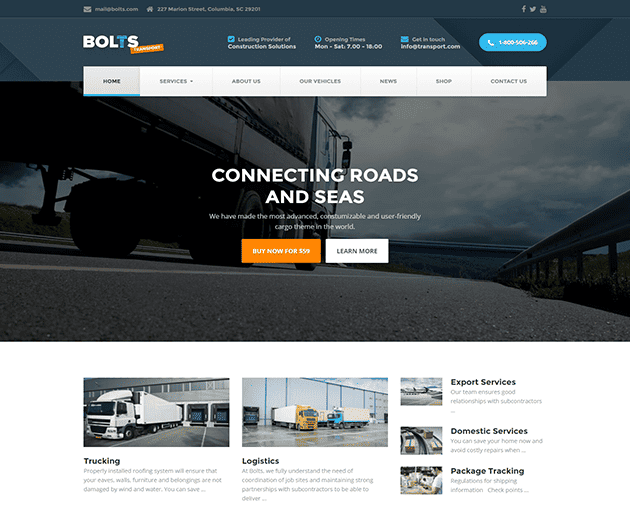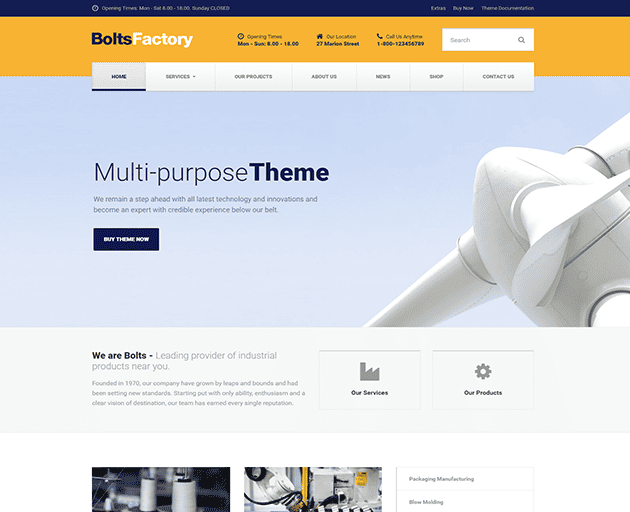 Take a look…
Hero Columns
Here we have our Hero Columns. Although sliders are still available, we decided to focus on columns in Bolts for various reasons, namely a more positive UX and for improved SEO:

Precision Placed Widgets
In Bolts, all of the relevant information to help boost sales is there on arrival. From the phone number, email address, opening times, link to Google Maps, CTA for request a quote, social icons and so on.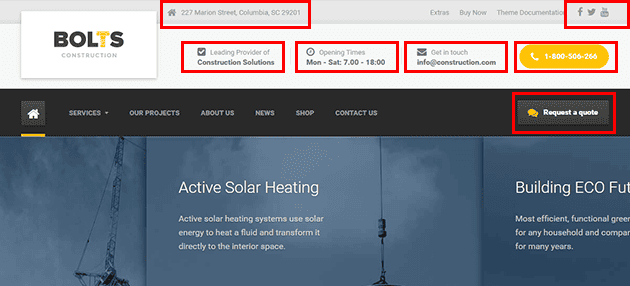 These widgets are especially effective on mobile. With Bolts, mobile visitors instantly get the information they need and the business gets the sales they want: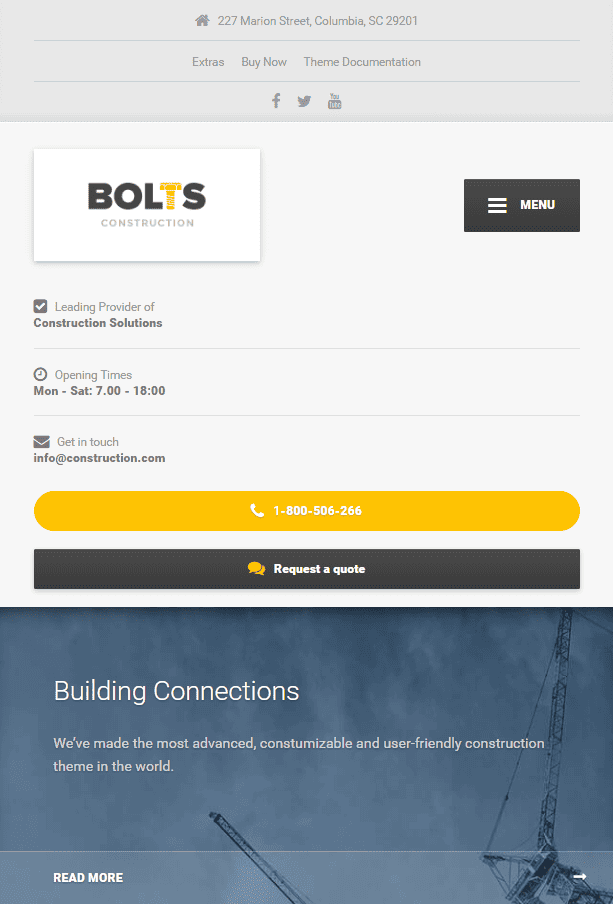 Great Features
Bolts comes with Page Builder for incredibly easy grid-based customization. Whether for the landing, about or contact page, the final customer can quickly and simply edit and bring an extra dimension to their page in no-time: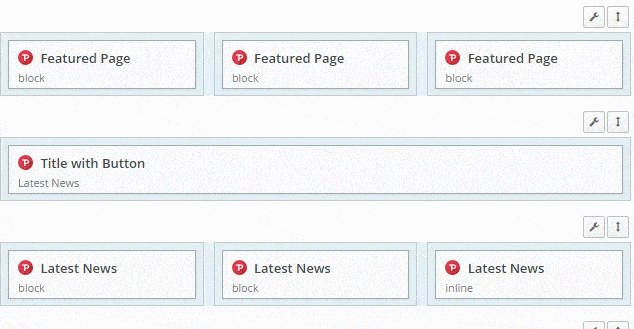 If you like the Bolts Demo, you will love One Click Demo Import. It allows you to recreate the demo in just a couple of seconds without having to manually insert the content: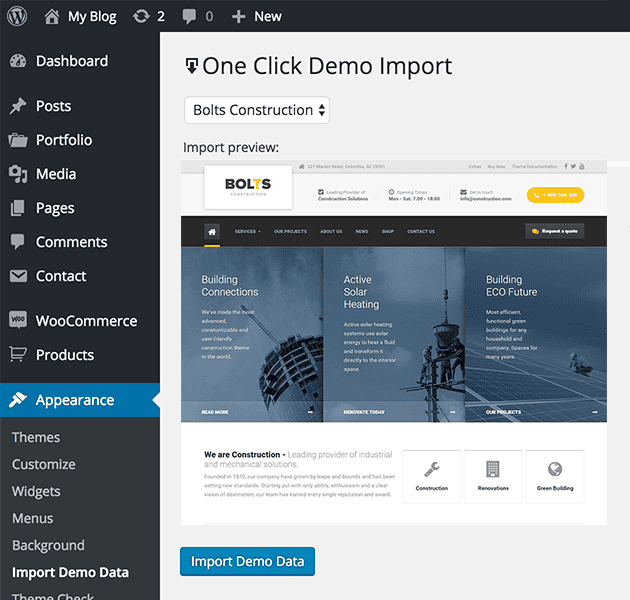 WP Customizer, so that you can alter Bolts appearance to get an instant idea of how the site will look and feel. A very useful one for those of you who are not developers or. With WP customizer you can change the logo, favicon, widgets, fonts, header, top bar, background, footer and more by just clicking – drag & drop style: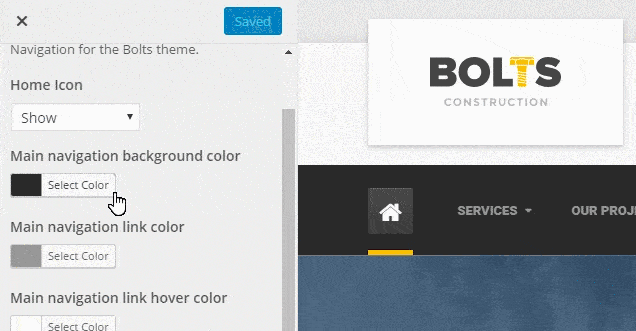 Is Bolts our last Construction theme?
With Bolts we are sure that we have made the best Construction theme possible. But we're always learning and listening so we would never say never. What we can say is that our next theme is something completely different and exciting, a whole new territory for us.
So, that's all on Bolts. An all round user-friendly and functional multi-niche theme. We really hope that you get as much joy out of using it as we did developing it. Until next time 🙂 …
P.S. You can find Bolts exclusively on ThemeForest here.