Is your WordPress website only available in one language?
Nowadays, ~75% of the Internet's 4+ billion users are browsing and communicating in languages other than English.
That means a monolingual website might be missing the boat when it comes to reaching as many potential audience members as possible.
In this post, you'll learn more about the benefits of going multilingual, as well as how you can use a WordPress multi language plugin to translate your entire WordPress site in just a few minutes (using the WoonderShop WooCommerce theme as an example).

The Benefits Of Using A WordPress Multi Language Plugin
Let's start at the beginning…
If your website has visitors who speak a different language, offering multiple languages means a better user experience for those visitors. To quickly see which languages your visitors speak and where they come from, you can use the Geo area of Google Analytics' Audience report.
Unsurprisingly, most people – about 90% of those surveyed – always prefer to visit a website in their own language if available. Additionally, 45% of respondents in that survey never use a language other than their own when online.
This isn't just about having a global audience, either. There are many locations where people speak different primary languages in the same geographic area. For example, the US Census Bureau estimates that more than 44% of families in California speak a language other than English at home.
Higher eCommerce Conversion Rates
If you're using the WoonderShop theme to run an eCommerce store, creating a multilingual eCommerce store ties in well with WoonderShop's focus on conversion optimization.
42% of surveyed people never buy products in different languages, which means that you might be missing out on a trove of potential customers, especially if you ship products globally. By using a WordPress multi language plugin to offer your shop in multiple languages, you're able to reach that audience and convert them into customers.
More Organic Traffic And Improved SEO
Finally, using a WordPress multi language plugin lets you start ranking for Google queries in different languages.
For example, if people search for "blue widget" 2,000 times per month in English and 1,000 times per month in Slovenian, you've essentially increased your potential organic traffic by 50% just by translating your existing pages into a new language.
The Google Market Finder tool can help you estimate how large your potential audience is in different languages/locations: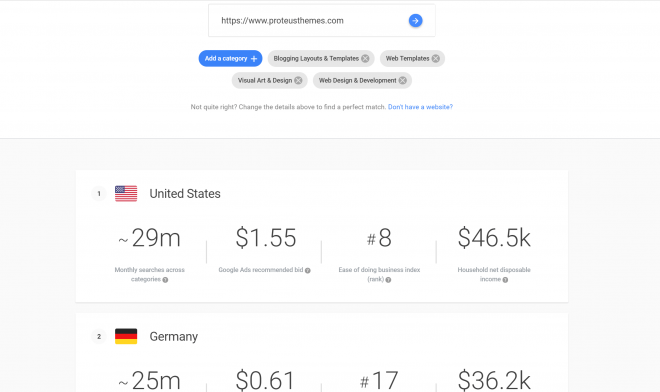 The Weglot WordPress Multi Language Plugin Makes Translation Easy
Weglot is a popular WordPress multi language plugin that helps you create a working multilingual site in just a few minutes.
To accomplish that, Weglot uses automatic machine translation to immediately translate your site after configuring the plugin.
Weglot creates a fully indexable, SEO-friendly version of your site for each language that you choose.
And if you want to further refine the default machine translations, you can go in and easily have a human review all of your translations or even outsource your translations to professional editors right from the Weglot interface.
How To Set Up Weglot And Translate Your WordPress Site
Ready to get started adding a multi language plugin to your site? Just follow these step-by-step instructions to translate your site using a muti language plugin for your site here with Weglot.
Step 1. Install And Activate The Weglot Multi Language Plugin
To get started, go to your WordPress dashboard and visit Plugins → Add New to install the free Weglot multi language plugin from WordPress.org: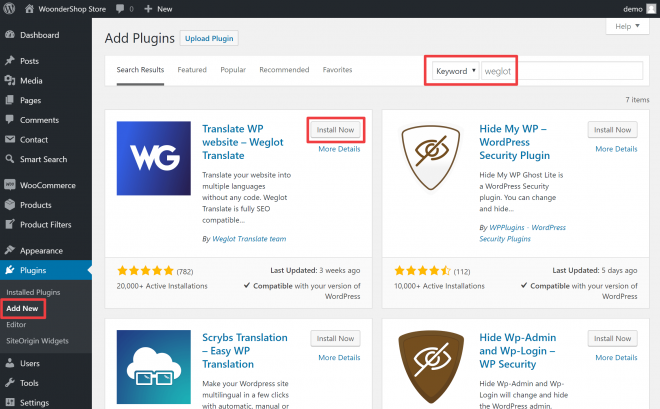 Step 2. Create A Free Weglot Account
Next, you need to register for a free Weglot account in order to activate the plugin.
To do that, go to the Weglot registration page and enter your information: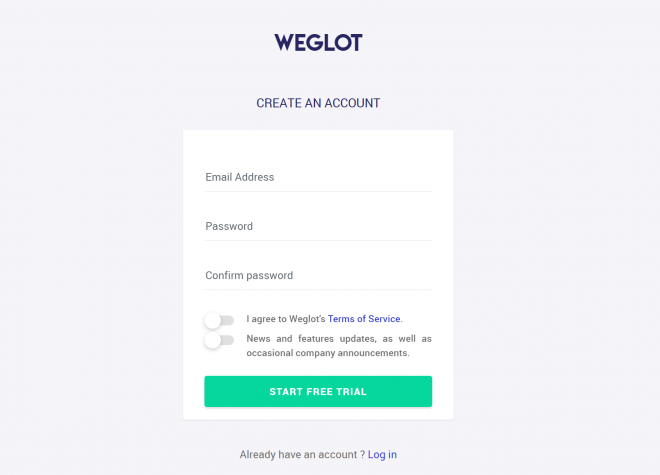 After you sign up, Weglot will send an activation link to your email address. Once you click that link, it should open a page that contains your "API key" (you can also visit your dashboard directly to find your API key):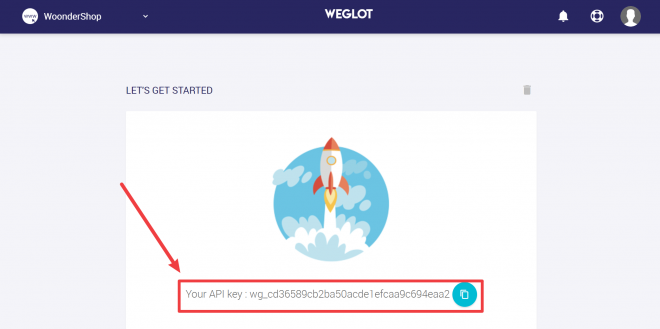 This API key is what connects your WordPress website to your Weglot account.
Step 3. Add API Key To Weglot And Choose Languages To Go Multilingual
Next:
Copy the API key from the Weglot dashboard
Go to the Weglot tab in your WordPress dashboard
Paste the API key into the API Key box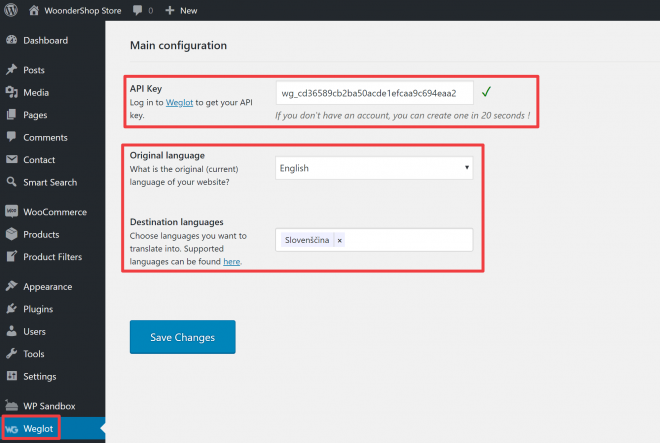 Below that, you also need to choose your site's:
Original language – the current language of your site.
Destination languages – one or more languages into which you want to translate your site's content.
Once you've made your choices, make sure to click the Save Changes button.
Then, Weglot will automatically translate your website into your chosen destination language(s).
Congratulations! You've officially translated your site with a WordPress multi language plugin: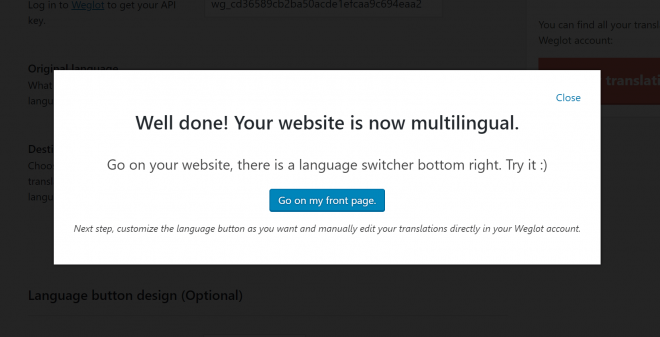 Step 4: Adjust Language Switcher Button (If Desired)
In addition to using machine translation to completely translate your site, Weglot also automatically adds a language switcher to the bottom-right corner of your website by default.
You can preview this language switcher by visiting the front-end of your site: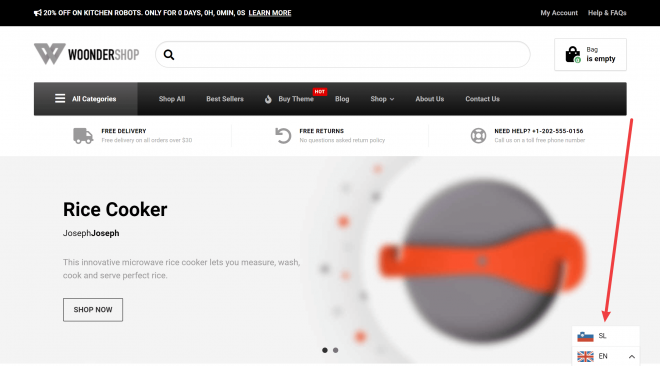 If you want to change how your language switcher works or where it's located, you can use the new settings in the Weglot area of your WordPress dashboard: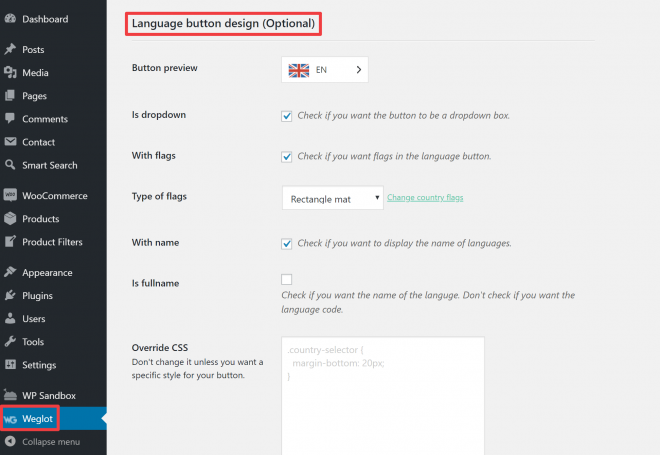 How To Manage Translations (Including Translating ProteusThemes Content)
After following the steps above to set up the Weglot WordPress multi language plugin, you'll perform most other actions in the Weglot cloud dashboard, rather than your WordPress dashboard.
The Weglot cloud dashboard is where you'll:
Manage and review translations
Edit translations
Outsource translations to professional translators
To get started, log in to the Weglot dashboard. Here, you'll see a basic summary of your site's translations, as well as a menu on the left.
From this menu, you can access two different ways to manage all of your translations (including ProteusThemes theme content).
Translations List
First, you can use the Translations List interface. With this interface, you'll see a side-by-side list of the original version of your content and the translated versions.
To find and translate a specific piece of text – like a string from your theme – you can use the many search and filter options in the sidebar: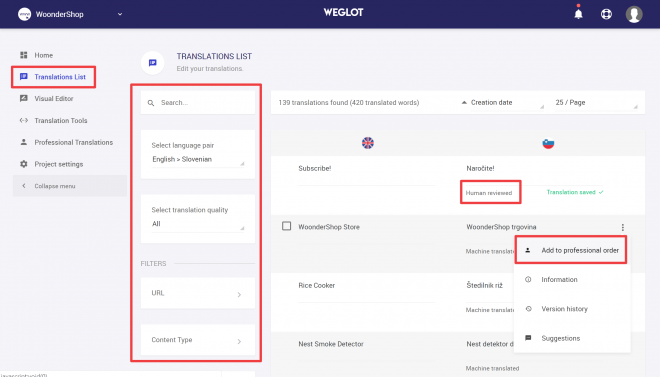 Beyond letting you edit translations, this interface will also:
Mark translations as "Human reviewed" to help you keep track of your work
Let you outsource some/all translation to professional translators
Visual Editor
Weglot also includes a Visual Editor that lets you manage translations on a live preview of your site.
To translate any piece of text – including text from ProteusThemes or WooCommerce – you just hover over the text that you want to translate and click the green pencil icon: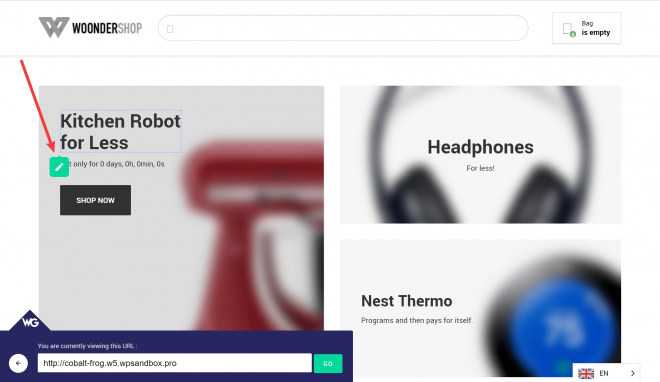 This will open a popup interface where you can manage the translation for that string: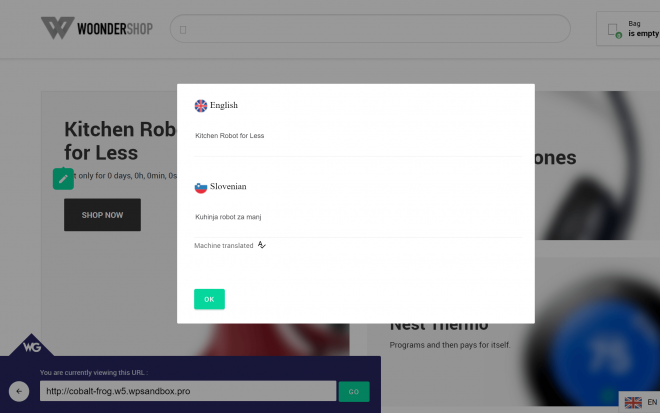 Weglot Automatically Syncs Your Changes To WordPress
Whether you're using the Translations List or the Visual Editor, Weglot will automatically sync any edits to your live WordPress site and those changes will be visible to website visitors almost instantaneously.
Translate Your WordPress Site Today!
Whether you're running a WooCommerce store with WoonderShop or any other type of WordPress site, using a WordPress multi language plugin gives you a chance to:
Let your visitors browse your site in their native languages.
Reach new visitors in Google search by ranking your content in new languages.
Thanks to the Weglot WordPress multi language plugin, it's also easier than ever to add a multi language plugin to your site. Give it a try and start connecting with visitors in a new language!