Launching an online store is a great way to make money but if you're like many people, you probably think you need a lot of startup capital to open up your store. The good news is that you don't have to spend an arm and a leg to get your store up and running. In fact, you can set up your entire e-Commerce store for less than $150.
However, you will still need to spend time driving traffic to your store, fulfilling orders, and providing stellar customer service if you want customers to keep coming back. Starting an e-commerce store is definitely not easy but if done right, it's doable and fulfilling.
In this post, we'll talk about six low-cost business ideas and share essential things you need to set up your e-Commerce store.
Six Low-Cost Business Ideas for Your e-Commerce Store
Here are six low-cost business ideas that you can use to launch your e-Commerce store. The ideas below will allow you to start making money without worrying about inventory management and high startup costs.
1. Services
The easiest way to launch your online store is to sell your services. If you're a web designer, a graphic designer or a virtual assistant, you can easily add your services to your online store and sell them. Selling services isn't limited to services you provide over the internet.
Local businesses such as hair stylists, pet sitters or housecleaners can also benefit from setting up an online store and selling services. With the right platform, you can request as much information upfront as possible and even allow customers to book your services on a retainer or book specific timeslots.
What's more, you can pair your services with some of the ideas mentioned below for an additional revenue stream.
2. Digital Items
Digital items such as WordPress themes, social media templates, icons, fonts, patterns, and similar design assets are another low-cost way to launch your store. As mentioned earlier, they would work well in conjunction with selling services but you can also sell them as standalone items.
Nowadays, many business owners are looking for templates to save time and fellow designers are always on the lookout for quality design assets they can use. If you have the skills and the know-how, put them to good use and launch an e-Commerce store.
Another benefit of digital items is that you only have to create them once and there are no inventory fees and no overhead to worry about so your profit margins can remain quite high.
3. Dropshipping
Dropshipping refers to selling items that are stored and shipped by a third-party. You can partner with local suppliers or international suppliers to find products to sell. An example of a drop shipping business is the popular AliExpress website.

Using this business model, all you have to do is focus on bringing traffic to your store and making sales while someone else takes care of the manufacturing, storing, and shipping.
Drop shipping is also a versatile business model as you can focus on selling the type of products you're most familiar with. For example, you could create a drop shipping store that sells fashion items or pet products. You can also create several drop shipping websites to serve a variety of niches.
The way you make money with a dropshipping business is by marking up the products and selling them for a higher price. Similarly to the other two ideas above, this business idea doesn't require a ton of startup capital as the only expenses you will incur are the domain name and website costs. Keep in mind that you will still be responsible for customer service so any inquiries or complaints you receive will need to be handled by you.
4. Print On Demand T-Shirts, Phone Cases, or Tote Bags
If you're creative, consider selling print on demand t-shirts, phone cases, tote bags or similar items. This business model works similarly to drop shipping. In this case, your inventory is handled by a third-party fulfillment company. They are also responsible for shipping the products to your customers while you are responsible for the design and the customer service.
You can use items mentioned above to create a unique and attractive design based on your art or add quotes that resonate with a specific community. This is a low-cost, low-risk business idea as you don't have to pay for the item until someone decides to buy it.
5. Courses
Thanks to platforms like Teachable, Skillshare, and others, there is no shortage of online courses about a variety of topics. This means that if you're knowledgeable and passionate about a certain topic, you could create and sell courses around it.
This type of product only requires your time and works rather well together with services. While selling services is a great way to get started in e-Commerce waters, you can only serve a finite number of clients and customers on a monthly basis.
A course allows you to serve more people and can be sold time and again. In other words, a course can be a great source of passive income that can eventually replace your full-time income.
6. E-Books or Books
Lastly, you can sell e-Books in your online store. e-Books can be course alternatives if you aren't fond of the idea of getting behind the camera and creating course materials. But, you can also sell standalone fiction and non-fiction e-books as well as physical books in your store. Thanks to companies like Blurb, it has never been easier to self-publish a book or an e-Book.
The benefit of selling e-Books is that you don't have to give up any percentage to a third-party publishing company and they are an excellent way to establish your authority on a particular topic. Pair e-Books with services and you're bound to see your income soar without worrying about startup costs, storage fees, or inventory management.
Four Things You Need to Setup Your e-Commerce Store
Now that we've covered low-cost business ideas that you can use to launch your e-Commerce store, let's talk about the essentials you will need to take your store from idea to realization.
1. Proper Hosting and Domain Name
The first two things you will need for your store are a domain name and a proper hosting. Your domain name is how people will find you online. Your domain name will also become your brand name so it's important to choose a memorable name that will reflect what your store is all about. You can get a domain name for around $15, depending on the extension that you choose.
A proper hosting plan is needed so you can host your future e-Commerce store. You'll want to choose a hosting company that offers reliable hosting and customer service. Avoid signing up for the cheapest plan available as you risk your site suffering not only poor downtime but also dealing with poor security which can leave your website vulnerable to hackers. A great hosting plan ranges from $10 – $30+/month.

2. WordPress with WooCommerce
Once you have a domain name and a hosting plan, you will need to install WordPress along with the WooCommerce plugin. WordPress is a popular Content Management System used by more than 30% of all websites on the Internet. A few reasons why WordPress is so popular include the fact that it's free and that it has hundreds of plugins that allow you to turn this platform into a powerful platform for your business.
WooCommerce makes it easy to sell both digital and physical products as well as services. You can accept payments via Stripe, PayPal, and more and you can also benefit from various WooCommerce extensions to extend your store functionality even more.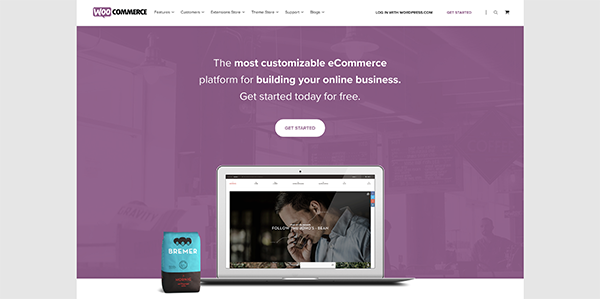 3. WooCommerce Theme
You will also need a WooCommerce theme for your store. A WooCommerce theme controls how your store looks. It's important to choose a theme that has an attractive design as well as features that will help you sell more products. These features include:
Optimized checkout page that makes it easy for your customers to complete the checkout process on the same page
Responsive design that looks and works well on mobile devices so mobile visitors can easily complete checkout forms and make a purchase from their phone
Contrasting CTAs that make it easy for customers to add items to their cart and check out
Auto-complete search that facilitates how customers find products in your store paired with filtering options
And more.
A theme like Woondershop is the perfect choice as it not only has all of the above features in place but it also includes 3 attractive skins and an easy drag-and-drop page builder that makes setting up your store a breeze.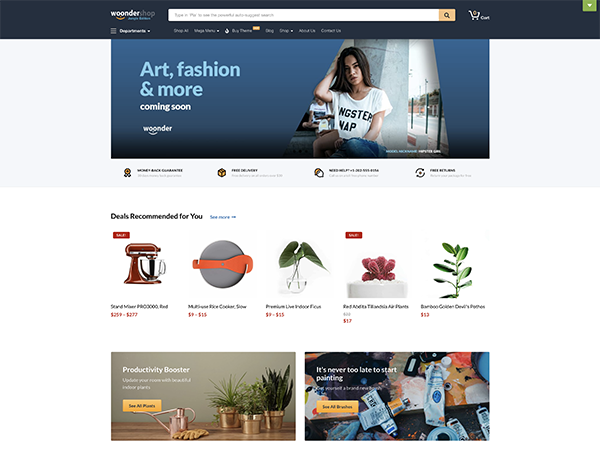 4. Marketing Strategy
Lastly, you will need to create a marketing strategy that will help you drive traffic to your store. For starters, consider adding a blog to your store. That's another reason why WordPress is a great platform for your online store as it was originally a blog platform so adding a blog to your store is easy. You can blog about topics that are related to your products, share behind the scenes information, or show people how to use products from your store.
Aside from blogging, engage on social media where your ideal audience hangs out. Platforms like Facebook, Instagram, and Twitter are a great way to connect with your potential customers and start getting noticed. You can also use Pinterest as Pinterest is more of a search engine that not only allows your products to be seen but also makes it easy for visitors to buy your products.
To complete your marketing strategy, start an email list as soon as you launch your store. Offer a discount to encourage people to sign up for your list and nurture those relationships so you can turn your subscribers into buyers and repeat customers.
Final Thoughts
As you can see, opening up an e-Commerce store doesn't require you to have an existing physical store along with inventory. There are plenty of products you can sell in your store that won't break the bank to create them nor will they take up a lot of your time.
When you have found the right idea for your store, use a user-friendly platform such as WooCommerce, to launch your store and be sure to use a conversion-ready theme like Woondershop, that will help you skyrocket your sales. Happy selling!