Driving traffic to your store is crucial if you want to see more sales. However, once visitors land on your WooCommerce store, you have to convert them from visitors to buyers. The first step towards making sure that happens is having a great store design.
Once you've found the perfect theme with all the needed features for an online store, you need to make sure you have the right functionality in place. This includes autosuggest search, real time product filters, and urgency countdowns as well as other features that will help visitors make the final buying decision.
But, design and functionality are not the only things that matter. If you want to improve your e-commerce conversion rates, you need to make sure that the copy convinces your visitors that your products are the perfect choice.
Seven Copywriting Tips for Higher e-Commerce Conversion Rates
Below, you'll find seven simple copywriting tips that will help you improve your existing copy which will lead to higher conversion rates in your e-Commerce store and more profit down the line.
1. Ditch the Predictable Copy
If you've ever bought anything online, you've most likely ran into predictable copy. The term predictable copy refers to phrases and words used in product descriptions that all sound the same. By reading it, you're more than likely to have a reaction: "yeah, yeah, I've heard it all before" than being excited about buying the product. Predictable copy doesn't make you remember the store you bought the product from nor does it make you remember the exact product brand.
The first tip is to go through your existing page copy and product descriptions and identify all the predictable copy. Instead of using phrases you've seen used elsewhere, focus on writing copy that will make the visitors want to buy your product. Focus on what makes your products unique, instill trust, and evoke emotions. Consider the following example from MethodHome:
"grease and grime don't stand a chance. not with powergreen® technology in your grasp. each squirt, in all its lovely non-toxic glory, delivers a powerful cleaning punch with naturally derived, biodegradable ingredients. cleaners made from corn + coconut break down dirt, leaving nothing behind but the pleasant scent of victory."
The copy above makes you look forward to buying it and conquering the dirt in your home. What makes this piece of copy so effective is that it doesn't use the standard, predictable language you'd usually expect when it comes to cleaning supplies. There are no phrases such as "best", "industry-innovative", "eco-friendly".
Instead, the paragraph above tells you a story in a simple language that makes you understand the product is non-toxic, uses natural ingredients, and removes dirt from your home. Oh, and it smells nice to boot.
2. Focus on Your Customer
By now, you probably know that having an ideal customer avatar is the backbone of your marketing strategy. Understanding your customers and knowing what they like, how they make the buying decision, what brands they prefer, and how they spend their free time allows you not only to create highly-targeted advertising campaigns but also to write powerful copy that speaks to them and makes them feel understood.
For example, Zappos does an excellent job of focusing on the customer with this simple line of copy:
"Stay cozy and comfortable during your cold-weather commute with The North Face® ThermoBall™ Utility Mid boot."
That line of copy is perfectly tailored to any Zappos' customer that has to deal with long commutes in winter and wants to stay warm and comfortable.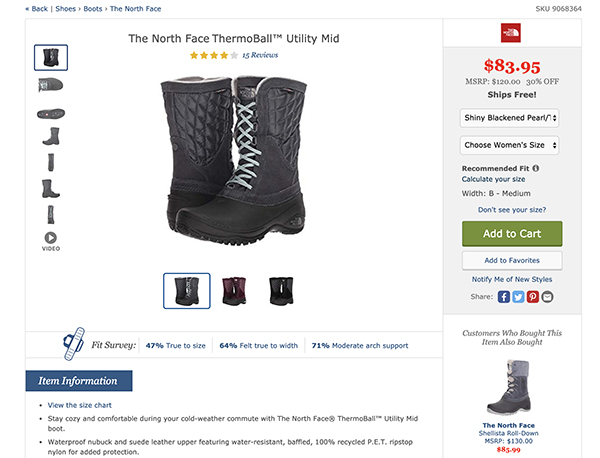 Another example of a copy that focuses on the customer comes from 6PM:
"Stomp to the beat of your own style with the Dr. Martens® 1460 Vegan Chrome Vegan boots!"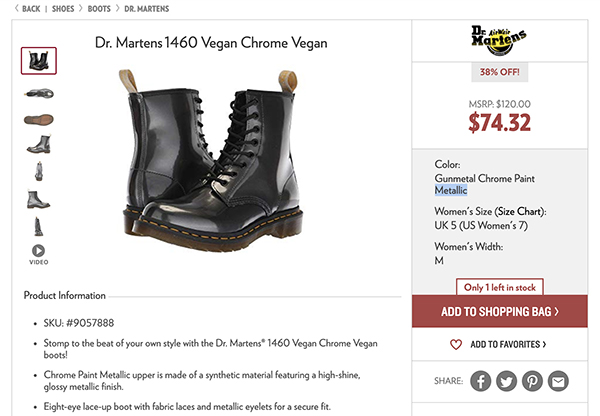 The line above shows the company knows that customers who buy Dr. Martens shoes value their individuality and independence, which makes customers more inclined to invest in a brand and stay loyal to it.
3. Get Rid of the Fluff and Jargon
Your store copy should be fluff and jargon-free. That means eliminating words like the predictable copy mentioned above as well as words specific to your industry that the rest of us don't understand.
By eliminating fluff and jargon, you are effectively removing words and phrases that don't add anything beneficial for your customers. You're also allowing yourself to stand out with unique copy that makes your store more memorable.
Your copy should be clear and concise. It should make it simple for your customers to understand the true benefit of your product. This will make your copy more believable and more relatable.
Take a look at this example from Chocolate Alchemy. The product description uses simple, fluff-free language that's easy to understand:
"It is more nutty with a ton of chocolate and very little fruit. It brews great both hot and cold. The roast level gives it a wonderful depth of flavor without any bitterness of some the darker roasts."
4. Pay Attention to Microcopy
Another important tip is not to forget your microcopy. We have a detailed guide on microcopy but in a nutshell, microcopy is the small text in your online store that helps visitors take certain actions.
Microcopy can be used to remove unnecessary friction from the entire buying experience and improve your checkout process. You can use microcopy to summarize your returns policy or make it easy for customers to contact you.

You can use microcopy to explain why it's beneficial for your customers to create an account.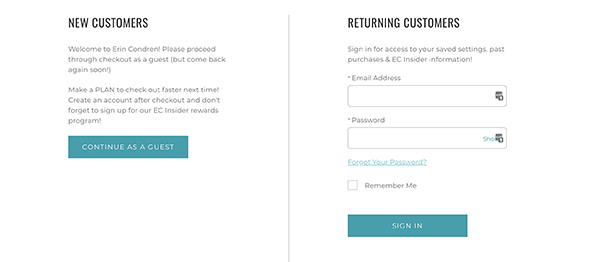 You can also use microcopy to encourage them to spend more in your store like Erin Condren does in the screenshot below.

As you can see from the examples, there is quite a few ways to use microcopy to improve your e-commerce conversion rates so use it to your advantage.
5. Use Sensory and Power Words
Adding sensory words to your copy allows you to engage customers on a higher level. Sensory words include words that describe the way we experience things. They engage our senses and paint a vivid picture in our mind of how a particular product might feel, taste, sound or impact our lives.
Sensory words include words like velvety, smooth, crisp, bright, thumping, crashing, and others can instantly bring your copy to life and make it stand out more. A great example is this product description by Artisan du Chocolat:
" As beautiful as nature intended, our chocolate pearls encase smooth ganaches and rich nutty praline glazed with edible pearlescent gold, copper or silver dust."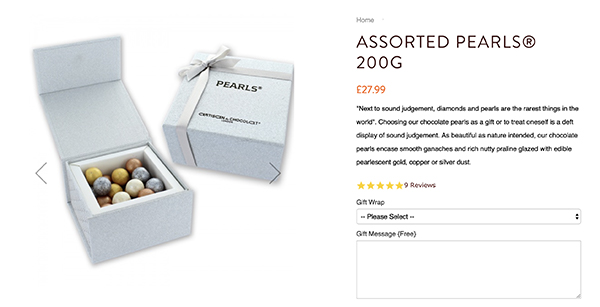 Power words, on the other hand, have a strong meaning and evoke strong emotions in your readers. They aren't commonly used in day-to-day conversations, but when used right, they can have a great impact on your conversion rates.
Power words include more complex words like staggering, mind blowing, explosive, amazing, and simpler words like free or instant.
Take cues from Firebox and check out how they use power words in their product descriptions.

6. Formatting Matters
As much as your copy matters, so does the way you format it. None of the above tips will work if you dump it all out in one giant paragraph. You copy needs to be scannable because research shows that most online readers skim instead of read. That means that you need to spend some time making sure your copy is properly formatted if you want visitors to actually read what your pages and product descriptions say.
Here are a few tips that will help you format your copy better, whether you're writing product descriptions or updating your store's About page:
Use headlines to break up long texts
Use bullet points in product descriptions when listing products features
Stick to short paragraphs that are 2-3 sentences long
Ensure there is plenty of whitespace surrounding your copy
Make your body font at least 18px in size
Use tabs to group information without making your pages unnecessarily long
Consider how Amazon uses bullet points to list out the most important features at the top of the product page:

Another example of good formatting comes from Newegg. They use tabs to organize product information in a logical fashion: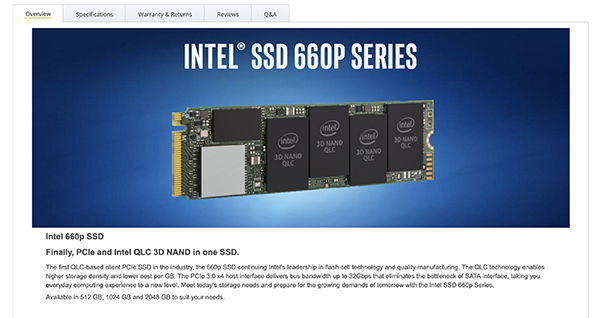 7. Don't Forget to Edit
The last piece of advice is to edit your copy before updating it or publishing more posts, pages, and adding new products to your site. Tempting as it may be to immediately hit that Update button, take some time to walk away from the copy and evaluate it. In other words, develop a process for writing your copy.
Your process should consist of the following steps:
Outline what you want that specific piece of copy to do for your store. Do you want to establish an emotional connection with your website visitors, encourage them to take action or convince them to make the purchase?
Write the first version of the copy or the rough draft. In this stage, you can elaborate and expand upon your outline and get all your ideas out on paper.
Edit. In this stage, you're eliminating the fluff and jargon and applying the tips above; focusing on your reader and making your copy stronger by adding sensory and power words where appropriate
Proofread and publish. The last step is proofread your copy once more and eliminate potential typos and grammar errors.
While this seems like a time-consuming process, there are a couple of benefits to this approach:
Your copy will be more convincing which means you'll convert more visitors into buyers
Your copy will also be more memorable which means you have better chances of creating brand loyalty and turning buyers into repeat customers.
Final Thoughts
Improving your e-Commerce conversion rates doesn't always mean you have to change your store's design or add more features. Sometimes, all you need is improving your store copy. With the tips in this article, you'll be well on your way towards seeing higher conversion rates in your WooCommerce store and improving your bottom line.